This Friday, local art collective Beehive Society, will be bringing Arrest Development fans together for NO TOUCHING: an Arrested Development Art Show. This Bluth family reunion (in a remixed visual art kind of way) totes a hefty lineup of around thirty artists, each set loose to create pretty much any and all things Arrested Development.
The Beehive Society specializes in planning and hosting pop-up art shows. And, while TV and pop-culture based art shows are a no-brainer for successful attendance numbers, having the artwork to back a beloved theme is where it's at. With that said, this show is up for the challenge, bring with it a strong group of local gallery artists, illustrators, designers and tech and gaming studio artists.
The Beehive Society is no stranger to pop art shows and is the crew responsible for a variety of shows in San Francisco, including Winter is Coming: A Game of Thrones Tribute Show at a.Muse Gallery, Springfield, Springfield: The Simpsons Tribute Show at the Asterisk Gallery, Treat Yo'Self: A Parks & Recreation Show at Asterisk Gallery, and Legendary Lands: A collaboration show with 826 Valencia.
While most art collectives seem to be run like a team with a coach (and maybe a quarterback) holding everyone together, when speaking to Shiu Pei Luu, the group's co-founder, she did not point out just one head curator. Instead, Beehive Society is powered more by individual players who each bring forth different skill sets, specializing in varying backgrounds in illustration, art direction, PR/marketing, and museum studies.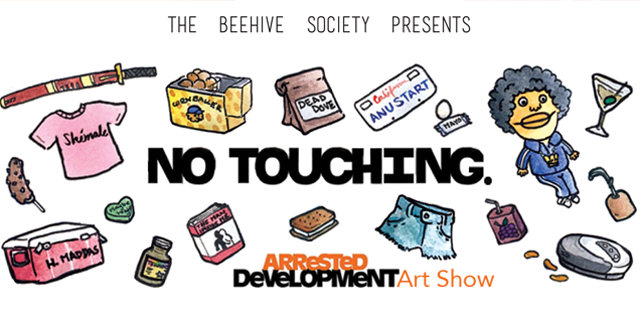 Shiu Pei Luu further helps to explain the group's motivation as a collective…"We believe that art is meant to be shared and enjoyed by all, so we've made it our mission to foster creative and unique experiences through pop-up art shows in support of the Bay Area's artistic and creative community. The concept of building a stronger art community has always been the mission that drives our team's hard work."
When asked about a favorite Arrested Development character, the vote was in for Tobias Funke as the (most quotable) crowd favorite, folled by Lucille Bluth as a close second.
Beehive Society invites the Bay Area to "grab your blue paint, hard-boiled eggs and a little something that says 'leather daddy' to come check out this one-night-only party.
+++Friday, July 15th (6-10pm), Heron Arts (7 Heron St, near Civic Center Bart)
LIST OF FEATURED ARTISTS:
– Aggie Cheung
– Ashley Boyd
– Aurora Alcantar
– Bernie Pesko
– Brian Estill
– Cat Maske
– Crystal Dawn Godat
– Daisy Church
– Damien Webb
– Damon O'Keefe
– Dylan Casano
– Elizabeth Gilmore
– Emily Barrera
– Erika Hopson Lewis
– Hoang Tran
– Jackson Dryden
– Jeannine Schafer
– Julia Cone
– Kenichiro Chaffee
– Leigh Ausiello
– Lindsey Lydecker Keller
– Malisa Suchanya
– Michelle David
– Mike Williams
– Monico Chavez
– Reina Takahashi
– Shiu Pei Luu
– Teddy Hose
– Wednesday Kirwan