This Week's Top Club Picks: An Audio Visual Sampling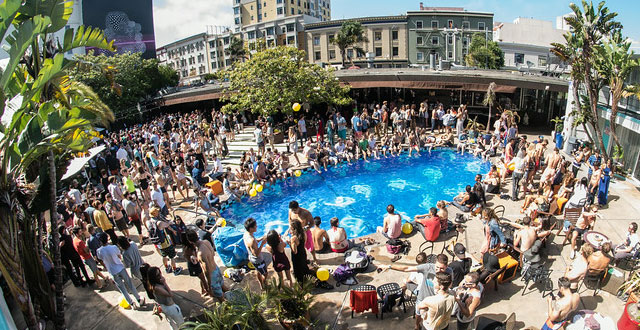 Happy belated Independence, America! The extended, hickory-smoked weekend left belly's full, pantries empty, and brought one of the greatest gifts of all—a four-day work week. So as we subsist on leftover barbecue through the short week, here's what San Francisco has to look forward to.
Thursday – Laser Native's 2 Year feat. BOT @ Monarch ($10)
Recovered and ready to give the E-Street Band a rest? Skip the cleanse and preheat your weekend at Monarch this Thursday with Bot and the Laser Native crew. Bot is Andrea Fratangelo, a London-based Milanese producer who was once one half of Crookers—you might remember their viral remix of Kid Cudi's "Day 'N' Nite."
After leaving Crookers, Bot's been said to have "disassembled any expectations and rebuilt his sound for 2018." Bot is touching down in San Francisco to help the Lazer Native crew celebrate 2-Years of rowdy house music with their neon face-painted. (tickets)
Friday – Giraffage w/ D∆WN @ 1015 Folsom (~$25)
All calendars should have this Friday cleared for the return of our hometown hero and electro-pop provost, Giraffage. Coming off his EDC Vegas set, Giraffage is cruising through 1015 Folsom before a mid-summer Euro-tour.
Heads up, though—support from Dawn Richard's enthralling live performance easily warrants early arrival on Friday. Under the D∆WN moniker, Richard has a grasp on the future of pop. Watch the video below to find out why NPR said "she's already on the next level while everyone else catches up." (tickets)


Saturday – Damian Lazarus @ Public Works ($15-25)
Just as we send one of the Bay's finest producers across the pond, the slightly-slimmer-EU lends us one of theirs. Damian Lazarus is a legendary sorcerer and resident DJ of Ibiza's DC10. For his current tour, Lazarus has called together a band of performers dubbed the Ancient Moons, who join his side for a wholly reimagined live experience. Damian Lazarus is set to conjure up deep and witchy beats at Public Works this Saturday the 9th. (tickets)


Saturday – Phono del Sol Afterparty w/ Yumi Zouma @ Rickshaw ($15)
If your Friday proves too wild to keep your feet scuffin' for Damian on Saturday, then get after the chill, seductive shoe-gaze vibes Yumi Zouma is spreading across Rickshaw Stop on Saturday. It's the official Phono del Sol Festival After-party with The Peach Kings and French Cassettes. (tickets)

Sunday – Deep & Sexy Poolside Party @ Phoenix Hotel ($20-30)
We're going to need to unwind from a week nearly full of boisterous debauchery, 'mericanism, and thumpin' music. Thankfully, Redisco and Alex Cruz (Amsterdam) have our backs, presenting the Bay the best way to shake loose before getting back on the grind. Come kick it poolside with a frosty beverage for the Deep & Sexy Poolside Party at the Phoenix Hotel. And if your doggies need a break from rug cutting, you can give your toes a dip and meet some new friends by the pool. (tickets)