Living in the Bay Area has one very obvious perk (hint: it's mentioned right in its name)—it's our easy access to the BAY! So grab your bae, best pals, family, whoever…and get out to the water this Fourth of July weekend!
If you're ok celebrating freedom by putting your proverbial flag down on a small couple feet of concrete to watch the fireworks, while listening to the far-off muffled sound of music playing somewhere in the area, then, we're not here to judge. It's a free country, yes we know. BUT if you are looking to go a bit bigger this year—something more memorable perhaps? Then one of these cruises might be just the answer.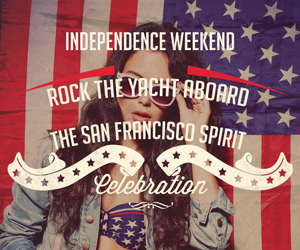 Independence Weekend: Rock the Yacht
So you have an obligatory 4th of July potluck at the folks' place, and it's threatening to nix any other big plans for the weekend? Fret not! Here's a cruise that takes place on July 3rd. Hop aboard the San Francisco Spirit, a multi-level cruise boat, party it up on the open seas (with a fully-stocked cash bar, might we add)—plus still keep all your brownie points with the fam.
Friendly tip: plan an easy, no-fuss dish for that said potluck—after this cruise, you might want to exercise your right to sleep in on the Fourth of July! Also grab your tickets before it's too late—this event has been known to sell out fast!
+++ Go to the Independence Weekend: Rock the Yacht page for more info and tickets.
Boarding 8:30pm, Departing: 9pm, Returning: 12am
Speakeasy 4th of July Cruise
While many people offer tips and vague advice on the "best places to see the fireworks"—for example, at a friend of a friend's roof deck, from the top of this one building in North Beach, or a "secret spot" by the pier (that supposedly isn't anyone else's secret spot already), etc… And that all sounds lovely, except THE BEST spot to catch the fireworks view over the SF Bay is right on the water. Duh!
Fun fact: The Speakeasy $th of July party, hosted by SFNightLife.com, has gained the title as the #1 Firework watching Cruise on the Bay, for the fourth Year in a row—so, basically, here's the best view of the fireworks, from the best cruise offered on the bay. Check and check!
Also, just a heads up, space is limited, and this cruise sells out every year. Sorry, there are no secrets when it comes to scoping out fireworks in SF, especially not parties which include a four-hour hosted bar! Also, there is complimentary gourmet pizza and two different dance floors (because the Fourth of July is all about the freedom to choose).
Dress to impress—, flapper-style attire is encouraged but not required. The boat also includes a large indoor panoramic windows, so you can go inside and warm up (this is still SF after all), while still wearing your sexiest open-backed evening wear. Once warmed up, return to the open sky deck to see some of the most vivid views of Treasure Island, Alcatraz, The Bay Bridge, Nob hill, the Golden Gate Bridge, and the magnificent San Francisco Skyline. Use the chilly night sky as a great excuse to cuddle up next to that certain someone.
+++ Go to the Speakeasy 4th of July Cruise page for more info and tickets.
Boarding: 6:30pm, Cruise Begins 7pm | Disembark: 11pm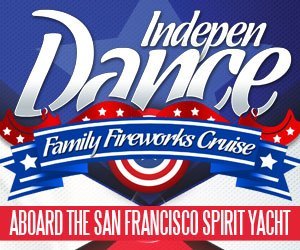 The 5th Annual IndepenDANCE Family Fireworks Cruise
The IndepenDANCE Family Fireworks Cruise, presented by July4thCruises.com, will give you a chance to take in the biggest and best Independence Day Fireworks show on the west coast. Let your family, including little ones, get lost in the awe and the beauty of the fireworks, without any stress about getting for reals lost in the crowds.
This cruise is family-friendly, includes an open bar for the adults, a live DJ for all to enjoy, plus a delicious full dinner buffet (including Boudin bread rolls, local greens, seasonal fruit & veggies, plus a chef's selection of petite pastries and cakes. This is a great memorable occasion for the whole family and an amazing photo opp…"okay, now everyone smile, say all aboard & bon appétit!"
+++ Go to The 5th Annual IndepenDANCE Family Fireworks Cruise page for more info and tickets.
Boarding: 7:15pm, Departing: 8pm, Returning: 12am