Costa Rica is a breathtaking republic, which provides the setting for many rum-drunk memories and idyllic surf sets. For veteran electronic production duo, Pantyraid, Costa Rica paints the scene for their epic origin story.
Pantyraid is comprised of Josh Mayer, or Ooah of The Glitch Mob, and Martin Folb, also known as MARTyPARTy. The two have just released their third collaborative LP, After Glow, after Pillow Talk which Folb boldly wagers is "the only true trap album there ever was."
Since launching the After Glow Tour from Coachella, Pantyraid has been flexing a brand new audience experience they rendered from scratch. Martin calls the combined audio and visual performance "completely groundbreaking…It's not only audio but it's also video mixing. We run the visuals from the stage just like the music. Nobody's ever done that and it's a whole new experience for the fan."
Pantyraid recently mesmerized a congregation of booty shakers in central California with said experience. Now, they are gearing up to bring the show to San Francisco on Saturday, June 11th. Before they twerk minds at Public Works, we first wanted to find out how the two met in Costa Rica and where they acquired the know-how to put together such an exciting new set. So, we picked up the phone for a chat with the duo's own, MARTyPARTy.
Martin Folb, from South Africa, was recruited in 1994 by a tech startup he says later grew into a little company we now call Oracle. "We worked on Java 1.0 using Mozilla 1.0. I was, basically, part of the team who built the first internet browser." So, that explains the impressive programming skills–but it doesn't stop there.
MARTyPARTy also spoke of collaborating with deadmau5 before Joel donned the mau5head, something Martin calls, "the most defining gimmick of the EDM legacy."
"We were coders," Martin states. "We had a project manager [in common] who was going back and forth and knew Joel—aka deadMau5—very well. Everything he's ever done is genius and forward thinking. I'll always be a deadmau5 fan because of that."
While working in Silicon Valley, Martin was also introduced to the recording and audio production software that changed his life. In 2005, Martin made music his main hustle—a move that has clearly paid dividends. Now residing in Miami, Folb owns vacation property in Costa Rica and just performed the closing set on the final night of Lightning in a Bottle (LiB) festival alongside his best friend. Surely, we'd learn of how Josh and Martin first joined forces in Costa Rica, but first we wanted to hear about the PANTyRAiD experience at LiB. We never expected the answer that followed.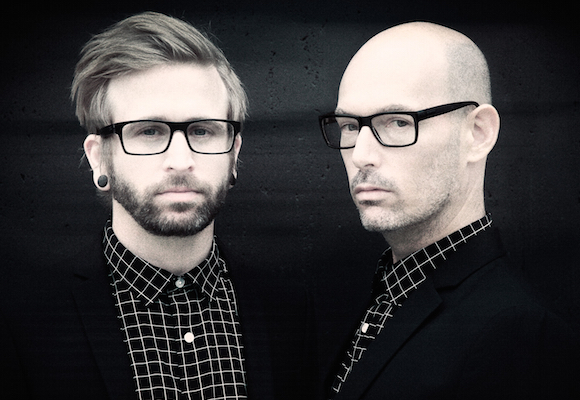 Ooah (left), & MARTyPARTy (right)
What was your stand out moment from LiB?
Well, the Lightning in a Bottle festival is quite a big deal for us, because we did our first Pantyraid show at LiB-1. There's a long history with Lightning in a Bottle, me, the Flemmings (The Do LaB), and Josh as well. I invited the Flemmings down to my festival in Costa Rica, where they decided to be festival people. So, it was fun to go down and spend some time with friends and catch up. It was a great reunion. By the time it came to the set, we were well into it with all the memories. All the friends were on stage. It was thrilling…that's the way we all started. Dance parties on the stage are really where it's at.
So, let me process this. The Flemming brothers, founders of The Do LaB and LiB, are day-one homies of yours. And, they started The Do LaB—and subsequently California's beloved LiB fest—because they attended a festival you threw in Costa Rica?
Oh yeah, the Flemmings have always been brothers to me. I've known Dede (Flemming) longer than Josh. I think I've known Dede for over twelve years! We were friends before all this started, really. There was a bit of an overlap at one point romantically with one of our girlfriends. They've come to Costa Rica many times.
I threw a festival, I called Manifesto, in Costa Rica. They came as friends for the first one. Then, they came to the second one and saw what a grassroots music festival could be. By the third one, they were sold. All they could talk about was how they were going to go back and do this in California…so, that's how that started.
Is Manifesto still a festival?
No. After the third one, I never wanted to do it again. I dunno if you've ever been to Costa Rica, but you kinda have to babysit everybody. It's a very raw, primal type place. [It's] gorgeous. I love it. But it's not the kind of place to leave your laptop in your hotel room. You're going to get robbed. Everyday people were running into problems I would have to solve for them. I was like MacGyver. Everyday. Saving people's asses.
The Do LaB isn't the only thing you say started at your place in Costa Rica. Didn't Pantyraid come together there, as well?
Yeah, exactly. It was the same exact situation. I asked Josh to come down as an artist for the second Manifesto. I brought him down. He came to my garage, which was my studio at the time, where I produced my music. That's where it got creative. He heard [my music] and he fell in love. Those were the original The Source* songs, 'Beba' and 'Worship the Sun.' We mixed it, mastered it, added some songs. Then we decided to tour it as Pantyraid. A lot of things started in Costa Rica. We were all young friends doing crazy things. That's where all of these things got formed—Pantyraid, Lightning in a Bottle…all of these things came from the beach in Costa Rica.
*The Source is Pantyraid's debut album, released in 2009
Is that where you came together to create the new album, After Glow?
We each individually sketch tracks. When it comes time to make an album we go through the sketches together and decide which ones we love. There's always a couple Josh-sketches and a couple Marty-sketches on a Pantyraid album, along with the ones we do together. It was the same process for After Glow. We sketched songs using the same tool sets and shared them on Dropbox. Then we got together, picked the good ones, fluffed them out, wrote some new ones, packaged it as an album, and spent a couple months mixing and mastering it.
It's not just happy-go-lucky party music. It's all very deeply rooted in our emotions. We both went through crazy breakups at the beginning of that record—and rekindled new relationships during. You can pick up those love stories and heartbreak in the album. People don't know that.
It's incredible you and Josh have been able to stay on the same page all these years.
Yeah, we're like best friends. We're completely parallel. We have the same taste in music, same taste in everything. So it makes it very easy.
The music industry, especially the electronic genres, tend to evolve rapidly. How do you stay ahead of it?
One of the nice things we can do is constantly evolve. Once we finished The Source, we moved immediately into making Pillow Talk, which I think is the only true trap album there ever was. Then, for After Glow, we moved away from trap. We wanted to invent something new. We channeled the love we have for European music, like Depeche Mode and Prodigy. We came up with After Glow, which is sort of our hip-hop club version of Depeche Mode. Really, our goal was to make something Depeche Mode would enjoy.
I started making music for one reason, and one reason only–to make the music I couldn't find. It wasn't to become a performer or DJ, or whatever you want to call it.
I sense some contention with the popular use and possible confusion between the terms producer and DJ. Am I right?
It's a very, very confusing thing right now for the fans and it needs to be corrected. Some producers write the music from scratch—the composition, engineering, production, mixing, mastering, and performing. [But] a lot of major artists have ghost writers. Some people who don't know the first thing about a compressor or an equalizer are 'producers.' There's no line! So, there needs to be a new word. We're waiting for that, at this point.
The audience wants to know more about the music. They don't just want to know is it trap or dubstep. They want to know, did this person make what I'm hearing? Are these this person's emotions that I'm feeling? That's what creates the unique connection between the fans and the artists.
A lot of your tracks have a massive cinematic feel. Have you ever been approached about scoring a film or movie?
I actually have. I love it. I like to write original melodies and scores. It's definitely something I am going to explore as a parallel career. I happened to put [my energy] into dance music because that's the way it went.
Do you think electronic composer is a more appropriate term for the fully D.I.Y. producers?
I would love that! 'Electronic composer' is a fantastic term. It hits the nail on the head. I find at shows, I play my music like an opera. Every layer of instrumentation is composed. From start to finish it's a composition. It's operatic, [which] is another thing that's cool about EDM. These shows are like operas. They have movements through genres and feelings just like an opera. Whoever can play a more operatic set, the better.
What are your favorite albums right now?
Sasha's new album. You know Sasha & Digweed? Sasha came out with his own album that not many people know about and it's absolutely magnificent. It's a whole new avenue of music that we're influenced by right now.
There's another group from Iceland, called Kiasmos, who are also doing it. We're pushing it hard because we think it's the next big sound.
After your set at Public Works on Saturday, what can Pantyraid fans look forward to?
We plan on releasing the entire 90-minute set with the visuals. It's going to be a 90-minute movie, which you can buy on iTunes. The end game is to have a video album for fans to enjoy and share. Beyonce just did it, too. But we're producing every aspect from start to finish. We've been ground-breaking this shit since the beginning. That's what we do, and it doesn't end!
+++ Pantyraid performs at Public Works, this Saturday (6/11). Tickets, found here, are priced $12-20. Grab yours and join Ooah and MARTyPARTy for their groundbreaking audio and visual performance.