Live Review: UK Duo Gorgon City Turnt Up for Oakland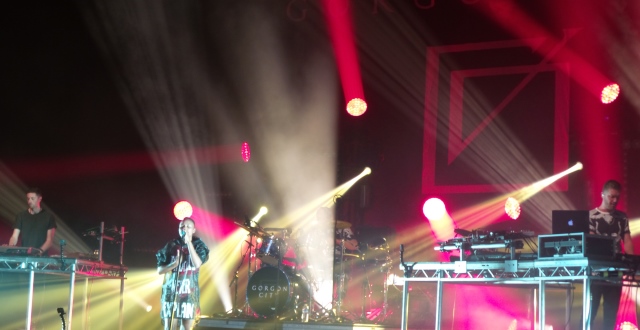 UK dance duo Gorgon City culminated their North American tour with London music quartet Rudimental on Thursday night with a high-energy performance at Oakland's Fox Theater.
Their fluid, dance style can be compared to fellow British electronic duo Disclosure, but with less R&B and more consistent vocals. All of the tracks they played maintained dance- friendly tempos and the audience frequently helped belt out the lyrics to some of their more popular songs like "Here for You." There was even a group of fans outside of the venue singing "Saving My Life" before the show even started.
For those less familiar, Gorgon City consists of two North London producers, Kye "Foamo" Gibbon and Matt "RackNRuin" Robson-Scott. They're sound—an infectious mix of house and garage beats, alongside singers Lulu James and Josh Berry, adding a serenading vibe with enchanting vocals.
Mixed among the crowd's energy was a sea of golden yellow and royal blue – evidence of the Golden State Warriors just winning Game 5 of the Western Conference Finals, and fans abundant excitement. The Warriors kept the dream season alive.
Gorgon City's new tracks "All Four Walls" and "Blue Parrot" were well-received, but a bigger highlight was when the group decided to play a cover of Drake's song, "One Dance." Their set concluded with a rousing rendition of their biggest hit single, "Go All Night." And yes, they could have gone all night…and people would have kept dancing their faces off.
We interviewed the duo a few years back when they played at the Independent following performances at Outside Lands and Public Works.
Gorgon City will soon release their second artist album, Kingdom Vol. 1 LP, which is expected to drop sometime in August. They also have an upcoming performance as headliners for the Northern Nights Music Festival in the Mendocino / Humboldt area.
Set List
Real
Unmissable
6am
Love Me
Damian Lazarus & The Ancient Moons – Sacred Dance (remix)
Imagination
All Four Walls
Impaired Vision
Coming Home
Here for You
Make the Money
Saving My Life
Right Here
Blue Parrot
One Dance (Drake cover)
Lover Like You
Ready for Your Love
Go All Night