The first show dedicated to the life and work of legendary filmmaker Stanley Kubrick is coming to San Francisco starting June 30 and will be available to view at the Contemporary Jewish Museum through October 30.
The exhibit will showcase a treasure trove of materials from the film director's private estate. These items were inaccessible until 2003 when the exhibition organizer Deutsches Filmmuseum, Frankfurt received permission to explore the extensive archives Kubrick had maintained at his home and workplace in London.
Approximately 800 objects will be on view, including annotated screenplays, production photography, lenses and cameras, set models, costumes, and props. Famous items include the little dresses of the sisters from The Shining, the survival kit from Dr. Strangelove, and the 'Born to kill' helmet of Private Joker from Full Metal Jacket, and a model of the centrifuge from 2001: A Space Odyssey.
All the materials document how far Kubrick pushed preparations for his films, in addition to his comprehensive and meticulous work style.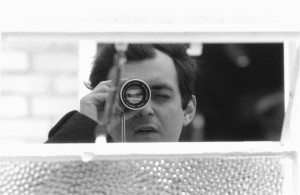 Stanley Kubrick with his viewfinder during the production of Lolita. © Warner Bros. Entertainment Inc.
Kubrick's cinematographic work is considered to be "among the most important contributions to world cinema in the twentieth century," according to historian Michel Ciment. He was known for researching everything in detail, amassing boxes of plans, notes, correspondence, scripts, among many other things.
Kubrick demanded perfection, used soundtracks with skillful intent and maintained an incredible attention to detail. He controlled most aspects of the filmmaking process, from direction and writing to editing. As a result, many of Kubrick's films were considered groundbreaking cinematography that set the bar for many filmmakers following in his footsteps.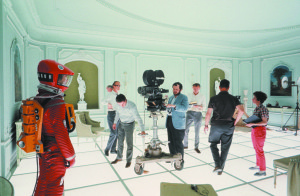 Stanley Kubrick during the production of 2001: A Space Odyssey. © Warner Bros. Entertainment Inc.
Beyond the materials, there will also be 30-minute audiovisual presentation that explains Kubrick's use of music in his films and a picture-show retracing his biography. Of course, clips from the films and documentary footage will be shown as well. For the very first time, the public will also learn about Kubrick's unreleased projects, Napoleon and Aryan Papers.
This huge show has drawn large audiences on its global tour, and San Francisco's Contemporary Jewish Museum will be the first Jewish museum to host the exhibit.