Multifaceted lakeside music and arts festival, Symbiosis Gathering, announced the complete music lineup for its 2016 'Family Tree' event. Headliners include trip-hop artist FKA Twigs, downtempo talent Gramatik, dub trap producer RL Grime, and dub vocalist Santigold. The event takes place September 22-25 along the shores of the Woodward Reservoir, which is about a two-hour drive from San Francisco.
Additional performers scheduled to play this year include tribal fusion group Beats Antique, Dirtybird Records' boss Claude VonStroke, experimental artist Gaslamp Killer, eletronica quartet Hundred Waters, and Dirtybird recruit Justin Martin. See below for the full list of acts. Early bird tickets and camping passes for the four-day festival on sale now starting at $260.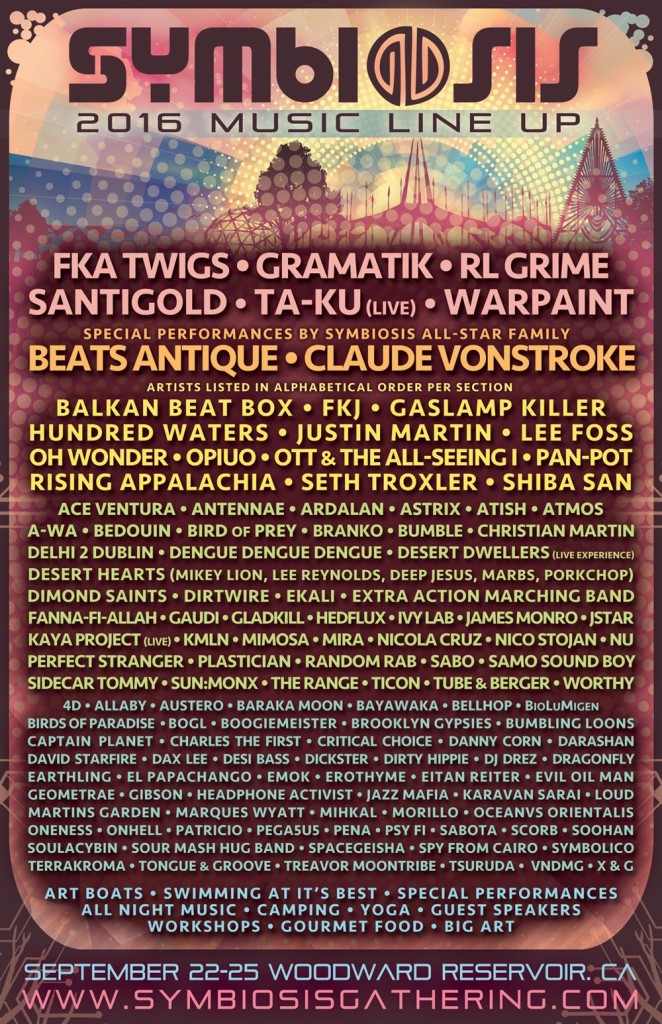 For over 11 years, Symbiosis has built a creative community based on exploration. We spoke to the festival's producer last year about the event's history and unique, natural venue. Last year's lineup included Nicholas Jaar, tune-yards, and Kaytranada among others.
Symbiosis Gathering offers a multi-sensory experience where attendees can wander between six lakeside stages, swim between art boats, learn from visionaries about permaculture, yoga, and design, or enjoy organic food. The multitude of interactive environments are immersive and a subversive alternative to the corporatized festival experience.
The crux of Symbiosis Gathering is its art curation, which gives creators from around the world the opportunity to showcase their talents and contribute to an awe-inspiring environment. Terrestrial art installations are also a pillar at Symbiosis. Exhibits range from delicate mandalas, to gigantic structures for climbing and exploring, architectural stage designs, fire sculptures, and temporary art galleries. The fusion of visual art, music and the natural landscape, has earned Symbiosis a reputation as a hotbed for creative growth and expression.
Symbiosis Gathering: Family Tree will serve as a precursor for the upcoming Symbiosis Gathering Oregon Eclipse 2017.
Complete Lineup
4D
A-WA
ACE VENTURA
ALLABY
ANTENNAE
ARDALAN
ASTRIX
ATISH
ATMOS
AUSTERO
BALKAN BEAT BOX
BARAKA MOON
BAYAWAKA
BEATS ANTIQUE
BEDOUIN
BELLHOP
BIOLUMIGEN
BIRD OF PREY
BOGL
BOOGIEMEISTER
BRANKO
BROOKLYN GYPSIES
BUMBLE
BUMBLING LOONS
CAPTAIN PLANET
CHARLES THE FIRST
CHRISTIAN MARTIN
CLAUDE VONSTROKE
CRITICAL CHOICE
DANNY CORN
DARASHAN
DAVID STARFIRE
DAX
DELHI 2 DUBLIN
DENGUE DENGUE DENGUE
DESERT DWELLERS (LIVE EXPERIENCE)
DESERT HEARTS CREW
DESI BASS
DICKSTER
DIMOND SAINTS
DIRTWIRE
DIRTY HIPPIE
DJ DREZ
DRAGONFLY
EARTHLING
EITAN REITER
EKALI
EL PAPACHANGO
EMOK
EROTHYME
EVIL OIL MAN
EXTRA ACTION MARCHING BAND
FANNA-FI-ALLAH
FKA TWIGS
FKJ
GASLAMP KILLER
GAUDI
GEOMETRAE
GIBSON
GLADKILL
GRAMATIK
HEADPHONE ACTIVIST
HEDFLUX
HUNDRED WATERS
IVY LAB
JAMES MONRO
JAZZ MAFIA
JSTAR
JUSTIN MARTIN
KARAVAN SARAI
KAYA PROJECT (LIVE)
KMLN
LEE FOSS
LOUD
MARQUES WYATT
MARTINS GARDEN
MIHKAL
MIMOSA
MIRA
MORILLO
NICO STOJAN
NICOLA CRUZ
NU
OCEANVS ORIENTALIS
OH WONDER
ONHELL
ONNESS
OPIUO
OTT & THE ALL-SEEING I
PAN-POT
PATRICIO
PEGASUS
PENA
PERFECT STRANGER
PLASTICIAN
PSY FI
RANDOM RAB
RISING APPALACHIA
RL GRIME
SABO
SABOTA
SAMO SOUND BOY
SANTIGOLD
SCORB
SETH TROXLER
SHIBA SAN
SIDECAR TOMMY
SOOHAN
SOULACYBIN
SOUR MASH HUG BAND
SPACEGEISHA
SPY FROM CAIRO
SUN:MONX
SYMBOLICO
TA-KU (LIVE)
TERRAKROMA
THE RANGE
TICON
TONGUE & GROOVE
TREAVOR MOONTRIBE
TSURUDA
TUBE & BERGER
VNDMG
WARPAINT
WORTHY
X&G