On Thursday, May 26th, Heron Arts Gallery will host Captured: People in Prison Drawing People Who Should Be, the first public exhibition and discussion led by the creators of Captured, a limited edition hardcover book featuring drawings done by prison inmates, depicting corporate CEOs whose companies are accused of serious crimes.
In its 60-page spread of portrait sketches, Captured features inmate rap sheets matched alongside the punishable crimes made by each CEO they've drawn.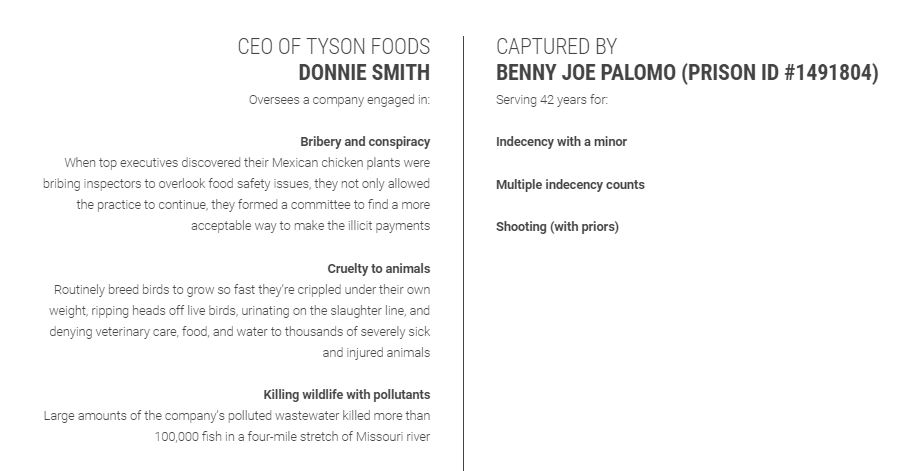 The 1,000 edition run of Captured sold out in just a few days, with $40,000 in proceeds going toward funding the Bernie Sanders presidential campaign, which authors Jeff Greenspan and Andrew Tider support.
The CEO profiles, thoughtfully chosen by the duo, include Bank of America, the Koch Brothers, Coca-Cola and McDonald's, to name just a few, and survey everything from the unlawful burden of taxpayers and misappropriation of funds, to ignoring worker rights and employing a general disregard for actions that would otherwise have negative social and environmental consequences.
Over a year ago, Greenspan and Tider approached the inmates with the intention of showcasing their work to help shine light on power abuses being made by privileged white-collar officials/criminals. While the prisoners fully admit guilt over past crimes and the project was not intended to help them seek exoneration, the duo spent over a year conversing with inmates to understand how they ended up behind bars so they could better draw parallels with each CEO featured in the project.
The inmates included in Captured are serving anywhere from 14 to 42 years in prison for crimes that are likened to the public atrocities committed by corporate America.
In one instance, the CEO of General Motors is "charged" with murder as his company was previously found guilty of causing over 100 deaths by not issuing an immediate recall of a line of cars with defective ignition switches that were sold to consumers.
Greenspan and Tider are both NYC-based artists who previously worked together on a politically-driven project involving a 100-pound bust of Edward Snowden in Fort Greene, Brooklyn, where war heroes are memorialized.
The artists' inspiration for Captured goes hand in hand with the ideals put forth in Sanders's campaign, which calls for accountability on Wall Street and reform of the criminal justice system.
Pieces in the exhibition are not for sale, but expect a lively discussion and encouragement to vote in the upcoming California election on June 7th.
The opening event will take place from 6-9pm and the exhibition (with pieces not available for sale) will run through June 30th. Visit Heron Arts to learn more about the gallery event and Captured to read more about the authors dedication to the project.