A Makeshift Guide to This Weekend's Art Fairs: Parking Lot Art Fair, Art Market, & stARTup Art Fair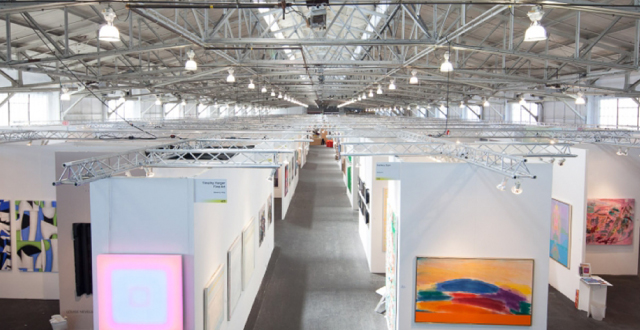 This weekend the art fairs are coming! You can stroll all three art fairs in a day, or take a more leisurely strategy to seeing a weekend-full of artwork. Literally there will be artwork by hundreds of artists and over a hundred art galleries, so perhaps it's best not to speed-walk past it all? Here's a suggested itinerary for weekend art warriors.
On Saturday, start with Parking Lot Art Fair (it starts at 8am and goes to 3pm.) Artists don't generally strike me as early morning people, actually most adults on the weekends don't strike me as morning folks—so if you go, you know there's a good chance these are some highly dedicated artist serious about getting their work out there.
Advice: ask these artists if you can take photos before doing so, especially if it's early in the AM. Plus that's just the polite thing to do. Give genuine compliments freely.
This art fair takes a more renegade approach to showing art and is at the Fort Mason parking lot (hence the name.) This fair is a great alternative for fringe artists who might not be able or willing to spend the big bucks to rent space to show their work and wares. By creating temporary pseudo-parklets, using cars, rental trucks, and the space around the vehicles, and temporary pseudo-parklets, the parking lot is transformed into a curated and improvised non-traditional art space. Highlights will include invitational shipping containers spaces by Colpa Press, Mistu Okubo's Studio Shop, and the female artist collective Ctrl Shift.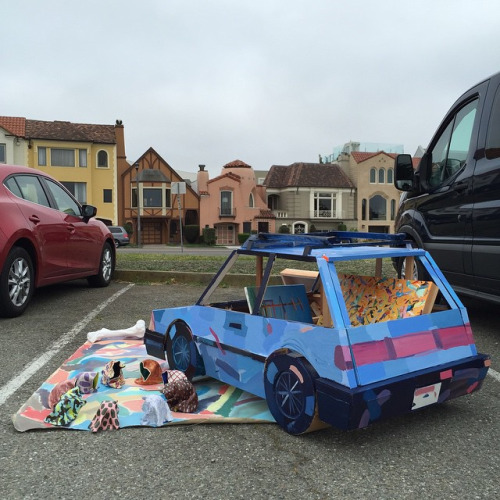 After strolling the lot, continue on to Art Market San Francisco at Fort Mason Festival Pavilion. This is the big daddy art fair of the weekend. It's run by Art Market Productions, a group that's been around since 2011 and is responsible for six major art fairs: Art on Paper NY, Art Market San Francisco, Art Market Hamptons, Seattle Art Fair, Texas Contemporary, and Miami Project. All these fairs are top notch in the contemporary art world and draw international exhibitors. This is an opportunity to see displays from both local and international galleries, as well as work from many established artists that might not frequently make it to our part of the [art] world.
Even if you don't love everything you see, the sheer volume of artwork and galleries (over 65 galleries in attendance) will most likely result in one or two major "wow" moments (unless you are that guy dragged there, asleep on the couch–there's always at least one.)
Advice: don't scoff too loudly at art you can't afford, it might be extremely expensive because it took years to make, or the price might seemingly make no sense at all. In either case, best not to get into pricing unless you are looking to purchase and know the piece's entire backstory. Do not pack your own champagne—they sell beverages and bubbly (if you want to get your fancy on). Wear comfy shoes, there is a lot of walking to be done, or don't…if fashion is your art form don't let us stop you!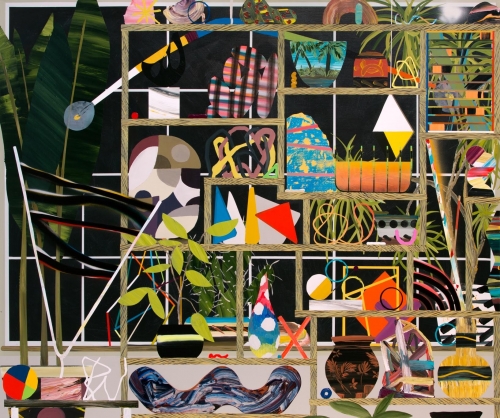 Artwork by Paul Wackers via Eleanor Harwood Gallery (Art Market SF)
After Art Market, take in some fresh ocean-side air and head over to stARTup Art Fair. This fair is under a mile from Art Market and there is a shuttle between Fort Mason Center and Hotel Del Sol. Or save this one for Sunday. There's also an opening celebration on Friday. You got options.
In its second year, stArtup Art Fair follows its successful Los Angeles debut, and will once again take over Hotel Del Sol, a classic California motor lodge, which serves as a lovely backdrop for the event. This fair represents multiple mediums, and an almost even gender split. stARTup Art Fair is a three-day event that featured over 35 rooms of artwork. Each hotel room serves as a mini exhibit space highlighting either an individual artist's work, a group of artists, or a gallery (many of which are California-based.)
Advice: While Art Market exhibitors might have left you feeling a bit on the…uhh, invisible side?…the rooms at stARTup are fairly intimate, saying thank you to the exhibitors on exiting their rooms is encouraged. Also save money by buying tickets in advance. Use the extra money toward a poolside cocktail!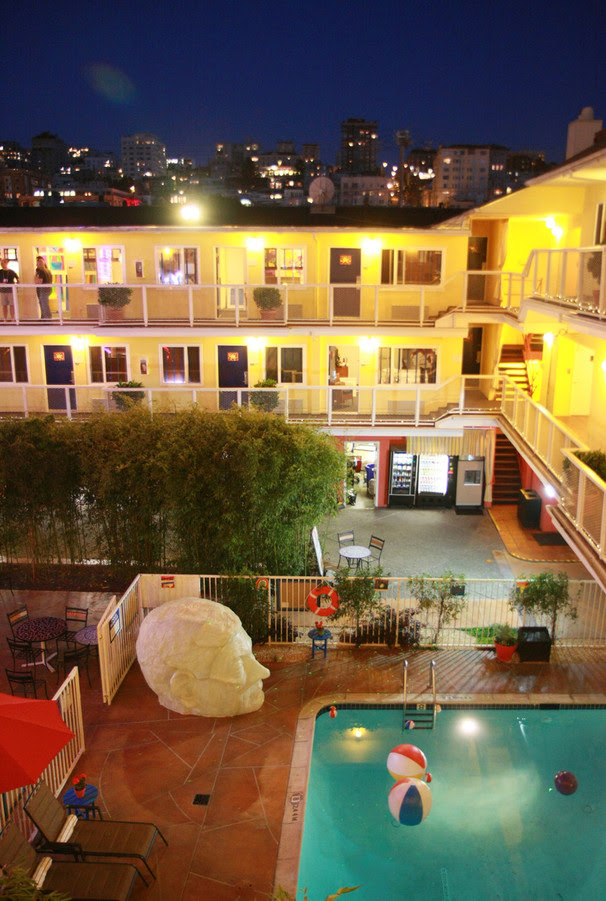 Hotel del Sol, home of stARTup Art Fair
+++ Parking Lot Art Fair
Saturday, April 30, 8:00am – 3:00pm
Fort Mason Center – Parking Lot
Art Market San Francisco
Fort Mason Center – Festival Pavilion
Friday, April 29, 2016 — 11:00am to 7:00pm
Saturday, April 30, 2016 — 11:00am to 7:00pm
Sunday, May 1, 2016 — 12:00pm to 6:00pm
stARTup Art Fair
April 29 – May 1, Opening Reception: Friday, April 29 7:00 – 10:00 PM
Hotel Del Sol, 3100 Webster Street, $15 advanced, $20 at the door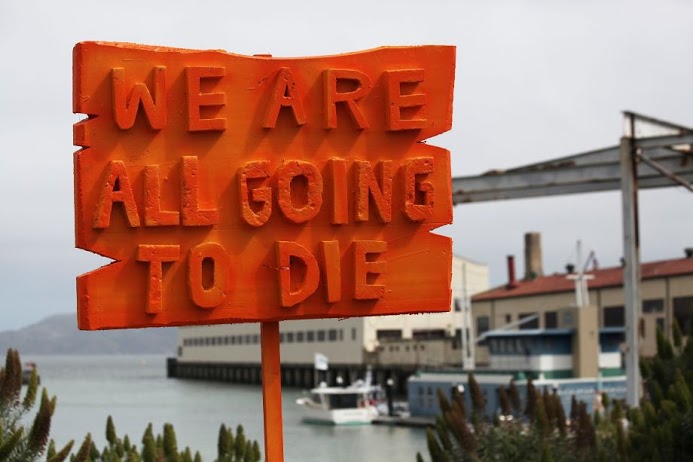 Installation by Joey Enos @ Parking Lot Art Fair 2015