The Evolution of Thao and The Get Down Stay Down: Interview, Album & Show at the Fillmore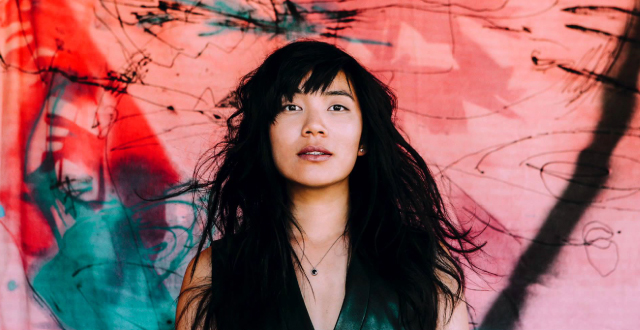 San Francisco songwriter, Thao Nguyen, is on the road with her band, The Get Down Stay Down, in support of her latest record, A Man Alive, including a stop at the Fillmore on April 30th.
Thao and the Get Down Stay Down, originally formed in Virginia, and has been instrumental in the San Francisco music scene since relocating to the city in 2008. You might have seen them playing at Oustside Lands or at the Hardly Strictly Bluegrass Festival, or on national tours supporting Andrew Bird and the Portland Cello Project, respectively. Thao has achieved greatness, collaborating with east coast songwriter, Mirah, for the Thao + Mirah LP, and dropped her acclaimed record, We the Common (2013), featuring multi-instrumentalist Joanna Newsome.
With an already impressive resume, perhaps her most impressive achievement came this year with her latest record, A Man Alive. This album digs deep into the core of Thao, both musically and personally. The content deals with the estrangement of her father while the music comforts the blow with an exploration into groovy riffs and beats inspired by early hip-hop and pop sensibilities. Recorded at Tiny Telephone Records and produced Merrill Garbus (
Recorded at Tiny Telephone Records and produced Merrill Garbus (Thao + Mirah), Thao abandons her innocently adorned singer/songwriter image for a darker, edgier and more vulnerable persona. The result is honest without any withering awkwardness and is perhaps her most creative and tantalizing record to date. We caught up with Thao to talk about the new record, her favorite hip-hop acts and the making of the twisted video for "An Astonished Man."
We caught up with Thao to talk about the new record, her favorite hip-hop acts and the making of the twisted video for "An Astonished Man."
The video for our first single, "An Astonished Man," is much bloodier than any other video you've made. How much fun was it making that video and did you contribute any ideas?
It was an idea submitted by the director and I just really loved the content and the different scenes he plotted out. I had very little to do with the pre-production besides being really game for it. There were some scenes that were improvised that made it to the end. I don't think anyone could call that video cute. I loved that I could smear blood on my face with a machete and that I was the killer at the end. It was very freeing.
You've always been experimental, incorporating folk, jazz and electronic influences in your music, but your new album, A Man Alive, seems more connected to hip-hop than your previous records.
I agree, I definitely wanted to incorporate and pay tribute to hip-hop influences more than any other record, even though I've been a fan since I was a kid. The lyrical and musical cadences were greatly informed by the hip-hop I listen to. It was a definitely a concerted effort and desire to move away from the guitar being the spine of the song and make it beat-driven and sample-based.
One thing I noticed was the lack of acoustic guitar compared to your previous records.
I still wrote on guitar and mandolin but as soon as we could we would take it away.
Were there certain musical challenges for you and your band?
This was an opportunity to explore drum programming, beat making and playing bass—the challenge was working with different equipment that we hadn't previously used.
Who are your top two favorite hip-hop acts?
I would say, Tribe Called Quest and De La Soul.
You make a couple references to family and the lyrical content seems to be introspectively reflective—was there something specifically motivating your lyrics?
This record, more than any other, has more of an undercurrent and it's all one way or another about my relationship with my dad and our estrangement, and how it has affected my life in what I've done or haven't done. It's a very turbulent rocky relationship.
There's a great adjacency to this record. It can be a really fun record to listen to, and also a pretty deep and profound. How do you find the strength to sing about such heavy content?
While writing so many of these songs, I thought I'd write and scratch them because I couldn't imagine them being on record. It was hard to be that vulnerable, but it was also freeing and that's the most honest thing I could do—anything else would be a disservice.
I knew I'd make a personal record and it would make it intense, but I always knew it would be fun played live—something that people could dance to. If we were playing such intense subject matter, there would also have to be joy.
Was it therapeutic? Do you think this might repair your relationship?  
It was definitely [therapeautic] for me. Even in my most optimistic state I never considered it would bring us closer. It was just looking at this thing that I've been in denial about for a very long time. My favorite part is hearing from people, and authentically talking about how hard family is.
Merrill Garbus, of Tune-Yards, produced the record, who also produced your Thao + Mirah record. What made you want to link up with her again?
She co-produced the record in 2011 with us. We've ben great friends since 2008 and we're always talking about hanging out more and working on a more extensive project. Scheduling-wise I didn't think it would work out, but it became so obvious with the content I needed someone I felt close to and could trust to produce this record. She helped me on so many levels to just go there and explore that territory sonically and emotionally. I couldn't have made such a vulnerable record without her.