The trek from The Bay to Indio can look a little like the scene from Swingers. Your Vince Vaughn-like friend-of-a-friend hypes up the carpool with Coachella chants while there's still an 8-hour, traffic-plagued drive ahead. Coachella, baby, 'chella. Smash cut to drive complete, campsite set, Vince Fawn has pre-gamed him-or-herself under the table, and now you're slapping on sunscreen at the gates of one of the largest festivals in America. Coachella, baby.
Everyone comes together to have the best time possible—but heat, lines, and the heart-wrenching decisions on who to see can threaten that. So here's the rundown of our most memorable moments of Weekend 1, so you can make the most of Coachella Weekend 2.
DAY ONE
Bob Moses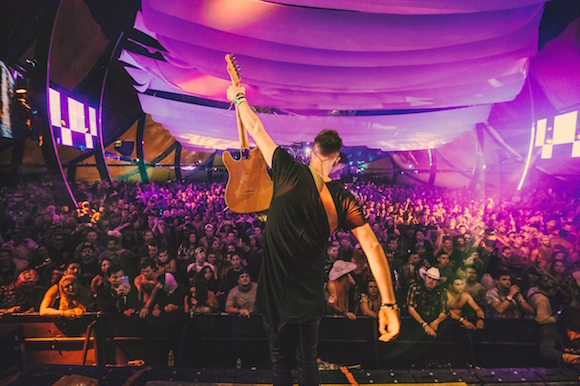 Just past the gate check, the weekend was off to a hot start. Louis The Child, Goldroom, and Robert DeLong jumpstarted heart rates and broken the first sweat. Onward to the Mojave Tent, Bob Moses seduced the overeager back into an energy conservative groove.
TIP: One of the most important lessons learned at Coachella, whether from past years or a beginner's day one, is energy must be rationed in order to last to the finish. Bob Moses knows this, which may be why they successfully closed the whole festival out with Day Three's secret DoLab set after opening day one.
Gallant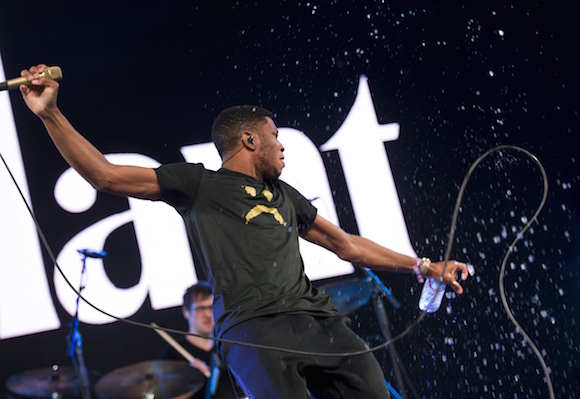 Gallant whipped his rag and flexed his incredible neo-soul falsetto. Gallant called forward R&B legend, Seal, for "Weight In Gold," as performed on their collaborative In The Room session. Before polishing off his Coachella debut, Gallant helped Seal with the 1991 hit, "Crazy," giving Coachella a testament of 25 years of musical progression in a single moment on stage.
A$AP Rocky with Kanye West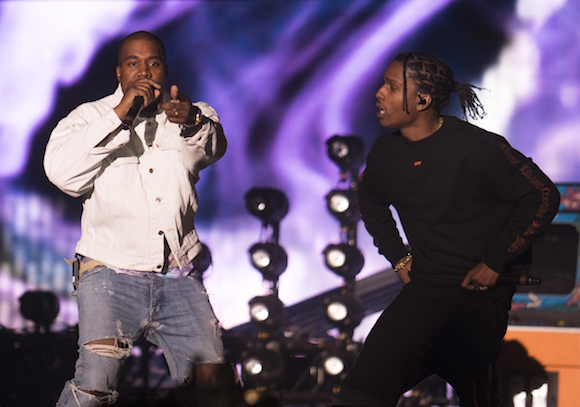 One of several mic mishaps of the weekend sabotaged A$AP Rocky's big surprise. Although it would not be the worst of all, it was certainly the most talked about microphone faux pas. A$AP Rocky had just put in the work to amp the Outdoor Theatre with an energy crescendo that would peak with one of the festival's most elite guests—Kanye West. But when Yeezus dropped the mic, it had never been turned on.
M83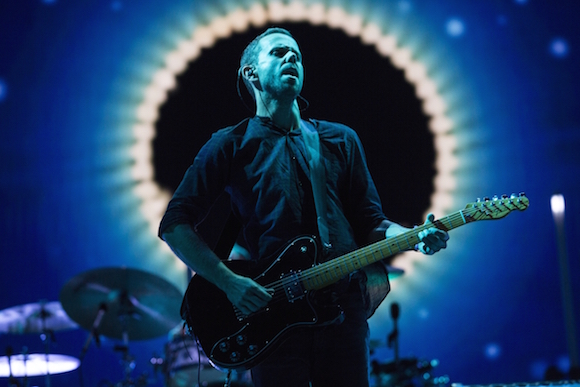 After the previous A$AP awkwardness, some found a clear vantage point of the Main Stage and were stunned. M83 was draping the first starry sky vibes over Coachella with Midnight City. The last of twilight faded to night, and Indio had its first look at Coachella '16 after sundown, tracked perfectly by M83's mellow dream pop feels.
TIP: Feel free to roam. Unless you're 100% content, try not to stay in one place too long. Some of the best Coachella surprises are stumbled upon, and are not necessarily an A-list cameo.
Jack U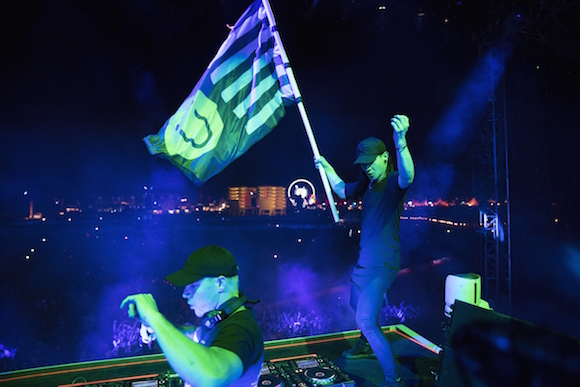 Jack U brought out surprise guests AlunaGeorge, Kiesza, and Post Malone. Yeezy made another Coachella appearance during Jack U's set, but this time, West forgot the mic altogether. Jack U and company pumped up Coachella's adrenaline from a stage fashioned as a massive computer . It was a blow up of that old school Mac that 90's kids—myself included—would use to play Math Blaster and the OG Oregon Trail.
Purity Ring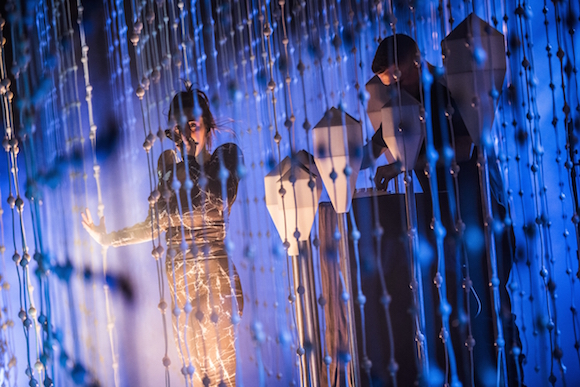 Once Diplo and Skrillex retired the Outdoor Stage, our sights befell Megan James caressing her way through the light tentacles typical of a Purity Ring set. The Mojave Tent was overflowing and anyone caught outside was subject to the inescapable sound bleeding over, all the way from LCD's Main Stage performance. This brought Day One to a close with an important takeaway—despite Purity Ring's stunning aesthetic, our one regret at Coachella 2016 would be cold-shouldering LCD Soundsystem.
DAY TWO
The DoLab Tent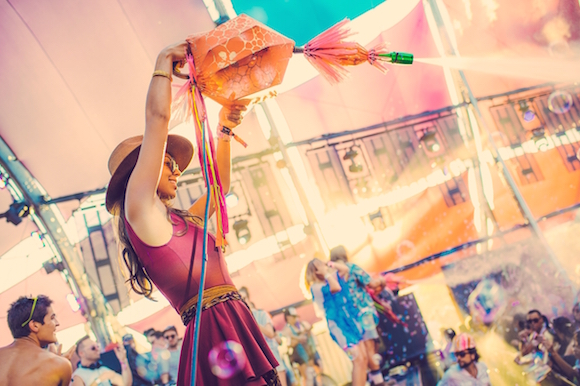 Saturday (and Sunday) stacked an extra 10 degrees on the thermometer so overheating bodies gravitated to the DoLab Tent, where super soakers and water hoses actively battled the heat. The DoLab Team, who also organize and operate Lightning In A Bottle Festival,successfully maintained a down-to-earth family feel—while still providing a surreal, other-worldly playground experience.
This year, DoLab brought back high-flying acrobats and featured DJ sets from rising electronic stars including KRNE, JayKode, Brillz, and Humans. Each day is closed out with a secret artist. Discover the magic of the DoLab Tent over Weekend 2, then meet us at Lightning In A Bottle.
Run The Jewels with Bernie Sanders, Nas, and more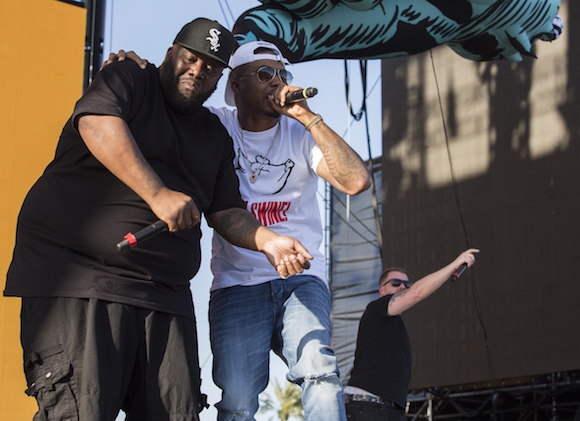 The next Coachella cameo graced the Main Stage. As a crowd amassed in front of giant zombie hands signaling a gun and fist over stage, someone somewhat unexpected flashed onto the screen. Senator Bernie Sanders beamed out to Coachella and gave an empowering intro to his friends, Killer Mike and El-P. (Watch here.) Run The Jewels was also joined by Nas, Gary Clark Jr., and DJ Shadow.
CHVRCHES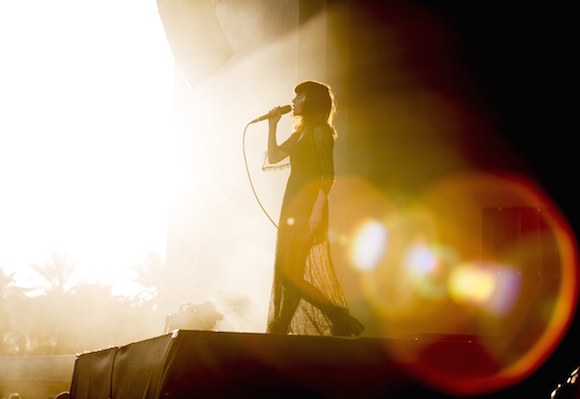 Chvrches took the Main Stage to secure the most stunning sunset performance at the festival. The instant she met her audience, Lauren Mayberry was caught in her most chatty mood yet, candidly sharing her rare SPF preferences, gig wounds, and more. If anyone on site had experienced any shred of negativity in the day, this Scottish heartthrob charmed it away with her comically cute ramblings. Chvrches have been known to steal hearts and at Coachella 16, this was true to form.
Ice Cube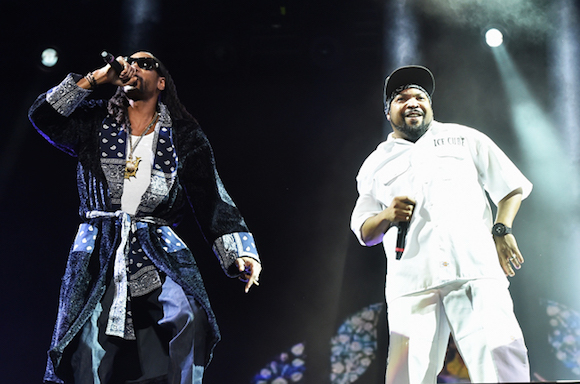 After Disclosure and Sam Smith left the hook from "Latch" echoing in ear, hip hop fans held down the Main Stage lawn, watching stage crew construct Ice Cube's goliath catwalk. "Can I keep it gansta' tonight!?" Ice Cube spit the question and charged the stage with attitude. Soon after, MC Ren and DJ Yella accompanied him for an N.W.A. reunion—minus Dr. Dre and the late Eazy-E. Cube's son, "Junior," also showed up to assist and, before Ice Cube closed out, Snoop Dogg rolled through on a shiny gold big-wheel and a bandana robe to perform "Go To Church" and "Next Episode."
ZHU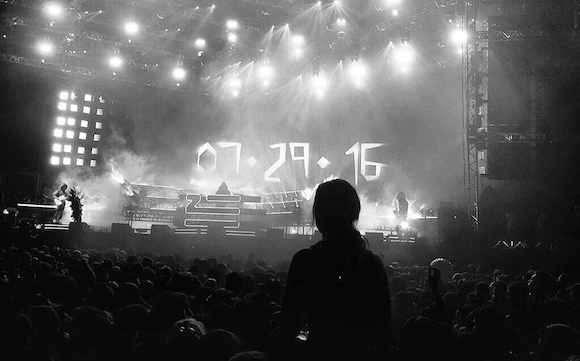 With the image of Snoop on a tricycle still burned into memory, crowds hurried to get in position for one of the most mysterious artists of the past year. The packed Sahara tent turned dark. Two cloaked figures drifted to the front of the stage with slow monk-like discipline. Shrouded in smoke, one held an electric guitar, the other a saxophone. A third figure seemed to appear behind the central DJ booth out of nowhere; ZHU. Each of the three faces were entirely concealed by shadow under their hoods. The guitarist riffed an epic arena rock solo then ZHU dropped a deep future house beat and queued up "Superfriends." After playing an extended mix of all his released tracks, ZHU left Coachella with yet another mysterious message – "07.29.16"
Grimes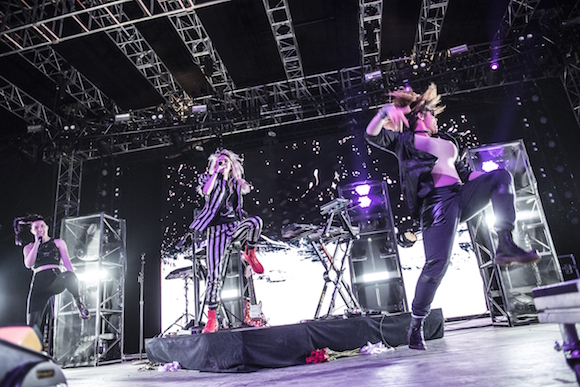 Those who hung around to see ZHU's screen flash numbers, which were rumored to be an album release date, missed out on the force that is Grimes. She took to the Mojave Stage in Beetlejuice stripes and writhed in her own awesome weirdness. The platinum blonde songstress called up support from Janelle Monáe, and dedicated her screens to colorful Bernie Sanders silhouettes for the second half of her set. Following that, Taiwanese rapper Aristophanes, helped Grimes close it down with a total calorie burn for "Scream." If you're attending Weekend Two, get to Grimes.
Dub Fire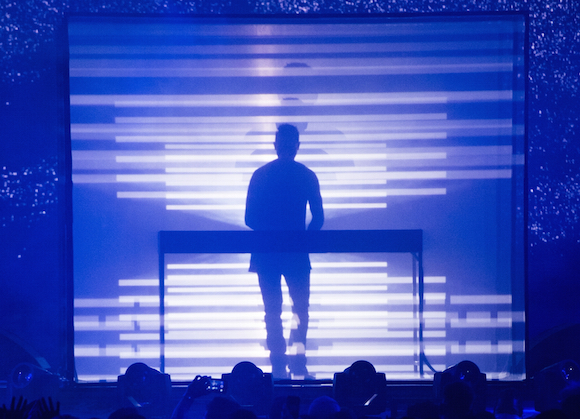 The most unexpected find of the whole weekend came with stumbling upon the final Mojave Tent performance on Saturday night. There, Dub Fire was encased by an opaque backlit cube that projected a mesmerizing three-dimensional light show. Dub Fire conducted a sophisticated deep tech house mix that kept the night owls dancing, and subsequently pleading for more.
DAY THREE
Rancid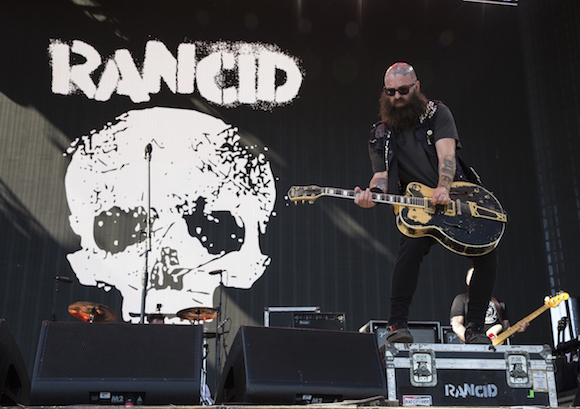 Sunday kicked off with Rancid bringing old punks and young ravers together to corpse-revive the art of skanking. Rancid brought Coachella back to 1995 with "Olympia, WA" and "Timebomb." Then Timebomb Tim ended the set from the pit with every punk mom's favorite song, "Ruby Soho."  Temperatures were back at Saturday's highs, so after skankin' around with Rancid it was a wise idea to head to the DoLab Tent to get hosed down.
TOKiMONSTA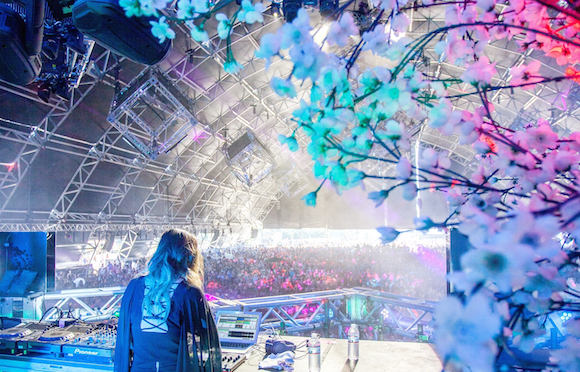 Tokimonsta held a stage decorated with cherry blossom trees and a magnificent light show to coincide. From her aesthetic to her distinguished electro-anthems, Tokimonsta kept everyone's unwavering attention. Toki took her crowd to level 100, calling up Anderson .Paak to throw down on their hit single, "Put It Down."
Major Lazer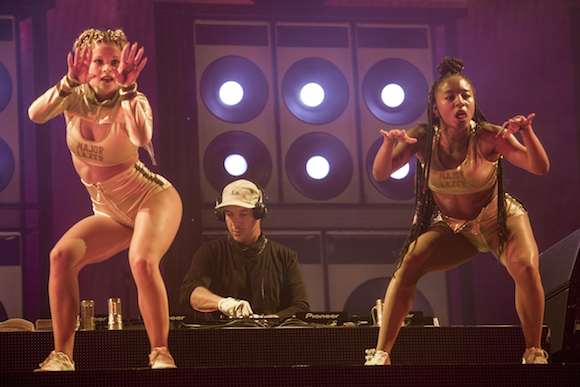 The Major Lazer crew barrelled onto the Outdoor Stage in stylish white cricket uniforms behind a university marching band and dance squad. We're not sure what the cricket outfits contributed to the performance but they were torn off within minutes, anyway. In fact, the trio conducted several mid-set wardrobe changes like it was an award show performance. Maybe it was practice for Diplo, as he certainly deserves an award for dominating this year's festival. The international super DJ performed as one-third of Major Lazer, one-half of Jack U, then headlined Sunday's Heineken House line-up, which he curated himself.
Anderson .Paak & the Free Nationals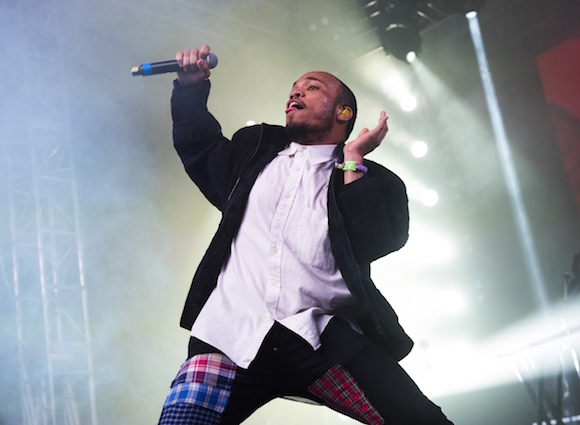 Anderson Paak has been raved about all year and especially going into Coachella Weekend 1. So, the Mojave Tent was understandably saturated within minutes. A.Paak exploded onto the stage with unmatched style, swaying with smooth soul vocals and the flyest pants seen all weekend. Unfortunately, his voice was soon silenced by the third and worst microphone malfunction yet. Paak recovered with a new mic and half a song in the trash. He waved everyone in closer, "Coachella are you still with me!?" Coachella was audibly ecstatic, unfazed by the blunder. He invited fans to live through memories of his first pair of Jordan's and then surprised everyone, bringing T.I. to the stage.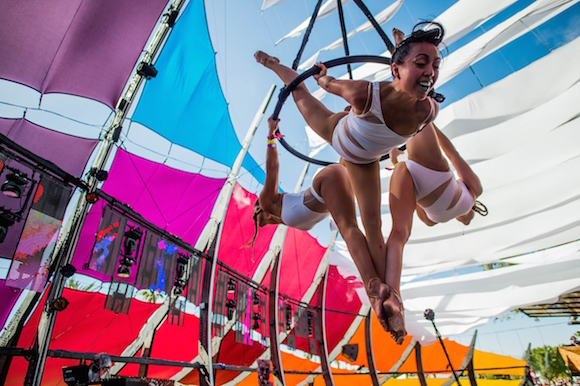 Coachella is a massive and magical festival full of surprises. There are so many things to do, acts to see, and people to meet. It's important to keep in mind, that one cannot do it all. That said, we are kinda bummed we opted out of LCD Soundsystem.
If you attended Weekend 1, leave us a comment with your favorite acts and we'll see you in the desert next year!
Image credits: Getty Images