Q&A: SNBRN Concludes His 'Gansta Walk' Tour in SF & Discusses Unreleased Nate Dogg Vocal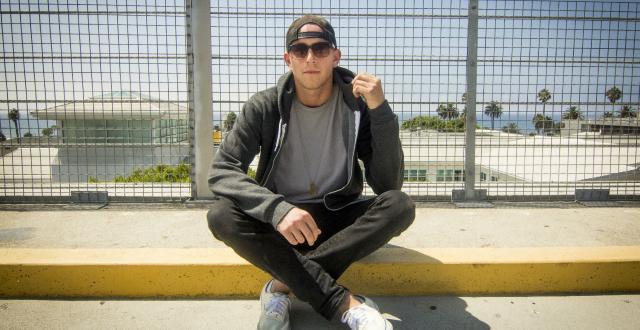 Electronic DJ SNBRN concludes his "Gangsta Walk" tour at Ruby Skye on April 9, following appearances at Ultra in Miami and Buku Festival in New Orleans.
Kevin Chapman has been performing as SNBRN for the past two years, and his meteoric rise to upper echelons of the dance music scene has been remarkable. He's released successful original tracks like "Raindrops" and "Beat the Sunrise," both with excellent and friendly house vibes. He's also dropped unique remixes like Marvin Gaye's "Sexual Healing" and most recently, a noteworthy reinterpretation of an unreleased Nate Dogg track (the first of its kind) called "Gangsta Walk," hence the title of his tour. Following the tour, SNBRN is on the path to release more new material and performing at additional festivals.
To preview the last live show of his current of tour, we asked SNBRN about what it was like growing up amidst the Southern California electronic music scene, how he was able to get permission to release the Nate Dogg track, and what he likes about San Francisco.
You cite Fatboy Slim and Moby as big influences. What about them inspired you to pursue electronic music professionally?
Back in 2005-2006, I was really listening to a lot of Moby like Play. And then I started really going to festivals and raves. At the time, those two were the two main guys besides 2ManyDJs and LCD Soundsystem. Those performances really took me back. It was a pretty mind-blowing experience, plus the music as well at that era was amazing.
Your background origins span Los Angeles and San Diego. What would you say are some of the major differences between the two cities' club scenes?
Things have really changed. I started playing a lot when I was about twenty-one years old in San Diego. This, I would say, was the start of electronic music really exploding in the SoCal area. It was two major clubs that pretty much had it all—Avalon Hollywood for CONTROL Friday's and then Voyeur in San Diego along with Wavehouse on Sundays—those two pretty much got me really involved in the scene. I started playing those places and it kind of changed my life.
The difference…well, they were very similar back in the day. Now with them being closed, the scenes are completely different. There's not too many clubs besides Bang Bang in San Diego. I don't play San Diego except for CRSSD Festival. I would say it is a bit more commercial down there. LA has a lot more deep house influence to their shows. There's a lot of that going on.
How would you self-describe your music style in terms of genre?
I've written this down a couple of times. Deep indie, Nu Disco, Dance…there's even an element of 90's to it. And there is an element of old school hip-hop snares. It kind of has that crunch to it you could say.
What was your biggest moment from playing at Ultra music festival this year?
I was completely frightened and so confused. I was listening to Ultra sets from over the years and thought 'fuck, what am I going to play'? I didn't have a clue. I thought I'm just going to have to feel this crowd out. I went into it with a club mentality. At most festivals, I have a pretty good idea of what I'm going to play and just go with that plan. With this one, I had a playlist of 60 tracks. I thought, 'I know what I'm gonna start on and the rest I'm just going to swing'. It worked out really, really well. I started feeling out the vibe and started playing songs in that realm.
That track "Beat the Sunrise," made me wonder…where would you say was the best sunrise you ever saw?
Oooo. I would say, on the beach, in Miami. At like Miami Music week a year ago. On the beach, on the sand, watching the colors. The west coast sunrises are way different. East coast sunrises are just amazing.
What are your goals for the rest of 2016?
Yeah! I just announced I'll be at Shambahla this year. I have a bunch of other big festivals being announced on the touring side of things. On the music front, I have a lot of music that I'm currently working on, and the next [track] comes out the last week of April. I'm really excited about that. I'm really trying to hit new genre, new space, and create some stuff I feel hasn't really been touched.
How did you convince Nate Dogg's estate to let you use an unreleased vocal for your remix of "Gangsta Walk?"
Dude, it's actually not even a remix. Cause what happened was the song was never officially released. I'm trying to remember…some friend or something had taken it and if you listen to the original version, it's different. The same thing happened with Tupac—all of the sudden someone found some acapella in some catalog.
[Nate Dogg's] publisher came to me and said I have this unreleased Nate Dogg song. Let's see if you can do anything with it. He had heard my remix of 50 Cent, "21 Questions," I was looking for something in that realm. It's like rapping but there are more melodic pieces to it. With Nate Dogg, it took like a year, a year and a half to track down his estate and go through that whole process. At the end of the day, everybody on his side was so happy with it. I ended up being the first one ever to clear a Nate Dogg sample and get an unreleased track with him.
Where has been the most surprising show so far on your current tour?
I would say there's been two—Los Angeles, just because that's where me and Dr. Fresch are from. To have a sold out show with 1,800 people is just a little checklist of something we've wanted to do since we were 16 years old. That was quite an experience that meant a lot to both of us.
The second one was Philadelphia—in the middle of this blizzard. We thought no one was gonna come out, but all these kids drove out. The streets of Philly were empty. It was desolate. All these kids came out. I was like 'damn'. That literally touched me. These kids went through all that just to come and see us.
Your tour wraps up in San Francisco. What do you enjoy when you visit?
San Francisco is one of my favorite cities. A big part is just having such a huge fan base up here. Every show is amazing. All the people come out. My family also lives in San Francisco. They moved up here seven years ago. Every time I play San Francisco my whole family comes out to see me. It's quite an awesome experience every time.