Mike Gushansky made the dive into the DJ life in March of '07, on his 18th birthday. As classically trained pianist, he grew up in L.A. under the roof of a piano teacher. His mixing skills were seeded amongst the trees of Santa Cruz, on his starter kit, starring a pair of 1210 Mk5's and a Pioneer M400. While attending college at UC Santa Cruz, Gushansky took part in running Don't Panic, a series of forest raves, drawing crowds that easily topped 250+ heads. Those parties played a critical role in shaping the artist that Mike Gushansky has become.
To this day, Mike keeps his mixes all-vinyl. Outside of providing quality and nuance, spinning vinyl triggers the same adrenaline that he first found mixing live in the woods, where external conditions keep artists on their toes. The extra rush Mike gains from the variables that come with mixing vinyl fuels his performance.  He said, "Something about the feeling of it not being stable, it pumps my energy up and gets me going in a set."
In his Junior year, Mike crossed paths with Bob Five (Direct to Earth) and Jeremy (As You Like It), a game changer that shifted his perspective on mixing altogether. With Bob Five as his DJ sensei, Mike relocated to Oakland and started working with Jeremy. With roots now planted in the Bay Area and Los Angeles, Mike holds grips on both scenes. He runs a late night warehouse party series in LA called REDLINE, while frequently dropping back in on The Bay to link up with As You Like It.
Tagged as a fusion of Psych Disco and Deep House, Mike Gushansky's style reaches all the way back to the golden age of disco, mixing contemporary club music at its origins. Gushansky aims to create a full-body, immersive sound. The result–a lucid mingling of fat psychedelic bass lines over deep layers of incredibly danceable house.
As You Like It is bringing Mike Gushansky, a familiar face in the SF and LA scene, back to San Francisco to heat up the dance floor at Public Works' loft space on April 1st. Fellow AYLI squad member, Mossmoss, opens the downstairs set for Klockworks' DVS1 and Ben Klock, while the loft will feature a Let's Play House Showcase with Urulu and Jacques Renault. Doors open at 9pm and close at 4am. General Admission tickets are $20.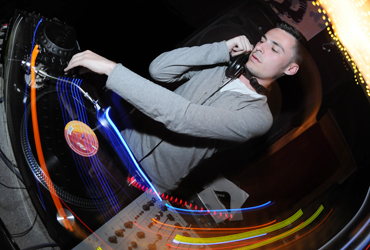 Image via As You Like It