Renowned Photographer Annie Leibovitz Premiers Iconic 'WOMEN: New Portraits' Series in SF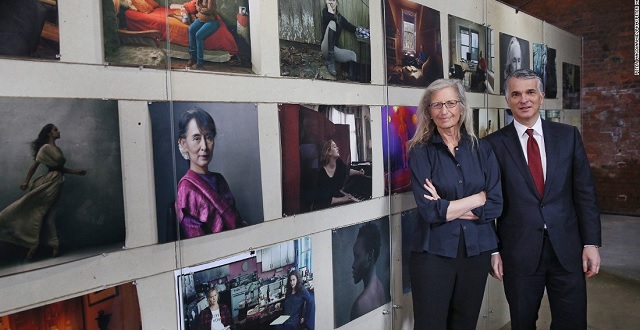 Impressive photographs of some of the world's most influential women, from distinguished ballerina Misty Copeland to Facebook CEO Sheryl Sandberg, are currently on display to the public at Building649, at The Presidio's Crissy Field. The free exhibit, titled "Women: New Portraits," runs from March 25 to April 17 and showcases the astonishing photography work of the much-beloved portrait photographer Annie Leibovitz.
Annie Liebovitz was once the Chief Photographer for Rolling Stone, created some stunning and often controversial photos for Vanity Fair, and took photos at the Olympics—just to name some of her early feats.
In total, there are twenty images (with more on the way) on 16-by-20-inch prints, featuring leading women involved in current affairs. These small photos are quite small compared to Leibovitz's original photo series which depicted anonymous female workers on much larger screens, such as farmers, school teachers, and coal miners.
The pieces are unframed and pinned in an unexpectedly casual manner. In a press preview, Leibovitz comments that the show "looks like a work in progress because it will always be just that…It's organic. Women are always evolving, and so is this project."
The new portraits were commissioned by Swiss bank UBS, and the exhibit is a continuation of Leibovitz's percipient "Women" series, a project she began back in 1999 with late filmmaker Susan Sontag. The series serves as a study female identity near the end of the 20th century.
In addition to Misty Copeland and Sheryl Sandberg, "Women: New Portraits" features a black-and-white image of British primatologist, ethologist, anthropologist Jane Goodall, a photo of Berkeley culinary pioneer Alice Waters with her daughter, Fanny Singer, a previously unpublished photograph of Caitlyn Jenner (an image from last year's famous Vanity Fair shoot), and a snapshot of comedian Amy Schumer.
The show originally opened in London and proceeded to Tokyo. San Francisco is one of only two U.S. cities (New York the other) that are included on the mega tour.
San Francisco was selected because of Lebovitz strong emotional connection to the city. She had majored in painting at San Francisco Art Institute and took a nighttime photography class here, purely on a whim. After the two week stop in SF, the exhibit moves to Singapore, Hong Kong, Mexico, Istanbul, Frankfurt, New York, and then Zurich.
Although admission is free, advance booking is strongly recommended to avoid lines.
Exhibition opening hours:
Saturday-Thursday: 10am–6pm (Last admission at 5pm)
Friday: 10am–8pm (Last admission at 7pm)
Address:
The Presidio's Crissy Field
649 Old Mason Street
San Francisco, CA 94129