Interview: Slayer 's 'Repentless World Tour' Embarks on the Bay with Two Nights at the Warfield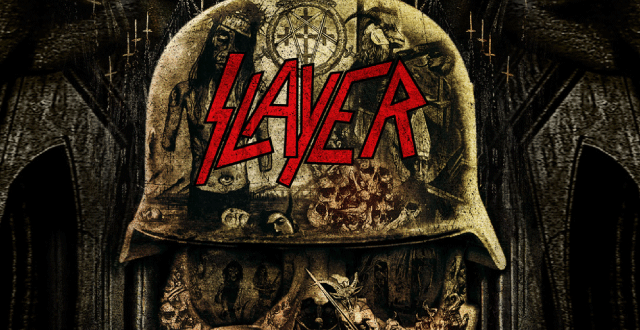 Thrash metal kings, Slayer, are back in action! For the first time since the passing of founding rhythm guitarist, Jeff Hanneman, the legends are now back on tour, in support of their latest record Repentless.
Slayer has become a household name, for better or for worse. They are unapologetically brutal, heading a thrash metal scene in the early 1980's that thrived in San Francisco and Los Angeles. Metallica, Megadeth, Slayer and Anthrax were dubbed the "big four" that epitomized the scene, but Slayer stood apart with their lyrical content, exploring taboo subjects such as murder, serial killers, necrophilia, torture, genocide, human experimentation, Satanism, hate crimes, terrorism, religion, antireligion, Nazism, and warfare.
Their fans known for their crazed dedication—some so loyal that they literally carved 'Slayer' into their skin with razorblades. Bloodshed has since become a sort of mantra for the band. New guitarist, Gary Holt, recently donated 18 viles of his own blood to custom paint his guitar (can't get much more metal than that).
Founding members Tom Araya and Kerry King have been battletested through the years with accusations of encouraging death through their music, practicing Satanism and supporting Nazi behavior. They have also overcome personal issues with Araya undergoing gull bladder and back surgery during two separate tours, the "on-again, off-again" relationships with original drummer Dave Lombardo, and the recent passing of guitarist Jeff Hanneman.
Slayer has influenced and paved the way for thrash metal groups like Pantera, Slipknot and Sepultura. They have been nationally recognized with multiple Grammy nominations and two awards for "Best Metal Performance". Slayer has since welcomed new guitarist Gary Holt (Testament, Exodus) and returning drummer Paul Bostaph, who's filled in for Dave Lombardo over the past twenty years.
We caught up with drummer and San Francisco native, Paul Bostaph, to talk about the current state of Slayer, the passing of their friend and guitarist, Jeff Hanneman, and  their new record, Repentless.
+++ Slayer plays the Warfield March 22nd and 23rd.
This is your third time playing for Slayer over the span of twenty years. What were your feelings when you got that phone call, were you ambivalent in any way?
I never thought I'd get the opportunity again. I was very excited at the chance to play drums. I'd already been down and rehearsed and did the demo with Kerry. I didn't really get the news in the form of a call, more of a text.
What are the major differences of the band between then and now?
We're all a little more mature.; a little bit wiser. Some of us go to bed earlier than we used to. We don't burn the candle at both ends, and guys have families. Twenty years ago maybe they didn't, and now they've got children growing up, graduating from high school. We're not little kids anymore.
Does it get any easier replacing Dave Lombardo, someone you admire as a drummer?
No, it doesn't get any easier. I think all the preparation I've done in the past, learning the material and trying really hard to be authentic as possible, I don't really need to do that now, though now there's a whole bunch of other songs I never played with the band. It never gets easy. Let's face it, Dave is one of the top drummers. It's not easy to try and emulate what he does. Just do your homework, and if you do it well, you'll be prepared.
How was the transition of Gary Holt joining Slayer? 
It made sense. If Jeff wasn't gonna be able to do it, Gary would be the go-to guy in that situation. He's been there at the beginning of the whole thrash metal movement along with Slayer, Megadeth, Metallica and Anthrax. It was the perfect fit. He's friends with the band, and he certainly can handle the rhythmic guitar demands of this style of music, and he's a great lead. It made perfect sense to be here now.
Gary donated 18 viles of his blood to customize his guitar. That's pretty damn metal. Were you there when he did it?
No, he did it while we were on tour. It's pretty cool, the guitar looks fantastic. It's very metal. It's very Gary, too. He's heavy.
Did you have a sort of initiation, whether it was intentional or not?
I never really had a hazing process with the band. I expected something, but nothing ever came. I think just hanging out with each other as real people was the initiation. We got along immediately. If I would say anything, the hazing process was probably going to TGIFridays and having some drinks after band practice.
Jeff Hannaman passed away in 2013 and Repentless is the first album recorded since his death. What was the writing and recording process like?
The process was the same. The only difference was we didn't have Jeff around. The way the band record, that didn't change. We're used to recording a certain way.
Did it dredge up any difficult feelings or emotions?
The loss of Jeff affected us differently. We all dealt with it, individually. For me, anytime you lose you a friend, it's hard. I consider Jeff a friend. There's things that can distract you when you go to work, but you eventually go to work where you're not thinking about their loss all the time. I still think of him every day because without him and his contributions we wouldn't be where we are. He was a big player on the team.  Thoughts were with me the whole time, wondering if Jeff would like this drum fill. And every time I play a song that Jeff wrote, it's pretty heavy.
You were born in San Francisco. What does the city mean to you?
Every time I play the bay, it's definitely a homecoming. I grew up there. I went to high school there and played sports there. I got introduced to playing the drums and pretty much got drawn into the Bay Area thrash metal scene as it started to blossom. I'd say almost every day of the week I'd be going to the Stone or the Omni to see a touring or local bands play. I love the bay. It's the best place in the world to live.