Today New Zealand-based audio software company Serato is releasing a new playlist-building app dubbed "Pyro." Pyro allows users to build playlists from both their Spotify library and their personal library to create one sourced from both the streaming service and their own collection. Like a DJ, it also mixes songs of similar beats per minute to create a seamless, continuous flow of songs.
Serato's founder, A.J. Bertenshaw, describes the app as originating from a common problem — "When you're together with friends, you always connect your phone or laptop to the stereo and then you let it play. When everyone's listening, there's always a situation where someone spontaneously wants to hear this or that song. Playing that individual song breaks you right out of your playlist and then you've got to babysit the music playing device. What Pyro does is it lets you make and order that playlist on the fly. While the playlist is being consumed, it's also being created."
The app makes it easy to add songs, rearrange the order, and even has a "mix up" function that mixes the songs into an intelligent order based on the flow of BPM. It's sort of like a robo-DJ that mixes your playlist into a smooth, professional sounding stream of tracks. The app aims to revolutionize how people interact with playlists or crates of music. It's made for house parties that don't have a DJ but want a smooth flow of songs as well as musicians who want to listen to their collection without pauses or quiet lulls every four minutes.
As Bertenshaw puts it, "It's a different way of looking at playlists. In a regular music app, you open a playlist and you can choose to play that playlist but you're not really drawing from it — you're either playing that one or you're playing a different one. With Pyro, you can open up multiple playlists from either Spotify or your own music collection and choose some or all of them and meld them into a new, on-the-fly playlist that you're building as you get inspired. Then you can re-order the songs, and save it if you really like it and play it again later." In reality, Spotify doesn't have every song in the world on it; but with Pyro those unusual items like a rare vinyl rip can be played right alongside Spotify tracks. It's a DJ's dream come true.
The app comes pre-loaded with playlists put together by influential labels such as Diplo's Mad Decent, A-Trak's Fools Gold and Steve Aoki's Dim Mak. These tastemakers are impressed with how well the app caters to electronic music. Bertenshaw notes, "some of the big name DJs that we have spoken to have said that this is going to raise the bar for expectations of listening to music because this is the way that DJs listen to music. Soon everyone will get used to hearing their playlists mixed together and it'll be something people expect."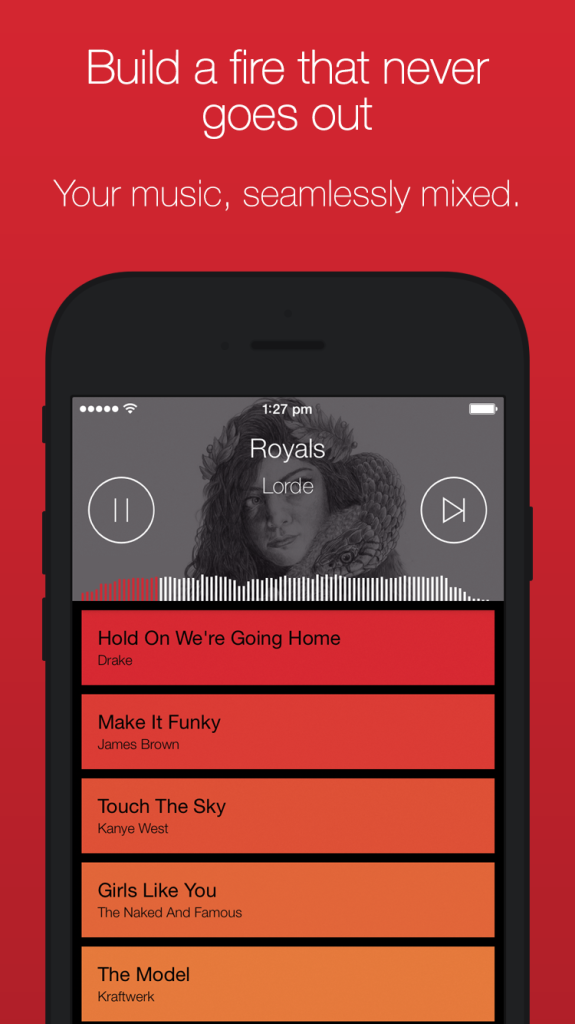 Finally, the app uses Spotify's proprietary software to make song recommendations based on what the user is listening to. You can view these and add them in or let the app naturally play these suggestions after it has exhausted the playlist. Bertenshaw adds, "You don't have to keep babysitting the thing the whole night! If it's playing the big fat music at your party, it will use the songs that you chose at the end of your playlist to choose new songs to keep the music going. Essentially, it doesn't stop unless you push stop!"
This iOS music player app is free and is available today. The Android version is in the works for a later release date. "We just want to get it into as many hands as possible," says Bertenshaw, "and eventually what we'll do is have ways you can upgrade the app, like extra features you can purchase for more control." Spotify is the only steaming service that allows third parties like Serato to sync up with it, but stay tuned for partnerships with Google Play and Apple Music.