Jessica Eastburn's Solo Show Brings A Fresh Style of Contemporary Art to North Berkeley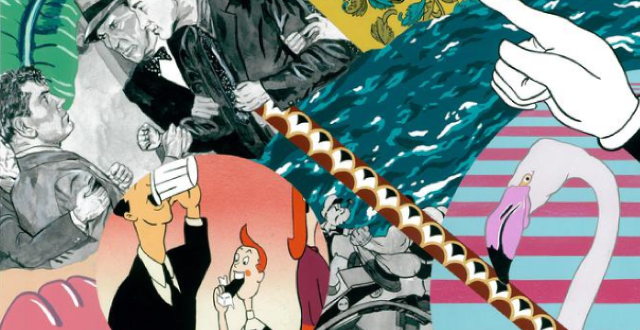 Totally Rad Gallery in North Berkeley brings Jessica Eastburn's contemporary artwork to the East Bay for its second show of the year next Saturday, February 6th.
Eastburn has been letting random images creep into her abstract paintings for the last three years. Having grown up in the early 1980's, she fell slowly captive to the contradictory norms pervasive of the era.
Mimicking the "drag-and-drop" technology so present in design software and visual artistry, Eastburn has reinvented the same craft with antiquated tools like rulers and protractors. Then, by using watercolor, airbrush and spray paints, she fill in the gaps as if it were a Paint-by-Numbers project to create collage-like pieces that seem to come together both magically and methodically.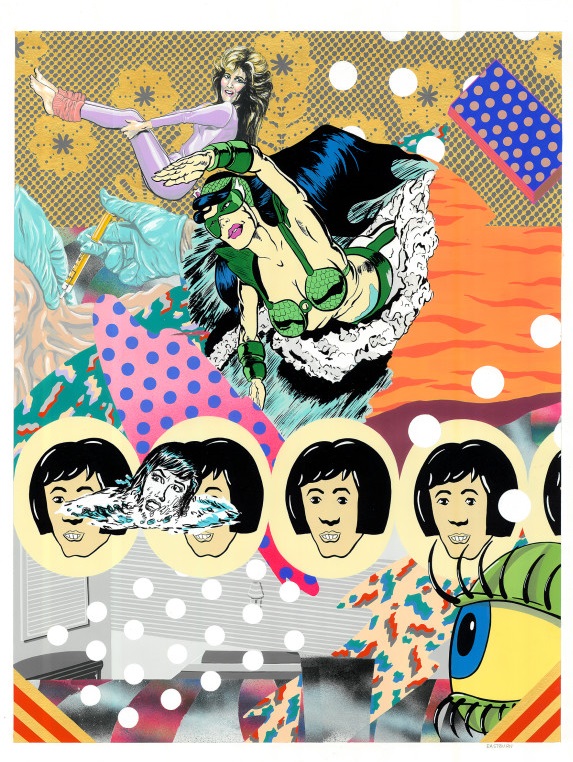 L'Enfant Terrible by Jessica Eastburn
Her upcoming show, Screen Test, combines elements of the confusing and the comfortable in full force, prying at the notion of how digital appropriation can be both overwhelming and meaningless.
"It's really just about it being nonsensical and a hodgepodge of stuff…creating an overload," said Eastburn.
Drawing from her own recollection of vintage commercials and comics, she often selects what is visually pleasing. It doesn't necessarily have to mean anything – and that's precisely the point.
Eastburn often just plugs words into Google to see what data is returned. The same barrage of content she turns up with tends to mirror the unpredictable nature of her paintings to prompt a sensation of being overwhelmed.
Screen Test responds to the concept of an all-consuming digital lifestyle that offers an abundance of information, but many times provides no real substance. Not to disparage anyone who regularly uses social media, but she sees the same hold true for the content others project through their own devices.
"A lot of times people aren't interested in living a life—they're interested in creating these artificial moments and having people have certain ideas of how they're living," Eastburn said.
"Archimedes" by Jessica Eastburn
Totally Rad Gallery was recently opened by UC Berkeley grad Amber Mueller on the bustling stretch of San Pablo Avenue close to the border of Albany, sandwiched between a Church's Chicken and the notorious Tokyo Fish Market.
Mueller was initially attracted to Eastburn's work for its complexity and the endless interpretations it induces. "The less I understand right away the more I'm interested in it," she said.
The February 6th opening of Screen Test will also precede neighboring developments on the block, including a new record store and a separate gallery opening.
Find more information on Eastburn's opening this Saturday at 6pm. Totally Rad Gallery is located at 1212 San Pablo Avenue, Berkeley, CA.