Japanese Hologram Pop Star Hatsune Miku Coming to the Warfield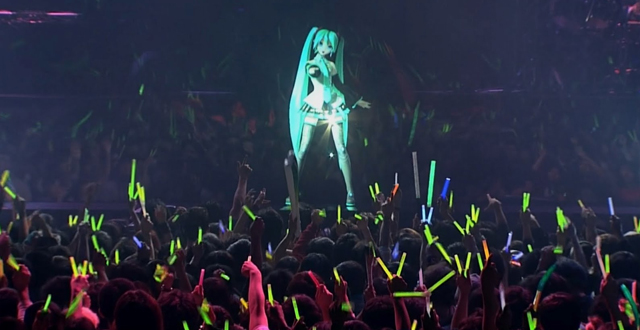 Holographic pop star and video game protagonist Hatsune Miku begins her first North American headlining tour next year, with two shows in San Francisco at The Warfield on Saturday, April 30. Dubbed the Hatsune Miku Expo 2016, the humanoid persona's seven-city international tour across three countries begins in Seattle and ends in Mexico City.
In case you were wondering who or better yet, what Hatsune Miku is exactly, you are not alone. According to Gizmodo, "Her bio describes her to her 2.5 million Facebook fans as a virtual singer who can sing any song that anybody composes. She debuted in 2007 as software called Vocaloid developed by Crypton Future Media, a Sapporo-based music technology company. Vocaloid software generates a human-sounding singing voice, but without any actual humans."
Hatsune Miku uses Yamaha Corporation's Vocaloid 2 and Vocaloid 3 singing synthesizing technologies, as well as uses Crypton Future Media's Piapro Studio, a singing synthesizer VSTi Plugin. Her voice is sampled from Japanese voice actress Saki Fujita. Hatsune Miku performs at concerts onstage as an animated projection.
All expo attendees will receive one free glow stick upon entry to the concert venue. VIP tickets for her show include early venue entry, a collectible Hatsune Miku Expo 2016 pass to remember your experience, and exclusive merchandise.
Check out a video of one of her most recent performances in New York on David Letterman's Late Show.