Plan to arrive a little earlier at the SFO airport this holiday season to view Classic Monsters: The Kirk Hammett Collection, an art exhibit featuring vintage and adapted monster memorabilia from musician Kirk Hammett's personal collection, on view until mid-December.
Kirk Hammett may be best known for his electrifying riffs as lead guitarist for the heavy metal band Metallica, but he's also been a lifelong classic horror film buff. Over the past three decades, San Francisco native Hammett has been adding movie posters, toys, props and original artwork to an extensive monster-themed home collection.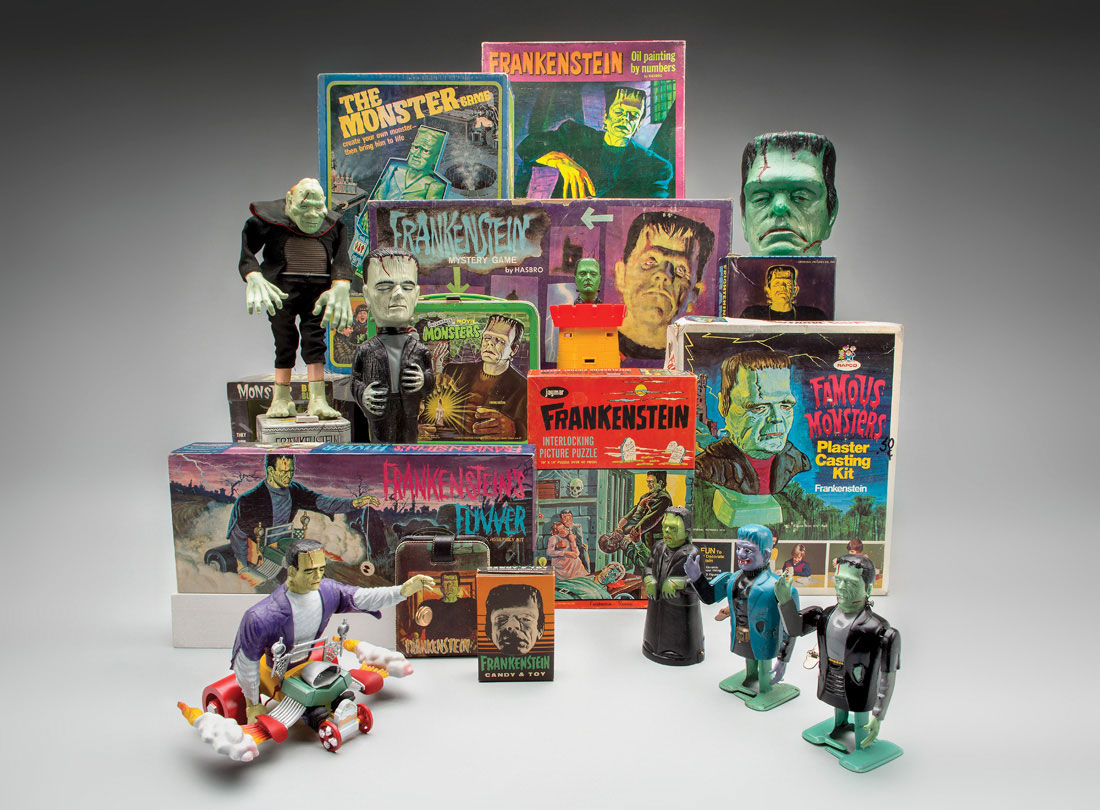 Before ever picking up a guitar, Hammett was entranced with films from Universal Pictures' horror heyday, which spurred household popularity of classic monster films like The Phantom of the Opera (1925), featuring pioneer horror actor Lon Chaney, and the first talking vampire film, Dracula (1931), starring Broadway's Bela Lugosi.
Over 130 of the pieces now at the SFO Museum exhibit hail from this early horror era and were chosen from Bay Area resident Hammett's personal collection, including five guitars with custom-made monster film decals, as well as original artwork by illustrator Basil Gogos that first appeared on the covers of Famous Monsters of Filmland beginning in the 1960s.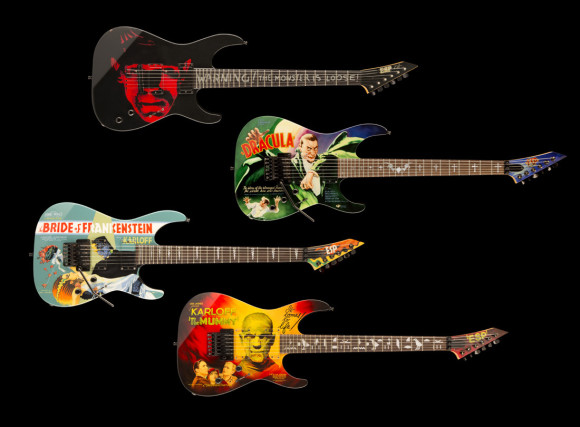 Custom-made guitars from Kirk Hammett's monster collection
Classic Monsters is the first public exhibition of Hammett's memorabilia collection outside those pieces he takes to his annual Fear FestEvil, which brings together metal lovers, bloody monster props and all types of horrifically clad attendees.
An airport might not be the first place you think of to visit an art show, but SFO boasts a reputation apart from national airports. SFO Museum, created in 1980, was the first cultural establishment of its kind and regularly showcases diverse art exhibits that appeal to locals and travelers alike.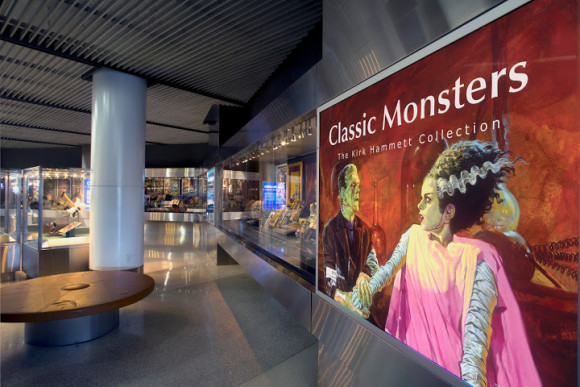 Photo from the Classic Monsters exhibit at SFO Museum inside Terminal 2
Classic Monsters' curator Nicole Mullen, sees airports as unique spaces that engender a captive audience and bring together all kinds of people. SFO uses this opportunity and communal space to spotlight works that span all artistic mediums, cultural phenomena and historical periods.
"We really have the opportunity to expose people to subject matter they might not have even known they were interested in."
The Classic Monsters show (located in the SFO Museum inside Terminal 2) will close after December 13, yet many of the pieces can still be found in copies of Too Much Horror Business, a publication released by Hammett in 2012 that explores his distinctive monster collection.