SF Sketchfest Reveals 2016 Comedy Lineup: Jeff Goldblum, Bill Nye, Jon Hamm, Parker Posey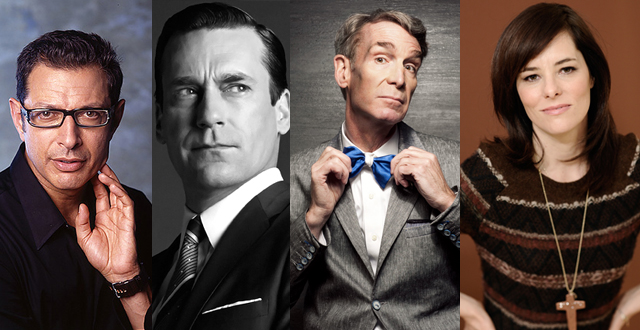 SF Sketchfest has announced the complete lineup to celebrate the 15th annual Comedy Festival, with more than 200 performances at 19 venues across the city. This year's mega event runs January 7-24, 2016 and tickets go on sale this Sunday, November 22 at 10am.
Sketchfest's robust, 16-day schedule for the festival includes both major comedy stars and premier up-and-coming global comedians. The 2016 lineup includes a screening and cast reunion for indie mockumentary film "Waiting for Guffman," a celebration of Oscar-winning actress Sally Field, Jeff Goldbum in conversation, plus appearances by the "Bob's Burgers" creator and cast members. In addition, Oscar-winner actress Sally Field will be honored, she has a new film, "Hello, My Name is Doris," and plans to serve as a monologist for the Upright Citizen Brigade's "ASSSSCAT" improv show. Other noteworthy scheduled programming includes a celebration of animated comedy "Futurama," and an appearance by tons of comedians including the hilariously absurd Kevin Smith. See further below for the complete Sketchfest 2016 lineup of festival talent.
Expect relentless laughs thanks to non-stop entertainment spanning everything from sketch, stand-up, and alternative comedy to music, improv, films, tributes, live podcasts, workshops and panel discussions. Some of the event highlights from last year include headliners Weird Al, Spinal Tap, Margaret Cho, and a tribute to Christopher Lloyd with a 30th Anniversary screening of "Back to the Future." Check out our 2015 photo gallery.
2016 Sketchfest Lineup
– 20th anniversary tribute to "Waiting For Guffman" with a screening and cast reunion with Christopher Guest, Bob Balaban, Parker Posey and Fred Willard
– In-person tributes to Sally Field in conversation with Michael Showalter along with a screening of their new film, "Hello, My Name is Doris"
– Jeff Goldblum in conversation and in musical performance with his Mildred Snitzer Orchestra
– Patton Oswalt in conversation with Boots Riley
– Hit animated series "Bob's Burgers" with creator Loren Bouchard and cast members Dan Mintz, Eugene Mirman, Larry Murphy, John Roberts and Kristen Schaal
– Acclaimed comedic author Dave Barry in conversation
Spotlights on Film Favorites:
– "Hot Shots" 25th Anniversary with Jim Abrahams and Pat Proft
– "Teen Witch": The Peaches Christ Experience
– "Hook" 25th Anniversary
TV Spotlights:
– "Fishing with John" 25th Anniversary with John Lurie in conversation with Parker Posey
– "Drunk History" with Derek Waters and friends
– "Neon Joe, Werewolf Hunter" with Jon Glaser
– "The Adventures of Pete & Pete" live
– "Galavant" with creators and cast
Popular Radio Programs:
– StarTalk Live with Bill Nye the Science Guy and Eugene Mirman
– NPR's Ask Me Another
Appearances by Comedians and actors:
Pamela Adlon, Scott Adsit, Maria Bamford, Todd Barry, Guy Branum, Stephanie Courtney, Cameron Esposito, Noel Fielding, Dave Foley, Judah Friedlander, Ron Funches, Jeff Garlin, Janeane Garofalo, Chris Gethard, Bobcat Goldthwait, Dana Gould, Jon Hamm, Dan Harmon, John Hodgman, Moshe Kasher, Andy Kindler, Nick Kroll, Natasha Leggero, Beth Littleford, Jason Mantzoukas, Kevin McDonald, Thomas Middleditch, Laraine Newman, Tom Papa, Jimmy Pardo, Eddie Pepitone, Jim Rash, Paul Scheer, The Sklar Brothers, Kevin Smith, Martin Starr, Eric Stonestreet, Scott Thompson, Paul F. Tompkins, Michael Urie, Baron Vaughn, Jessica Williams, Maya Rudolph and Gretchen Lieberum

RELATED: Q&A with Oddball Comedy & Curiosity Festival Comedian Jeff Ross