Live Review: Esperanza Spalding Kicks Off Four-Day Residency at SFJAZZ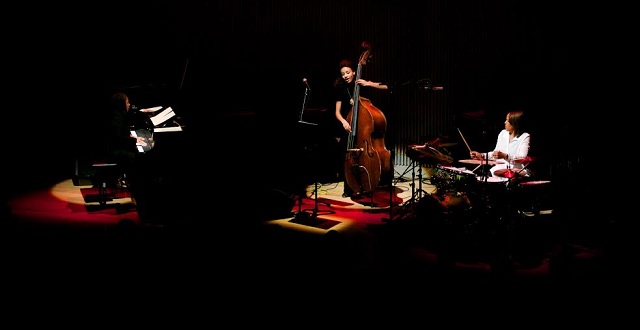 Grammy award-winning jazz artist Esperanza Spalding formed one of the best trios in the genre last night, performing with pianist Geri Allen and three-time Grammy Award-winning drummer Terri Lyne Carrington. It was the first of Esperanza's four consecutive shows at SFJAZZ for her current residency.
An anxious hum could be heard Thursday night in the Miner Auditorium on the corner of Franklin and Fell streets in San Francisco, as one would expect from an inquisitive audience waiting for three incredibly talented musicians to take the stage together. Esperanza Spalding, the stunning 31-year old jazz bassist, cellist and singer, handled the evening with impressive grace and moxy. She infrequently addressed the crowd with minor details about the songs they planned to play, letting her movements and sonic delivery grab the attention of the attendees.
Considered unorthodox in jazz scene, Esperanza showed why she might be the hottest talent in the genre, as she closed her eyes and tweaked with sporadic facial expressions, breezing through a diverse, two-hour set. Her fingers danced across the strings of her stand-up bass like a spider on its web, while her fellow performers Geri and Terri raised the sound quality to an elite level with their intricate and friendly contributions.
https://youtu.be/XHs-pNjC4eo
Their instrumentation appeared so effortless that the trio lost track of the time and had to improvise with a shorter selection of songs than they had originally anticipated. The show was missing vocal opportunities for Esperanza Spalding, whose delicate voice enchanted the dark room just prior to the midpoint of the set.
Fortunately, SF will be treated to three additional nights of impressive jazz music. On Friday, November 20, Esperanza performs with Brazilian guitarist and composer Guinga. On Saturday, she'll be forming a unique trio with Matthew Stevens on guitar and Justin Tyson on drums. Closing out Sunday will be another trio with Lionel Loueke on guitar and Jeff "Tain" Watts on drums. It's unlikely there will be another quadruple jazz performance with as much musical talent and character on display.
Set List:
"Beautiful Friendship"
"Miss Ann"
"Masquelero"
"Nothing Like You"
"You Know I Care"
"Unconditional Love"
"Fall"
"Nefertiti"
"Infant Eyes"