Battles Play the Fillmore: Servin' Up a Third Album & Colorful Food Shenanigans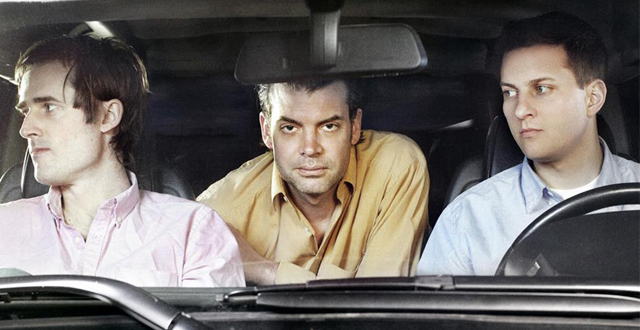 Battles, a three-piece "super group" from New York, comprised of former members of Helmet, Lynx and Don Caballero, bring experimental art rock to San Francisco's legendary Fillmore.
In a digital age where most electronic projects are dependent on computers, synthesizers and drum machines, Battles create voltaic sounds through live guitars and drums. Veering away from their post-hardcore backgrounds, they create upbeat mathematical compositions through groovy idiosyncratic rhythms sprinkled with guilty pleasures of jazz and pop. Popular hits "Atlas" and "Ice Cream" have ranked on several respective music charts and anyone who owns a television or considers themselves a gamer has most likely heard them on commercials for Target, Honda and Audi or in video games like FIFA Soccer 2012 and MLB 2K 2008.
The trio, made up of guitarist Ian Williams (Don Cabellero, Storm and Stress), drummer John Stanier (Helmet, Tomahawk) and bassist/guitarist Dave Konopka (Lynx) formed in 2002 and have released three albums, including their first record in four years, La Di Da Di (pronounced Ladi-Dadi) released this year.
The album is strictly instrumental, having worked with guest singers like Gary Newman and Mitias Aguayo in the past, and features provocative images of food in their cover art emulating the process of their music. "Chefs are the new rock stars," Konopka explains to Rolling Stone Magazine. "The Food Network is more popular than MTV. I wanted a medium to imitate our process in a weird way. There's a story that follows within the cover. Using something visually eye-catching, but also having the subtext of our process as a band." An ideology that such a culinary city like San Francisco can appreciate.
Battles play the Fillmore on Friday, October 9th.