Makeshift Society Hosts Maker's Market: DIY, Crafts, Creative Space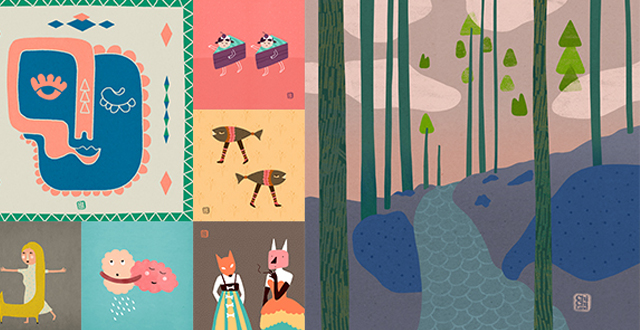 Makeshift Society (MSS) is a co-working hub for artists and holds classes on nearly everything you can imagine. Since it opened its doors in late 2012 they have been cultivating creativity, teaching, and maintaining a community for freelancers, and well, anyone interested in learning something new. This Saturday, September 26th, the space celebrates its anniversary with their Maker's Market event. An open house from 11am to 4pm will showcase work from several of its talented members.
Whether it's to come together to collaborate on projects or just to find a quiet desk space – under what looks like a bunk bed – artists often find an inspiring studio space there where creative juices flow like the coffee that often fuels them.
One of these members is Çiğdem Michalski (Chi for short), who were are pleased to have as our most recent edition to the SF Station Featured Artist series. Chi is one of these frequenting artists who joined MSS as a member close to a year ago. As a self-described artist, illustrator and designer, Chi Michalski has made a niche for herself in a number of different mediums – and isn't necessarily planning to stop anytime soon. Michalski will soft launch her new line of printed scarves at this Saturday's Maker's Market.
Michalski has not always been into crafting fashion. She got her start working in interactive design at imago, the first motion graphic studio she and her husband, Quba Michalski, opened in Istanbul in 2004.
Upon moving to San Francisco, she took a hiatus from the digital space, tweaking her own artistic vision with one art project a day for two years which she displayed on ChiChiLand Everyday, an online collection bank for her work.
"Without the commercial restraints, I was free to try new ideas and styles, and to explore the art of illustration," said Michalski. "Looking back now, the project really helped me feel grounded, gave me a creative structure and a path to finding my true style."
During the MSS Makers Fair, Michalski will debut prototype models of her art scarves, which are ready to wear, frame or hang. For this project, her designs are first done on the computer, then laser cut into linoleum and plywood to form the base of a stamp, which transfers the silkscreen inks onto the scarf material.
Many of her illustrations echo what you might find in a cartoon or candy store, but some exist with a darker tone to them. Lately, she has been working on short story illustrations that could be enjoyed on a number of levels by both children and adults.
She describes the scarf project not as a departure from illustration, but simply as a detour or parallel track to the work she's done in the past. Once she's figured out how to overcome factors of time, cost, and labor intensity, she hopes to move the project through a more optimized and timely production process.
For now, the soft launch at MSS will gauge interest and help in designing future costs and delivery.
"There is something really gratifying about being able to touch, hold or even wear your work – the art scarves satisfy that itch," said Michalski. "As long as I can express all the strange little ideas that come to me and share them with others – I am a very happy human."