This past weekend marked the seventh-annual San Francisco Street Food Festival where food trucks and aspiring chefs from La Cocina brought their culinary creations to the public.
For the first time since its inception as a large-scale outdoor street market, which blocked off sections of Folsom Street in the Mission for two days, the festival found a new home at Pier 70 in Building 12, a rusty historic structure along the main entrance to the waterfront in the Dogpatch.
Once housing over 18,000 shipbuilders daily during WWII, as well as the initial construction for transit along the Transbay Tunnel, this derelict building has become somewhat of a DIY space for events, such as car shows and the annual Ghost Ship Halloween Party organized by artist collective Space Cowboys.
"We loved it when we first saw it because it feels like what our clients are about, which is sort of this raw energy, this potential, this legacy of labor which is harder and harder to find," said Caleb Zigas, Executive Director at La Cocina.
With over 100 owner-operated food vendors packed into indoor and outdoor spaces adorned with furniture constructed mostly out of recycled pallets, a room dedicated to artwork from local The Midway gallery and an outdoor stage featuring indie rock performances hosted by Noise Pop, the new venue was quite the departure from the Mission streets that first gave the festival its rise.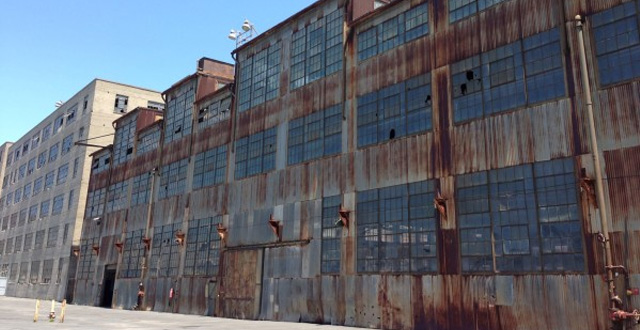 For over six years the Mission was home to the festival, but with rising rents and a constantly changing landscape, its organizers have stated that the spirit and community from the first festival in 2009 is now "impossible to replicate." The Dogpatch neighborhood seemed an appropriate replacement – with much of the area now teeming in food and beverage manufacturing.
While the focus has always been on the food (originally curated by La Cocina, an incubator kitchen that connects low-income food entrepreneurs to business opportunities) the hope is that the new space will now allow the festival to expand in ways it couldn't before.
This year saw the addition of "chef counters", which functioned like mini restaurants where a waiter and host catered to diners along low barstools made out of milk crates, as well as the installation of three separate "islands" for tacos, dumplings and seafood where attendees could post up and order "flights" of dishes from over six different vendors, including one shucking fresh oysters.
It also included the first-ever Saturday Spit Roast dinner hosted by carnivorous purveyors Jim n' Nicks and 4505 Meats, as well as a cocktail hour with beverages from Smokestack and Revival Bar + Kitchen.
"We're really excited to be able to be inside of something like this that will give us an opportunity to try something new and to do the food a little bit differently and a little more participatory," said Zigas.
Whole Foods was a presenter at the event again this year with a craft beer garden with local brews and an indoor Makers Market featuring vendors of its Small Producer Grants program, which awards money to emerging businesses through a voting system. The inclusion of a Live Cooking Stage also let participants sit along pew-like benches to watch cooking demos from a schedule of Bay Area chefs.
"It's always been a fundraiser for La Cocina, that's kind of the heart and soul of the creation of the event," said Nick Heustis, Director of Marketing at Whole Foods. "The idea is that it's showcasing the best of San Francisco and it will be interesting to see the evolution of where this will go."
Included among the vendor lineup was Alicia Villanueva, who owns Alicia's Tamales Los Mayas, and had been going door-to-door selling tamales before becoming involved with La Cocina. She now has a deal with Whole Foods and is looking at Costco and Safeway down the line. "I feel so confident to have a really nice and comfortable situation for my kids and a nice education," said Villanueva.
Pier 70 sits on over 250,000 square feet of land slated for a revamping in the next couple of years by NYSE-listed national real estate developer Forest City, which plans to rehabilitate its historic buildings, build extensive park and playground areas and housing that will include 30 percent affordable units. According to Forest City's website, the first phase of construction will begin in 2017 and run somewhere from 10 to 15 years.
It's unclear how the changes will affect the festival's new location, but organizers are happy to have access to the new location where they can bring the best of local food and entertainment to the broader community.
"Our hope is that this evolves into the kinda thing where you can hang out a little bit longer on a weekend and eat great food all day long," said Zigas. "Hopefully we'll keep adding space and it will feel like its doable."