How I Learned to Love Camping with Hipcamp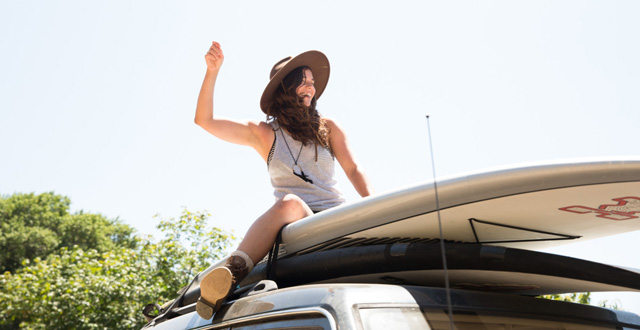 When I was asked to cover an all inclusive, VIP camping experience courtesy of Hipcamp, I didn't know what to expect. Moreover, I was skeptical and even a little scared, as I can't recall the last time I camped out of free will. As I quickly learned, Hipcamp is the Airbnb of camping – a slick website where you can easily book campsites all over the U.S. on a registered campground or state park, or stay on someone's farm as part of the website's land sharing program. The event I was to cover was Hipcamp's West Coast launch with The North Face and Culture Collide "to celebrate California's thriving outdoor and creative community".
Here are a few things things I learned from a night Under The Stars:
It's real camping.
No 'glamping' tents here, for the most part-as soon as we arrive at the parking lot of Oz Farm where the two day event took place, we were given a tent and started hiking down to the main area. Fancy domes, despite present on the premises, were mainly for hangouts, and everyone else slept in real tents, on really hard and prickly ground, with real dust and no toilets in sight.
You'll feel like you are in a Kinfolk spread
There's no need to introduce the magazine that revolutionized lumberjack style and 'simple' (yet ultra stylish) living. Under the Stars organizers are clearly into it, as the dinner setting relied heavily on Kinfolk's 'gatherings' aesthetic: think long tables dotted with ceviche and chips, and freshly prepared food, courtesy of Hook Fish Co. The long line for the grilled salmon isn't normally pictured on Kinfolk's manicured pages, but that's just a part of life.
You'll believe in magic
The evening concerts lit by strings of intimate lights, with Vetiver and Gap Dream providing cool, atmospheric tunes. Smiles were wide, and even the toughest cynics went all warm and fuzzy.
You'll meet awesome people
Alcohol does its thing, and chatting becomes easy. Standing on the patio with the designated tin cup in hand, and later around the dinner table, I managed to talk to a recipe developer, a health and fitness writer, a wine enthusiast, a camera man and a graduate student. All interesting, funny and exceptionally friendly, and most of them are proper city folk ready to forgo cleanliness for ruggedness, if only for a day.
You'll love your morning coffee
An you'll appreciate yoga even more. The biggest smiles of the weekend were witnessed when, after a night of partying and rough sleep, people woke up to small cartons of cold Stumptown coffee (later, the brewer showed us how to brew it ourselves). Camping might not be for everyone, but one thing is for sure – it makes you appreciate the little things as if they were luxury. Same goes for yoga- a class was offered in the morning, and stretching never felt as good. An hour later, everyone was on their way back to normal life, but feeling much hipper and tougher. Sort of worth sleeping in a tent, no?