Q&A: The Dodos Return to SF for NightLife LIVE Show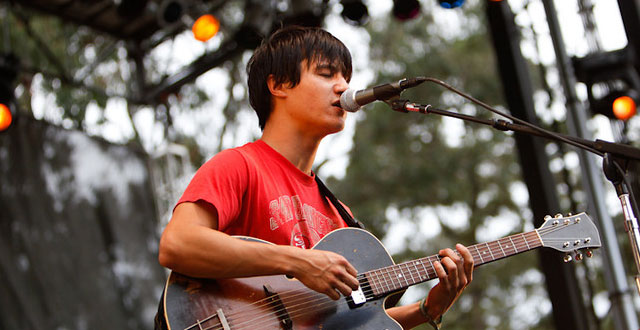 San Francisco indie folk band, The Dodos, have a special performance at California Academy of Sciences NightLife LIVE on July 9, in support of their sixth full-length album, Individ.
The show at the Academy of Sciences is part of the monthly NightLife LIVE series. West Garden stage transforms the greenest museum on earth into an oasis of music and art. See interactive art installations, crazy video projections, and science side shows, while exploring cutting-edge exhibits and marveling at thousands of aquatic animals.
We spoke to vocalist and multi-instrumentalist Meric Long about living in the Bay Area, the California Academy of Sciences, and what The Dodos have on tap for the rest of this year.
How did your parents pick your name?
I don't really know. My father told me that he got it out of a baby book, but I don't really trust him though because it's a weird name.
My mom is Chinese but she was born and raised in Tahiti. So I'm like Polynesian with Chinese blood. And my dad is a white devil.
How did The Dodos start incorporating traveling musicians?
We didn't plan it this way, but we've had a different touring member for each record cycle. It has been a case by case scenario. The first guy we had, we just… it usually goes like this: we make a record, there's parts on the record that we need someone else to play. So we just find someone to do it. That's how we fell into having other people because the instruments change from record to record. It comes out of trying to reproduce the record live.
How did get the idea to adopt an unorthodox approach to instrumentation?
Well, it wasn't on purpose. Everything with this band is so case by case. There's not a lot of forethought in terms of the big picture and what we want to do with each record. It started out with me playing guitar a certain way that isn't necessarily weird. The way I play guitar is definitely steeped in a country blues style of finger-picking because I didn't take any lessons and I'm not super familiar with that music. There's a few artists I picked up when I started playing that style. I never really studied properly or learned. I tried to figure out things my own way. Usually I'm probably doing things wrong, in a lot of ways
That's where the idea for the band started. From there, adding drums, it was a really piecemeal process. First, I wanted to just have one drum playing like the riff, but then it was another drum. We ended up having a drum kit, which wasn't really a drum kit, but just two drums with a tambourine taped to his foot.
Nowadays, I feel like we don't do that as much. The inception of the band was based on the idea that it doesn't matter if we are playing these instruments correctly. There's a certain thing we're going for and we'll just use the instruments however we can to produce that.
Do you live in the SF?
I moved to Berkeley almost two years ago actually. I was in San Francisco since 2002. I lived in various places. First, I lived in the Richmond district, Inner Richmond. Then I moved to The Mission, and moved around the Mission for a few years before moving to Potrero Hill, on the outskirts. Then I moved to Bernal Heights and now Berkeley. I was pretty much just going wherever I could to find cheap rent at the time. A lot of the time, I would have a friend who was living somewhere and they would move out and need someone to take their lease.
It's funny. The topic [of rent in SF] is what everybody talks about, I realize that everyone is kind of experiencing the same thing, thinking the same thoughts, people living in the Bay Area. It's comforting to talk about it and meet other people who said they moved out of California and say their quality of life would be so much better. But nobody does, they just move to the outskirts like me. I don't really know what to make of it. I've kind of gotten tired of the conversation. It's just so prevalent in the Bay Area. Not for a good reason, but I just want to focus on something else.
Earlier this year, realizing I didn't have this conversation for five weeks or whatever it was… You know, I haven't talked about it for five weeks and it feels really nice. I'm not necessarily going to do anything to change that because I love the Bay Area and my family is there. I have a lot of reasons to stay.
[laughs]
My wife's looking at me right now because I think she wants to move away.
Has your musical style changed since moving to Berkeley?
There's a lot of jazz in Berkeley, which is really refreshing. For me, I can't speak to Berkeley's music scene much because I haven't dug into it. I'm starting some jazz guitar lessons, which will be the first guitar lessons I've ever taken. I'm really excited for it. It's at a school in Berkeley.
I think moving there and just going to your coffee shop and hearing some people playing jazz live at the farmer's market or something. It's really refreshing for me. I haven't really dived deep into jazz. I'm just hearing different notes and different styles.
I played jazz in high school. I used to play trombone. I just barely skimmed the surface. I never really dug in. I'm starting to dig in now. I really love people that can play their instruments. I don't mean that exclusively, but I really like musicianship. Even if it's a type of music that I might not be necessarily into, I really love it when someone is into their craft. I want to learn how to do some of that.
Where are you most likely to buy a cup of coffee?
I'm very careful about my caffeine intake. I used to drink a lot more. I never drank a lot because I couldn't handle it. Caffeine has a really, really strong effect on me. Pretty much the first four Dodos records were completely caffeinated. It used to be a thing that I relied on a lot for getting creative ideas and getting focused. I sort of swore it off for a while.
I'm very precious about my caffeine. I try to use it very sparingly. People who know me, travel with me, or tour with me, they know when the coffee goes in, a whole other thing comes out. That sounds a little weird, but it's more about my energy. It really affects me. I turn into a really hyper kid.
Have you ever visited the Academy of Sciences before?
Yeah, I have. I do have a soft spot for that place because I remember going there as a kid. I remember taking a field trip with my school. That alligator in the front, that albino alligator… that has been there forever. I think I went there when I was eight, so over 20 years ago. I have distinct memories of that place even though it has changed. There was the dolphin fountain up front, it's not there anymore. Mainly just that alligator exhibit. It's etched pretty heavily in my brain. Anything that has to do with that place, I'm super happy to do something there. It has some importance.
What's next for The Dodos for the rest of this year?
We're doing a support tour with this Danish band called Mew in the Fall. So that's coming up and that's pretty much what we've got for now. We're still enjoying playing the new record, so we're going to be playing a lot of that for the next show and the next tour. Beyond that, I don't know what is [exactly] the plan. I'll have to leave that unanswered.
We had a big push. We had our big touring cycle in the first half of this year. We have a tour, but not knowing is a good place to be. It could be scary, but it's also usually where good things happen.