Dreamy indie-pop act Wild Nothing headlines their fifth and final show at The Chapel as part of the third annual, multi-city Converse Rubber Tracks Tour.
Over the past two weeks, Wild Nothing has played shows in Toronto, Canada, followed by stops in Boston, Brooklyn, then a week later in Los Angeles. The final Rubber Tracks show is May 22 in San Francisco.
As part of the tour, global shoe maker Converse opened a temporary pop-up studio at Different Fur in the Mission district, offering Bay Area musicians of all genres the opportunity to apply for free recording time. The tour coincided with Converse Rubber Tracks creating pop-up recording studios in each city. In turn, Wild Nothing hand-selected emerging artists who got the opportunity to record at the pop-up studio and serve as the supporting act for a concert in that city. Artists had several opportunities to showcase their creative abilities.
To gain more insights about the tour, we had three separate conversations with Wild Nothing creator Jack Tatum, San Francisco Rubber Tracks supporting act the Cocktails, and Converse's Global Music Marketing Director, Jed Lewis.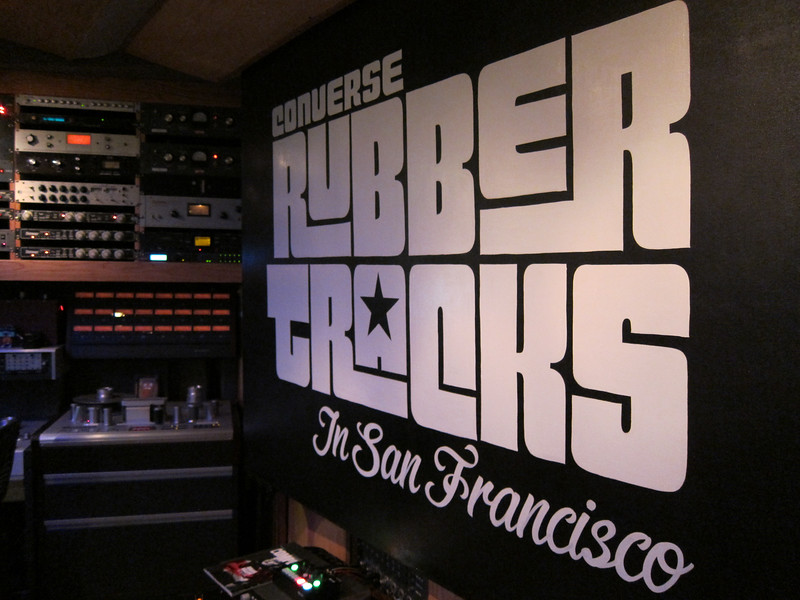 Virginia-born musician Tatum began recording under the Wild Nothing moniker in the summer of 2009. In 2010, a then 21-year old Tatum still in his senior year of college, released his critically acclaimed debut pop album, Gemini. His 2012 follow-up LP, Nocturne, was written largely while living in Savannah, Georgia and received several year-end accolades. Tatum frequently creates music alone in the studio, but on the road, he's joined by a four-piece band featuring musicians Nathan Goodman and Jeff Haley.
We spoke with Tatum about choosing the supporting artists for the Converse Rubber Tracks Live Tour and his best memories from visiting San Francisco.
How did you hand-pick the supporting artists for each city?
JT: Well all the bands have recorded at Converse Rubber Tracks, so that was part of the stipulations. For the most part they were all bands I was hearing for the first time, which was fun but Roses, who we're playing with in LA, are actually friends of ours. Juan Velasquez who plays in Roses used to be in Abe Vigoda who were one of the first bands Wild Nothing ever toured with so we go way back.
Have you ever visited San Francisco and if so, what are your best memories?
JT: I've been to San Francisco many times actually. We've played in the city and in Oakland a bunch of times over the past five years. I love it, I remember going into Amoeba when I was 15 on a family trip and being floored. I grew up in a small town and hadn't seen anything like that before in my life. My poor parents, just walking around Haight-Ashbury as a teenager with tons of homeless junkies barking at us. I thought it was completely insane.
JT: I used to fantasize about living there when I was teenager, [but] ended up in New York instead though. Lots of memories, amazing soup dumplings in Chinatown, hiking in Muir. My girlfriend and I had this weirdly life affirming moment driving over the Bay Bridge in the middle of the night listening to "The Rip" by Portishead last year. Can't explain it, but yeah San Francisco is great.
We asked power-pop quintet the Cocktails about joining the tour and their favorite spots in San Francisco.
How did you get involved with Rubber Tracks?
the Cocktails: I think we filled out an application awhile back because we needed studio time and there was an offer to spend a day in a legit studio for free. We got to go to Different Fur and bust out a song really quick, which was a blast. It was super fun for us.
We've all been sort of self-recording for a long time – but it's a totally different story to have other people recording you and have that advantage of running your stuff through legit soundboards and real pre-amps and such. And then having someone that knows what they're doing helping you out. It was really neat. I thought we sounded pretty big-time, like a radio rock band, but we also enjoy just sounding like total garbage in our bedrooms too, so it's fun to try both worlds.
Since then, we've played the Converse store (twice), we did a Rubber Tracks hosted in-store at Amoeba, and we're really excited for this Wild Nothing show at the Chapel Friday!
Where are some of your favorite places to write music in San Francisco?
the Cocktails: Hmm, to write music? I feel like most of that happens in our apartments, but sometimes it'll be like walking around in public, recording little voice-memos on my phone, trying to pretend like I'm talking normal and stuff. There's also a little dimly lit gay bar called Aunt Charlies right next to our practice space in the Tenderloin. I've spent a good amount of time in there writing down words on napkins and eating popcorn from their popcorn machine. That's probably my favorite.
Finally, we talked to Converse's Global Music Marketing Director, Jed Lewis, about setting up this years' events and his company's perspective on independent music.
Why did Converse select San Francisco as one of the five cities for the Converse Rubber Tracks Live Tour?
JL: Converse is committed to supporting creative expression and provide great opportunities for artists to create and showcase their talent. San Francisco draws people in from all over the globe, making it one of the most vibrant music communities in the world. With the Converse Rubber Tracks pop-up studio and Converse Rubber Tracks Live concert series we are able to celebrate Bay Area musicians and provide opportunities that are useful to them.
How did Converse identify Different Fur as the right studio for the Rubber Tracks pop-up in SF?
JL: Different Fur Studio is known for being a high-quality studio with an amazing staff and is located in the Mission District, an area rich in musical history and home to some of the best live music venues. We think Different Fur Studio is an ideal partner to inspire the Bay Area community to unleash their creative spirit.
How often will you continue to have pop-up studios in the Bay Area?
JL: We plan to continue hosting Converse Rubber Tracks pop-up studios throughout the year and want to encourage Bay Area artists of all genres to apply at www.converse.com/rubbertracks.
How does Converse's core business of selling shoes align with promoting independent music?
JL: For decades, many within the music and artistic community adopted the Converse Chuck Taylor All-Star as their expression of individuality and independence. Converse has been on the feet of countless musicians as they've honed their craft in bedrooms, garages, rehearsal spaces, studios and on stages around the world. We're always been a part of the music scene organically and felt compelled to do something to give back to the community that makes the brand what it is. That's why we launched Converse Rubber Tracks. One of our goals as a brand is to give back and help inspire a new generation of musicians. The studio provides a platform for new musicians to overcome one of the biggest hurdles in their careers — affording studio time.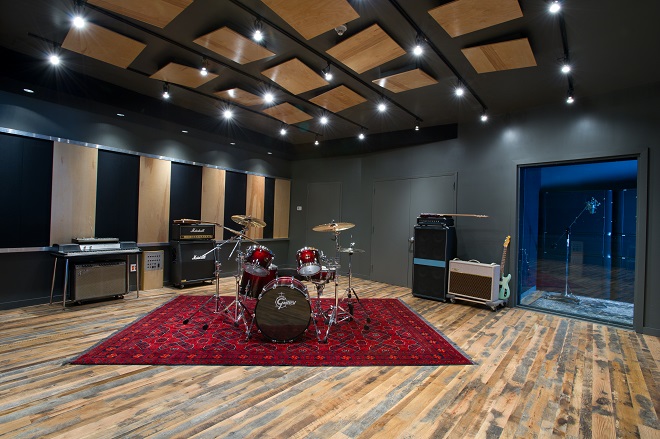 Since July 2011 when Converse opened its flagship 5,200 square-foot, state-of-the-art, full-service recording studio (see picture above) in the Williamsburg neighborhood of Brooklyn, New York. Since then, nearly 900 emerging artists have had the opportunity to record original music at no cost alongside a team experienced engineers part of the Converse Rubber Tracks team. All artists retain complete rights to their own music at the end of their studio time and the studios are fully equipped with instruments and equipment supplied by Converse Rubber Tracks partner Guitar Center.
Over the past three years, the program has since expanded beyond the studio in Brooklyn with Converse Rubber Tracks Live and Converse Rubber Tracks pop-up studios.
Converse Rubber Tracks Live originally launched in 2012 in Brooklyn and has since expanded to support cities with vibrant music communities including Los Angeles, Boston, Brooklyn, San Francisco, Austin, Beijing, Mexico City, São Paulo, and Bogota. Lineups for these shows included previous Converse Rubber Tracks recording artists hand-picked by the headliners. Since launching, the live concert series has featured: Washed Out, Action Bronson, Ghostface Killah, A-Trak, King Tuff and Vivian Girls, as well as Converse Rubber Tracks artists We Barbarians, Flatbush Zombies, Heliotropes and more.
Converse Rubber Tracks was originally born out of the brand's desire to give back to the music community and provide opportunities for artists who might not be able to afford studio time. The program supports emerging artists by providing them access to a quality recording studio at no cost. Artists and bands of all genres and ages from around the world are encouraged to apply and, upon acceptance, may reserve time in the studio to work alongside a team of experienced engineers. Additional music platforms have been established in music cities such as Austin, Los Angeles, San Francisco, Boston, Montreal, São Paulo, Beijing, Amsterdam, London, Hamburg, Paris, and Mexico City.
Converse Rubber Tracks 2015 Artists:
Look Vibrant
The Opera House in Toronto, Ontario

Eternals
The Sinclair in Boston, Massachusetts

Journalism
Music Hall of Williamsburg in Brooklyn, New York

Roses
The Echoplex in Los Angeles, CA

Outside of the tour, Converse Rubber Tracks also recently partnered with Indaba Music to create a free online sample library with more than 10,000 high-quality audio samples (over 10 days worth) of royalty-free stems plus loops from over 125 artists that recorded at the Converse's Rubber Tracks community recording studio in Brooklyn or one of Converse Rubber Tracks pop-up studios around the world.
Several San Francisco artists have had an impact on the project. At Different Fur Studios, members of several Bay Area bands recorded samples for the library: Sami Perez from The She's provided bass tracks while Nate Mercereau and Brent Jasperse from Wove recorded guitar and bass riffs.