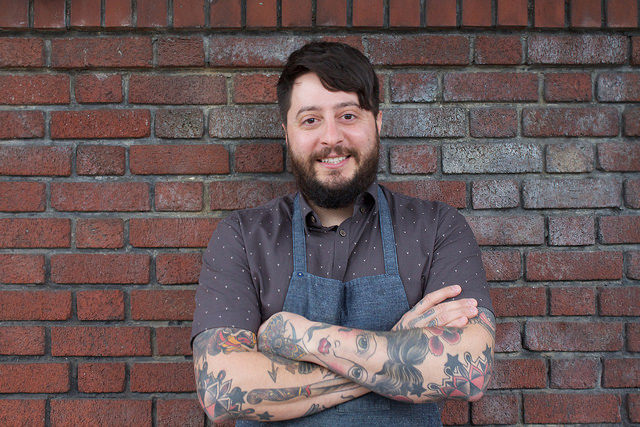 Pop-up restaurants are a local commonality these days, but a series of teaser pop-up dinners held in another restaurant's space as a warm-up for a brick-and-mortar opening of the new spot? That's rather innovative. But anything's possible within a powerful restaurant group.
The curious restaurant is Aster, a new addition to the Daniel Patterson restaurant group and a new concept within the group – a co-owner chef. The pop-up dinners were hosted during February and early March by a fellow group member Coi. Now that those dinners are over, we took advantage of a chance to chat with chef-owner Brett Cooper, whose last gig was the Judah St. establishment Outerlands.
Why did you decide to go for pop-up review dinners?
"They were an idea Daniel had, to give us the opportunity to get people excited for the food, to get our team working together. The premise was to show the range we'll be offering- we're not cooking French food or Italian food, but rather a new kind of Californian cuisine. Additionally, thanks to the pop-ups we decided to move on from some dishes – they really helped us decide what particular dishes we want on the opening menu".
How would you define this new kind of Californian cuisine?
"For me, it's about gentle modifications – preserving, drying fermenting using multiple techniques on one ingredient – like slow-cooking meat and finishing it on a very hot charcoal, trying different ways to steam, and so on".
Where will Aster be on the fine dining-casual dining scale?
It's going to be a god balance – we want the space and the service to be very friendly, intelligent, casual atmosphere in the dining room. The kitchen will be open, and we'd like to offer the experience on a level that anyone can enjoy it.
How is working on Aster's opening different from the approach you took to Outerlands?
"Outerland has a very specific location, it's very community-based, a very particular pocket in San Francisco. So there, the idea was to offer people something unique for the neighborhood, something elevated yet casual for the neighborhood. Here, the approach is a little more personal for me – but we want to establish a sense of community here also, right of the bat. It's going to be an everyday restaurant, a place that fits different occasions, with lots of options on the menu".
And finally, we must talk about the tattoos – they seem like a mandatory stepping stone for chefs these days.
"I started getting tattoos when I was 17, so I've been doing it for a while. I think it's definitely something chefs and cooks like doing nowadays, but it's also about our society in general, more openness, individuality – especially here in San Francisco" .
Aster is located at 1001 Guerrero Street, San Francisco CA 94110, (415) 875-9810. http://astersf.com