San Francisco's Best Parties This Weekend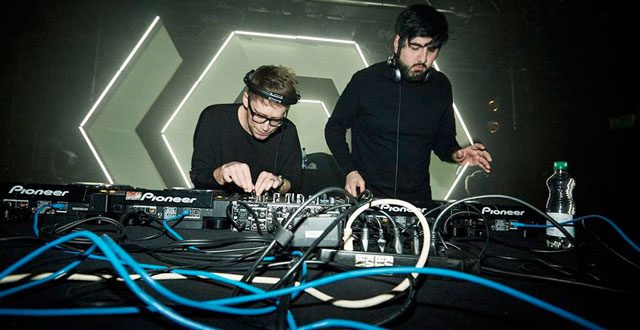 Catch the ever-classic Crookers at Temple or relive "We No Speak Americano" with Yolanda Be Cool. It's throwback to the future on the dance floor with San Francisco's best parties this weekend.
Visit the SF Station events calendar for complete listings.

Thursday March 26: Peace Treaty & Lindsey Lowend at Ruby Skye
LA-based duo Peace Treaty bring their big room, progressive house sound to Ruby Skye. They'll be supported by up and coming future bass producer Lindsey Lowend, whose space-age synths and hip-hop rhythms should provide an interesting counterpoint to the headliner.

Thursday March 26: AG Cook at 1015
AG Cook is one of those producers whose music is practically immune to genre classification. Part trap, part future, part house, part void of beat, his remixes always keep us guessing.

Friday March 27: Digitalism at 1015
German duo Digitalism have been mainstays in the dance music scene for more than a decade now. Their brand of indie-dance has a sharp electro-punk edge that keeps things exciting and gets the dance floor moving.

Friday March 27: Phazz at F8
French producer Phazz is an absolute pioneer of the future bass scene. Soulful vocals often accompany  his signature trippy, warped synths atop carefully crafted hip-hop bass for a brand new sound that is blowing up.

Saturday March 28: Yolanda Be Cool at Audio
Best known for their 2010 platinum hit, "We No Speak Americano," featuring the infamous Italian vocal sample and a clarinet lead, Australian duo Yolanda Be Cool  are no strangers to success. Since their breakout hit, the Aussies have been touring all over the world and continue to produce an eclectic mix of solid house tracks.

Saturday March 28: Crookers at Temple
Italian duo Crookers split back in 2012, but Francesco "Phra" Barbaglia has carried on under the moniker.  His latest album, Sixteen Chapel (possibly a reference to Bieber's faux pa on Letterman a few years ago) continues with that classic Crookers sound of dark, low-fi house featuring big collaborations with TJR and Jeremih. Read the SF Station interview.
https://soundcloud.com/iamtheelephante/elephante-temporary-love-feat-brooke-forman
Saturday March 28: Elephante at Vessel
Los Angeles based producer Elephante has made a name for himself as a meticulously excellent remixer.  His warm, melodic electro house has transformed the sounds of names like Calvin Harris, RAC, Galantis and Clean Bandit. His second original mix, "Temporary Love," just dropped a few days ago only further proving his production talents.
https://soundcloud.com/soufianesoufianen/infinity-ink-infinity
Saturday March 28: Infinity Ink at Monarch
Ali Love & Luca C, better known as Infinity Ink, have had much success recently as half of the hot new act Hot Natured. Pulling from similar vibes, Infinity Ink's laid-back, deep house sound brings it back to the roots of house music.