Five Highlights from 'High Style' at Legion of Honor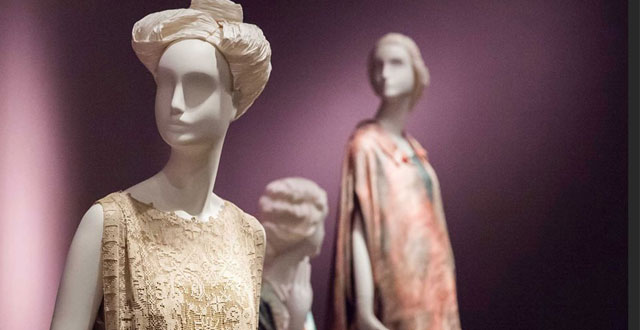 High Style is a new and impressive display of 1910-1980 fashion, visiting from the Brooklyn Museum at the Legion of Honor through July 19. Curated by fashion historian Jan Glier Reeder and featuring original designs by iconic visionaries Jeanne Lanvin, Elsa Schiaparelli, Coco Chanel and Hubert de Givenchy, the selection is both educational and breathtakingly beautiful.
Five highlights from the exhibition:
The location
Perched on a cliff overlooking the bay from an unexpected angle, the Legion of Honors majestic atmosphere accompanies the gowns perfectly. Even the cafeteria sandwiches and salads get a fashionable makeover—they're now called 'Givenchy' and 'Schiaparelli'.
The Charles James tribute
The forgotten genius of couture gowns receives the honor he deserves here, one of his iconic creations—a floor-length, floating Clover Dress—is the exhibition's centerpiece, showcased in a separate room. An additional pavilion is dedicated to the strong architectural aspect of his work, with multimedia videos demonstrating the elaborate construction of a dress.
The paper wigs
Glier Reeder used the help of Brooklyn textile designer Elizabeth DeSole when it came to the mannequins' wigs. The white creations, made from paper twists almost steal the show. DeSole masterfully recreated various looks to convey the original hairstyles typical to the different decades, to a riveting result.
The Cashin designs
Just like Charles James, Bonnie Cashin is a pioneering American designer who worked in the 50s and 60s that is less known among everyday fashion circles. However, her humorous, imaginative pieces stand out instantly—especially the "working wardrobe" designs, geared towards the modern woman of a long-gone era.
The French classics
The Dior, Lanvin and Saint Laurent creations at the exhibition are numbered, so every piece counts. The beading work, the appliqué and the silhouettes–original and to be copied, years and years to come, by younger designers—are a great lesson in couture and fashion history.
High Style is at the Legion of Honor through July 19. Admission for adults is $22, $12 for children.