San Francisco's Best Parties This Weekend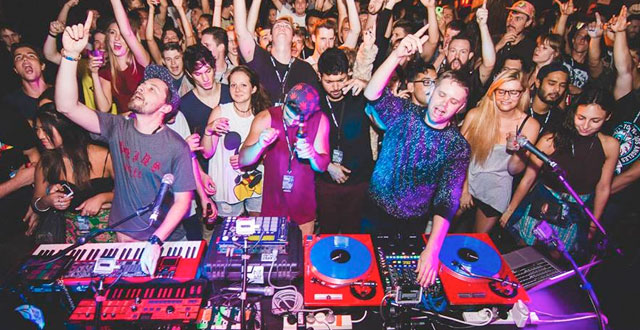 The weekend starts early with some big parties Thursday night and doesn't stop until the early morning on Sunday. Get sax-y with Bakermat, trip out with Shpongle or kick it old school with Felix da Housecat—it's time to dance.
Visit the SF Station events calendar for complete listings.

Thursday March 19: Bakermat at the Independent
Dutch Producer Bakermat has had a meteoric rise in the past two years. From his early hit "One Day" with over 24 million views, to his most recent jam "Teach Me," Bakermat's style of melodic house often features smooth saxophone solos and leans to the more relaxed side of EDM.

Thursday March 19: Shpongle at The Regency Ballroom
Shpongle has one of the trippiest shows known to man. The duo's music sits at the intersection of psychedelic trance and ambient world music, prompting a dedicated following of fans who enjoy exploring the depths of their mind and the music.

Thursday March 19: Tensnake at 1015 Folsom
German Producer Tensnake's album Glow was well received last year for its tasteful 80s influences and beautiful guest vocals from Fiora. His DJ sets consist of a danceable mix of deep and tech house with a groove that gets the crowd moving.

Friday March 20: Le Castle Vania at Vessel
Mau5trap signed artist Le Castle Vania has been on the scene for more than six years now, coming out with several grinding remixes and a few EPs. He goes for a loud, Knife Party-esque, chopped-up electro house sound with a happy tone.

Friday March 20: Black Boots at f8
Promoters Trap City consistently bring great trap DJs from across the country to the Bay Area. This week, Las Vegas based duo Black Boots gets on the decks at f8 to showcase rowdy festival trap remixes and booming soundscapes.

Friday March 20: Markus Schulz Ruby Skye
Legendary trance producer Marcus Schulz comes to Ruby Skye this weekend for a 12-hour set! From open 'til close, Marcus brings a masterful mix of progressive house and trance for San Franciscans and his loyal fan club, The Schulz Army.

Saturday March 21: Felix da Housecat at Audio
Felix is one of those cats that's been around forever. Spinning and producing since the 90s, this DJ was born out of the second wave of Chicago House and has made some electrifying records in his day. From acid to techno to electro to disco, Felix has done it all and his sets never disappoint.

Saturday March 21: Hermitude at The Independent
Australian duo Hermitude are probably best known for Flume's remix of their track "Hyperparadise," which helped launch Flume's career. Their sound heavily influenced and helped shape the Australian sensation that is now Flume. Hermitude's mid-tempo hip-hop and electronica beats are strange and dreamy, but are well worth jamming out to when they're in town.