Highlights and Photos from Off The Grid Fort Mason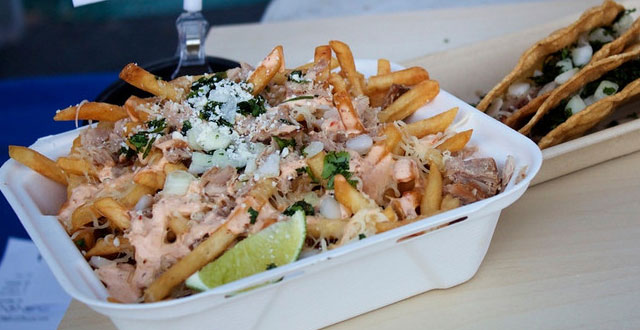 Off the Grid returned to Fort Mason for the 2015 season on Friday, showcasing six new vendors and 24 returning favorites.
A large crowd gathered at the parking-lot-turned-dining-room to try everything from creme brûlée to smoked ahi tuna fries, chased with cocktails from Rye and local beer from Magnolia.
The event continues every Friday through October from 5pm to 10pm. Five highlights from the first week:
Bini's Kitchen
Chef Binita Pradhan is known for packing the heat in her popular Nepalese turkey dumplings called "momos," priced at six for $8. Each steamed dumpling is packed with fresh-spiced turkey and topped with roasted tomato and cilantro achar. Last year, she sold 15,000 momos at Fort Mason.
Rye On The Road
Lower Nob Hill cocktail bar Rye is serves signature cocktails each week at Off The Grid, ranging from the basil vodka Collins to the crowd favorite, tequila apple daisy. The latter is made with tequila, jalapeno, lemon and apple for a subtle sweet taste with a zest of lemon and a hint of spice. For those cold Fort Mason nights, the Rock n' Rye Toddy is served hot with rye, citrus peel, herbs, spices and hot water.
Bok Ssam
Bok Ssam adds an Asian twist to its fried chicken waffle sandwich with Korean-style fried chicken that is brined with thyme, parsley and rosemary before it is and sandwiched between coleslaw, red wine vinaigrette and two fluffy waffles. The breading on the fried chicken is light and crisp with tender, tasty chicken underneath.
Frita's Shack
Frita's Shack offers a seafood twist for the drunken favorite, carne asada fries. In addition to serving classic carne asada style fries, Chef Andy offers smoked tuna fries made with tuna smoked on cherry wood, cheddar-jack cheese, chipotle cream and cottage cheese topped over crispy French fries.
Hula Truck
Hula Truck is famous for its Bayrito burrito, and it doesn't disappoint. Diners are greeted with the choice of meat paired with tater tots, pico de gallo, shredded cheese, sour cream and a special "Hula Verde" sauce. Another great offering for lighter appetites is the fresh ahi poke served with white rice, seaweed and onion.