San Francisco's Best Parties This Weekend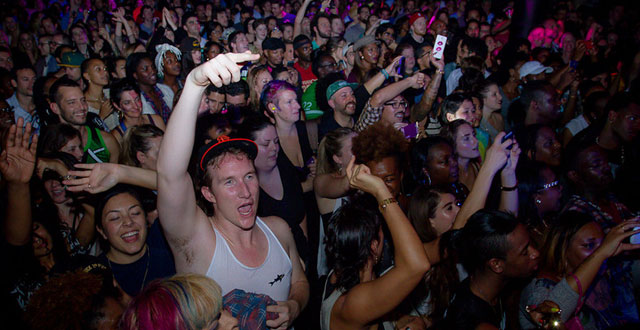 From the future R&B of Sweater Beats to the big boot bounce of Big Freed and the dubstep of Pegboard Nerds, San Francisco dance floors will be moving this weekend.
Visit the SF Station events calendar for complete listings.
https://soundcloud.com/sweaters/sets/cloud-city-ep
Thursday March 5: Sweater Beats at The IndependentComing up on Kastle's label Symbol, New York-based producer Antonio Cuna, aka Sweater Beats, has been instrumental in pioneering the future R&B movement. His lush chords melt into reverberating 808 bass that display an adaptable, well-executed production style.

Thursday March 5: Pegboard Nerds at Ruby Skye
Building a solid following from their early days of hardcore dubstep, Pegboard Nerds have launched a successful DJ/production career touring all over the world. Branching out into electro, hardstyle, and even trap, this Scandinavian duo show incredible versatility while still staying true to the raw, grimy sound that made their fans fall in love.

Friday March 5: Big Freedia at 1015 Folsom
Big Freedia, known as the Queen of Bounce, is at the forefront has been leading the NOLA bound movement for years. Big Freedia spits enunciated and hyped lyrics over jagged and fast-paced beats that keep the twerk team moving. Freedia is supported by a host of DJs, including DJ Sliink, This Red Bull Music Academy Show will have enough bass to shake 1015 to it's foundation.

Friday March 5: Rob Garza (Thievery Corporation) DJ Set at Public Works
Rob Garza, a founding member of Thievery Corporation, will play an exclusive DJ set for the fans at Public Works. His independent sets draw from a pool of music as varied as his influences. Featuring flavors of bossa nova, trip-hop, house and dub, this connoisseur of the global dance music scene knows how to blend a satisfyingly eclectic mix.
https://www.youtube.com/watch?v=49t8CyN4E-Q
Friday March 5: Jeremy Olander at Audio
Swedish producer Jeremy Olander has reinvigorated fresh energy into the pure progressive house scene. Collaborator and friend of Eric Prydz, his releases on Pryda have been received with overwhelming accolades for their serene and melodic layers of synths with just enough grit to form a club-ready sound prog-heads and dance music fans alike can enjoy.

Saturday March 6: Rootnote Collective at F8
F8 hosts a collective of DJs and artists for a night of beats and musical inspiration. Guest DJs include Ruff Draft (AKA Brandon Ruffin related to David Ruffin of the Temptations), Gypsy Mamba, Go Yama and others spinning downtempo beats and other hip-hop inspired sounds akin to Flying Lotus and his LA breakbeat scene.
Saturday March 6: Tiga at Monarch
Promotion group Lights Down Low brings the Canadian producer Tiga to the incredible sound system at Monarch. Having been behind the decks for over 20 years, Tiga is a master mixer and will be sure to drop his newest single "Bugatti," whose vocal sample has been remixed and played by tech and deep house DJs incessantly for the past few months.