The Union Trade Celebrate 'Long Years' at Rickshaw Stop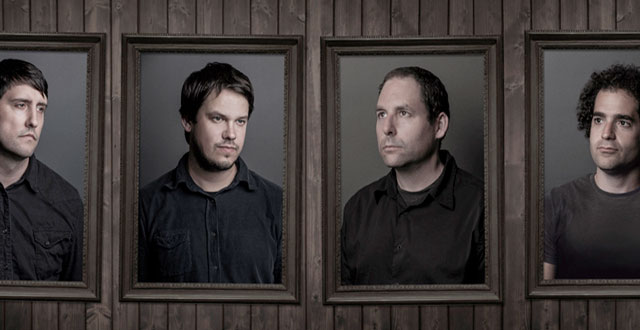 Somewhere in between post-rock, instrumental and Shoegaze, The Union Trade tackle their willful aspirations with an irrefutable distinction to make honest music. Headed by Tricycle Records co-founder, Don Joslin, and bassist Nate Munger, the band has made leaps and bounds to create an ambitious instrumental record for its second LP that's filled with transcending guitar riffs and carefully constructed songwriting.
The album, A Place of Long Years, set for release Feb. 3,  is dark and eerie, punctuated with enchanting vocals and abstract sounds that entice the listener to consider the realms of time and space. We caught up with Don and Nate to talk about the conception of the record, the instrumental music scene and what it's like being a San Francisco band.
The Union Trade's record release party is at the Rickshaw Stop February 4.
Hey Guys, How's 2015 treating you so far?
Don: Very good, it's been busy with this first part of the year. Getting ready for the release on Feb. 3, trying to do last minute PR and promoting pre-orders. Nate's been planning the first leg of the tour for the end of February.
Nate: We're going to Boise, Portland, Seattle and Bellingham. Doing this stuff as an independent band takes a lot of time.
Don: We're breaking out tours in little chunks and will eventually tour most the U.S. by the end of the year.
You're supporting your upcoming record A Place of Long Years, ironically quite a few years after your first record. Is there a correlation?
Don: No, not really. Overall, the instrumental nature of the album, the names of the songs are pretty arbitrary. Some bands come up with funny or poetic names, for us, we wanted to go with a theme of desolate, eerie places on earth. We kind of tried to name it something that is open but exudes the feeling of a place.
Nate: This place that we live, these places that we're talking about have been around for a long time. It does feel poetic that in these places long years can be a blessing or a curse. Instrumental music, in general, can help you really understand moments in time where you are objecting your own story because there are no lyrics.
So the hiatus didn't have much to do with replacing your drummer?
Nate: I don't think the drumming had much to do with time it took us. Don and Eric were ready to recharge and had a need for space to recharge creatively, which happens to all artists. The drummer was coincidental to that. He wanted a band that was playing out live.
Once we decided we were getting back together, it was just the three original people. We met in the band room and didn't have a drum that was driving the songs and didn't have to worry about the drummer while working out quiet parts. It was really good for the songs that needed more space.
Don: We had our original drummer from 2006 until around 2009. The band started getting a little stale. As a band we had worked really hard, and we thought replacing our original drummer was a good choice.
After a year we were just missing music and sort of set out to make an instrumental album. After we got our songs together we got the new drummer and it was just more recording.
We were sitting on this album since August. Some of these songs were actually written about seven years ago as an idea. We write an idea and just jam on it forever and listen to it later and that eventually becomes part A. Then we're like, "where's this gonna go?" and then part B is formed, and so on. As you can imagine the way we write songs has so much to do with dynamics. We needed that long break to come back and realized what we missed.
Something like this could really deject a lot of bands.
Naet: A band of people less connected than us probably wouldn't have gotten back together. Music is a super strong bond for us. When things go wrong, we're really great at ridding personal stuff out of the band. We're all really good friends.
Don: One other small contributing factor was that during that break of no activity, I would see what was selling on my label, Tricycle Records. The Union Trade was the No. 2 selling artist and we were also the least active. During the "dark years" that maintained, one song in particular, "Every Day Including Holidays," was selling the most, which on that album was the only song that was fully instrumental. It was sort of this hidden hit that became popular and it had always been in the back on my head to do a full instrumental album. It was a big reason why I wanted to come back and wouldn't feel comfortable if we didn't achieve that.
How do you envision the future of instrumental music?
Don: When Explosions in the Sky or Godspeed You Black Emperor come to town, it sells out instantly. I know there are those types of fans, they're just finding out about instrumental music and getting hooked on it.
Nate: It's bubbling up into people's thoughts more so than a few years back and has become way more popular. The same bands we were admiring back then are getting recognition. They've done a lot of work and hopefully that comes to us.
Don: The past three or four years, electronic music has been huge and it's been dying down a little bit, and rock music is sort of becoming popular again. All those late emo bands from the 90s are getting back together. I went and saw Mineral on tour and they were a huge influence on my guitar writing and playing, so I'm hoping that continues. We're not really a far throw from that type of music. Take out the screamo vocals and a lot of those bands could pass as instrumental.
Nate: As long as people still plug in a guitar and play, it will never go away. Everything is fashionable. We haven't really been worried about it. We just do what we do. You can try to sound like something and it's either gonna sound like a copy or it's gonna sound unique.
What do you think some of the challenges are of being a San Francisco band?
Don: My view, and I don't know how it is for others, but for us it's hard because if you were to describe the scene in San Francisco, I highly doubt anyone would say post-rock or shoegaze, but in some cities there's a huge following for that. What we make is not considered fun music, so we've already narrowed down the amount of people coming to a show.
We are going to try and play less and less in the city. We played about 45 times in the span of three years and were playing with great bands but didn't gain the amount of fans and I don't know why. It works out better when people absorb the music first and then see us.
Nate: On the flip side, if you're good there are a lot of venues here where you can play. The difficulty is gaining a large following, but the venues are great. It's not a huge city so you have a limited amount of people. There are a lot of places where's it's harder to start a band.
The Bay Area has become a popular hub for music festivals. If you could play one with any band, what would it be?
Don: I'd say, aiming for the widest audience, Outside Lands with Explosions in the sky.
Nate: That would be amazing.
The Union Trade perform at Rickshaw Stop on February 4. More info.