The 10 Most Ridiculous Christmas Songs of All Time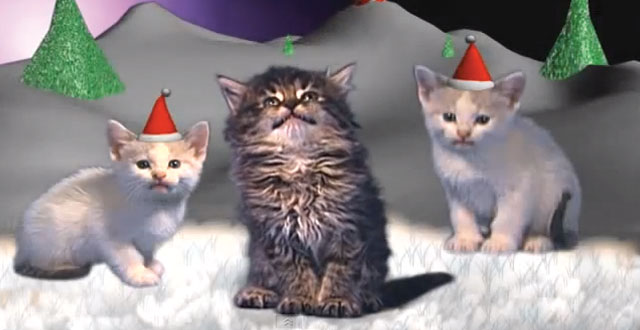 There are some truly entertaining and ridiculous Christmas songs populating the interweb to help break the monotony of renditions of "Rudolph the Red-Nosed Reindeer," "Jingle Bells" and "Silent Night" spewing from nearly every speaker this time of year.
If you are looking to shake up the holiday playlist with Snoop Dogg's marijuana-enhanced ode to Santa in the hood, a group of felines doing their best Bing Crosby impression, or a simple gag track about holiday flatulence, look no further.
Share your favorite ridiculous holiday songs in the comments section.

Jon Bon Jovi – "R2-D2, We Wish You a Merry Christmas"
Yes, this really happened. Star Wars was so popular in 1980 that the franchise was able to release Christmas in the Stars. This track is notable for being Bon Jovi's first professional vocal recording, credited to Jon Bongiovi, his birth name. The album was recorded in his uncle's studio where the young Jon worked sweeping floors at the time. Another standout cut asks the all important question "What Can You Get a Wookie for Christmas (When He Already Owns a Comb?)"

Snoop Dogg ft. Daz Dilinger and Nate Dogg – "Santa Claus Goes Straight To The Ghetto"
At one point in his career, Snoop released a holiday song with lyrics mimicking the "12 Days of Christmas." Apparently on the first day of Christmas, his homeboy gave to him a great sack of weed followed by a bottle of Hennessy on the second day. This clip is also memorable for Snoop's completely wild fake beard.

Jingle Cats – "White Christmas"
At one point in the 90s, infomercials inundated television with a group of felines "singing" holiday favorites. "White Christmas" is among the best of the Cats' output and was featured on their highly influential and important recording Here Comes Santa Claws. Get it?

Spinal Tap – "Christmas With the Devil"
With lyrics like "The elves are dressed in leather / And the angels are in chains," you get a pretty good idea where Spinal Tap is going with this delightfully demonic tune. The track is off the album "Break Like the Wind," a reminder to all lesser metal bands that flatulence is always funny.

Beck – "Little Drum Machine Boy"
Far from a traditional Yuletide ditty, "Little Drum Machine Boy" was on the Geffen Records compilation Just Say Noel. It's basically 7 minutes of Beck's funky beats with his signature stream-of-consciousness lyrical delivery. I'm certain you won't hear the lines "Ejaculatin' on buffet tables and record labels" on any other "Christmas" song.

Afroman – "I Wish You Would Roll a New Blunt"
A Colt 45 Christmas is Afroman's brilliant parody album of traditional holiday songs. "I Wish You Would Roll a New Blunt" is his take on "We Wish You a Merry Christmas." Other album standouts include "Deck My Balls," "O Chronic Tree" and "Afroman is Coming to Town."

Bob Dylan – "It Must Be Santa"
Back in 2009, Dylan released a somewhat puzzling collection of Christmas songs. Known throughout his career for unconventional decisions, Christmas in the Heart features his hoarse vocal delivery over traditional arrangements of Christmas classics. Even more puzzling is this video where we find Dylan improvising weird dance moves with folks many years his junior while wearing a wig. Don't ever question what the man is doing artistically, he has proven repeatedly that he is an advanced genius.

Monty Python – "Christmas in Heaven"
In Monty Python's version of heaven, bare breasted women in Santa Claus outfits sing and dance and although it's snowing, it's still warm all the time. Sounds like an alright place to spend eternity, right?

Weird Al Yankovic – "The Night Santa Went Crazy"
Most people don't take Santa for being the type of guy to get drunk on Whiskey and go on a murderous rampage, but ol' Mr. Claus must have had one rough night. First he gets highly inebriated, kills his elves, vomits, then uses a flamethrower on poor Blitzen. Only a brilliant mind such as Weird Al's could concoct such a scenario.

The Little Stinkers – "I Farted on Santa's Lap (Now Christmas Is Gonna Stink for Me)"
Sung by a child, you know they're in trouble when the opening line is "Mom made beans for dinner / You know I ate 'em all." Mom takes the kid to the mall where he does everything he can to hold it, but he inadvertently lets one rip. Rest assured Santa comes through in the end as the child in question sneaks downstairs and watches as Jolly St. Nick places gifts under the tree while cutting the cheese. The revelation here is that Santa, like everyone else in the world farts, it's totally natural and you'll still receive gifts.