Interview: Watsky Comes Home For The Holidays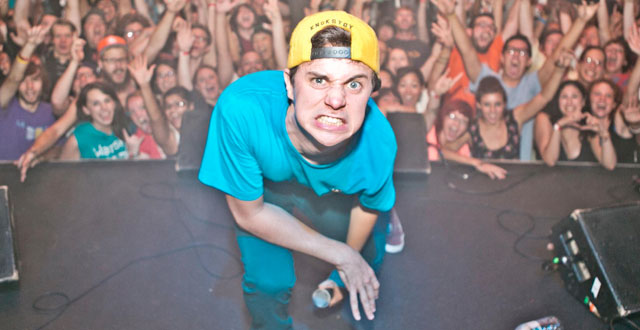 George Watsky brings his thought-provoking rhymes back to the Bay Area for two shows at the Regency Ballroom in support of his new record, All You Can Do.
Born and raised in San Francisco, Watsky made a name for himself winning awards for spoken word poetry while pursuing his dream of being a full-time musician. Early attention with college tours, blasting YouTube with weekly videos and even hosting a Ted Talks, led to performances at this year's Warped Tour and Outside Lands.
We caught up with Watsky to talk about coming home for Thanksgiving, playing corporate sponsored festivals and the parallels of poetry and hip-hop.
Watsky plays two shows at the Regency Ballroom November 28th and 29th.
You're playing two shows at the Regency Ballroom right after Thanksgiving. Was that intentional? Are your folks still in the Bay Area?
Yeah, my mom and dad still live in the same house I grew up in. It was part of the thinking that my friends, family and people that moved would be back in the Bay for the holidays. We played the Fillmore last year; that's where I grew up going to tons of shows. This is our first time playing a venue in the city since then so I want it to be special. We hired a horn section and have a bunch of surprise guests that we haven't announced.
Give me the play by play of Thanksgiving at the Watsky house?
We have the Wednesday off before Thanksgiving Day so I'll probably see some old friends. We're having kind of an orphan Thanksgiving, a lot of the other band members are far from their families so we're opening our house up and having a ton of people, doing the big friends and family Thanksgiving. Usually I just spend it with my folks. My key player is my cousin coincidentally, so our families have had Thanksgiving together, but this year my two worlds are colliding—my music world and family world.
You performed at Outside Lands this past year. How was that experience?
I was so nervous because I grew up a few blocks from the festival grounds. Playing in my hometown for thousands of people was nerve-racking because I didn't want to bomb. The fact that people seemed to be into it meant a lot to me. My folks and friends were there; it was one the highlights of the last few years of my musical career.
I was fortunate enough to catch your set and it was an awesome performance; I loved how you sort of slammed all the major corporate sponsors. Did you get any flack for that?
Not really. I had a little streak of that on the Warped Tour, too. There was this insidious thing Warped tour did where they gave artists cases of water but they were all in Monster cans, so it looked like we were slamming Monster cans on stage, but it was only water. Corporate sponsorships make these festivals possible, but the reason I'm doing it is for all those intangibles of playing music and the feeling you get from that, and not from drinking Bud Lite. Hopefully the organizers didn't think that was reason to never bring me back, but we're not there to cater for the corporate sponsors, we're there for the people hearing music.
I can imagine Warped Tour and Outside Lands are two very different experiences.
They're different in the audience, but also the fact that Warped Tour is like 40 shows in a row. At Outside Lands, you just go in and out. I can't really think of another festival that's exactly like Warped. You're doing every major market and it's extremely physically demanding but we made a lot of great friends.
Your music is very diverse; it's great that it allows you to be a part of such festivals.
We don't quite fit in anywhere, but by that same nature we sort of fit in everywhere. There are jazz elements, hip-hop obviously, we played an EDM show the other night. We weren't what the audience was expecting but we have that common ground to win them over. Playing with a live band, people appreciate the relationships that are going on.
I feel like Hip-Hop, for whatever reason, has gotten away from the live band performance.
There's a lot of acts that are major touring acts that are playing with musicians but still have a track underneath it played by a DJ. We're kind of an anomaly; my band doesn't play with any backing tracks. My drummer uses a sample pad every now and then, but if we fuck up we just keep going like a rock band or a jazz band. What we're playing is what the audience hears. It's something that I take a lot of pride in, and that the musicianship is really high. I can't really think of another hip-hop touring band that is that pure in terms of not playing over a track.
You started out here in the Bay Area as a slam poet. What enticed you to carry that over to hip-hop?
I'd been rapping since I was a freshman in high school, right where I discovered spoken word. I started succeeding in the poetry world first but I was convinced that I had a career in music and kept pushing it. I was really inspired by Sal Williams career early on and how he was able to cross-pollinate genres with albums produced by Rick Ruben and Trent Reznor.
I kept trying to create music independently and made some YouTube videos and made a lot of traction in social media. In 2011, I was releasing videos every two weeks without just duplicating the viral success but putting out music. I was known as being a fast rapper doing tongue-twisting stuff, and then I was releasing spoken word and was getting attention for that. You just put out the work you want and that's what I've been doing.
How different are those two outlets to you?
I've been making every effort I can to incorporate my spoken word into my music. Spoken word shows are very different. Doing a monologue or one man show is about engaging the audience and involves a lot of acting work. Music is about creating vibes and energy and making sure that energy in the room is right.
On this current tour, your incorporating poetry slams?
My spoken word shows are part of the VIP package, before the show is a meet and greet which is a seated thing for about 50 people. It's just me speaking to people and doing an acoustic show, but during the actual show I do spoken word with the band playing behind me.
What's the end goal for Watsky?
In terms of being an artist, my goal is sustainability and to keep creating for the rest of my life. I like making things. I love playing music, and playing live, and I want to be able to do it on my terms. … Playing stadiums is great, but my end goal is doing this for a long time. Getting rich is not what I want.