Review: Slayer Brings Metal Mayhem to Fox Theater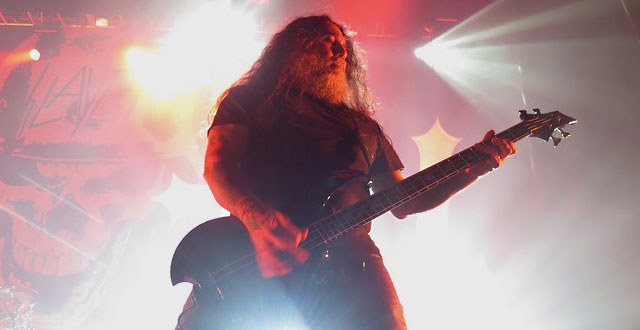 Slayer delivered the heaviest, most hardcore show to ever touch the stage at Fox Theater for the first of two concerts at the venue last night.
After opening sets from Suicidal Tendencies and Exodus—usually headliners at smaller venues with their own polished resume of metal and mayhem—Slayer took the stage for nearly two hours of manic thrash metal surrounded by four suspended upside down crosses and the band's pentagram logo.
It was the type of show where fans that get a little too close to the flame might get burned. Bruises were delivered in the pit near the front of the stage, shoes and shirts were lost, and—a first for us—an unexpected bite to the stomach was administered by one crazed fan screaming, "God hates us all."
Beyond the nucleus of chaos, an energetic crowd of Slayer, Suicidal and Exodus faithful filled every corner of the nearly sold-out venue, flaunting their allegiance with a band T-Shirt, a "Slayer" growl or a twisted smile.
It wasn't a show for everyone, but even those outside of the metal tribe can admire the musicianship. The speed in which the four-piece delivers bruising double-kick rhythms, crunching riffs and screaming guitar solos is unmatched.
It's remarkable that after more than 30 years, albeit not without tragedy, the band can keep pace, and there is no sign they are going to let off the throttle any time soon. According to vocalist/bassist Tom Araya, a new release is in the works.
For the immediate future, the band is doing it all again tonight with a second show at Fox Theater.
Photos by SF Station photographer Ben Struck: