Interview: The Chainsmokers Bring '#Selfie' and 'Kanye' to the Warfield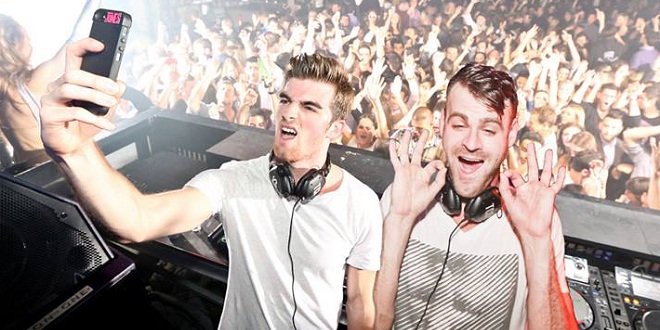 Puffing out a discrete hybrid of intoxicating pop and progressive house, The Chainsmokers are electronic dance music's latest platinum-selling American meme dream team.
Beyond the party duo's hit phenomenon "#Selfie," which instantly went viral worldwide, the pair of New Yorkers (Andrew Taggart and Alex Pall) has been tapped for remixes by Ellie Goulding, The Killers and Icona Pop. The Chainsmokers also recently dropped their latest single "Kanye," which they use as a verb to imply, "own what you do and who you are…that's the king in all of us."
With The Chainsmokers returning to San Francisco to play the Warfield on November 6, we asked Alex Pall about the duo's craziest live show moment, the most ridiculous selfie and what they would do if they could spend a day with Kanye.
How did you hook up with Steve Aoki and Dim Mak?
Andrew and I have always been fans of Steve Aoki and Dim Mak. They're a U.S. dance music label and obviously on the cutting edge of everything. We've been pretty big fans.
When we finally had a song to pitch to a label, we thought they would be a great match because they're very smart and have a very creative way about marketing a song. They also do all different genres. We have a close friend working with Steve Aoki a lot, and he was happy to get us in touch. That was very instrumental in getting the ball rolling.
What's been the craziest live show moment from the year?
Oh man, shit, last night we played a show in Mexico City. We did a radio show with Ricky Martin and Juanes—the venue must've held 25,000 people. It was one of the those moments, "Is this really happening right now?" I have so many friends that would never believe me. In terms of great shows, Ultra 2014 was a turning point for us as far as motivation and progress.
"#Selfie" made the top five on iTunes in 43 different countries. Where is the strangest or most unlikely place you've played that song live?
It was really cool when we did our Asian tour last summer. We went to places that I never would have gone on my own because I probably couldn't afford it, [like] the Philippines and Jakarta. It was nuts—the amount of people who came to shows and they were so exited about the songs. They like it for different reasons than people in the U.S. It was so cool to see our songs on the other side of the planet and really make an impact.
What's the most ridiculous selfie you can think of?
Probably Jennifer Lopez on American Idol. I feel like we're robots now—we just go through the motions. I don't even know when it's happening. Selfies happen all the time.
Have you heard from Kanye's camp at all since you released the "Kanye" track?
We're big fans of Kanye, that's no secret. The song's not actually about him, it's about having confidence in yourself and not giving a damn about what people say. We were nervous initially about Kanye suing us, and we didn't want to offend him or give the wrong message.
We had some of our team reach out to his team and we got the blessing and apparently he likes it and we're really psyched. He's like a music idol of ours. We didn't want to run into him and have him say, "You guys are the motherfuckers that made that song." But, we'd be happy with that attention on social media. Everything Kanye says is gold.
What would you do if you could spend the day with Kanye?
Oh man. Obviously, just being real with him and understanding his creative process would be the coolest thing ever. Otherwise, going to a party with him, watching him shut people down and give his opinion on things. I feel like it's a situation where it would be fun just to hang out and ask him questions like, "What do you think about that cheese platter? What's your opinion on that person?"
The Chainsmokers perform at the Warfield on Nov. 6. More info.