Weezer is back in a big way to finish out the year, with a new album and a tour, which will stop at SoMA venue Slim's for an intimate show in November.
SEPTEMBER 26 UPDATE: Weezer's publicist confirmed that tickets for Slim's show will go on sale tomorrow at 10am. They should sell out within minutes.
The Slim's show is part of five other club dates across the U.S. where Weezer will play its new album Everything Will Be Alright in the End in its entirety.
Purchase tickets online via Weezer's website.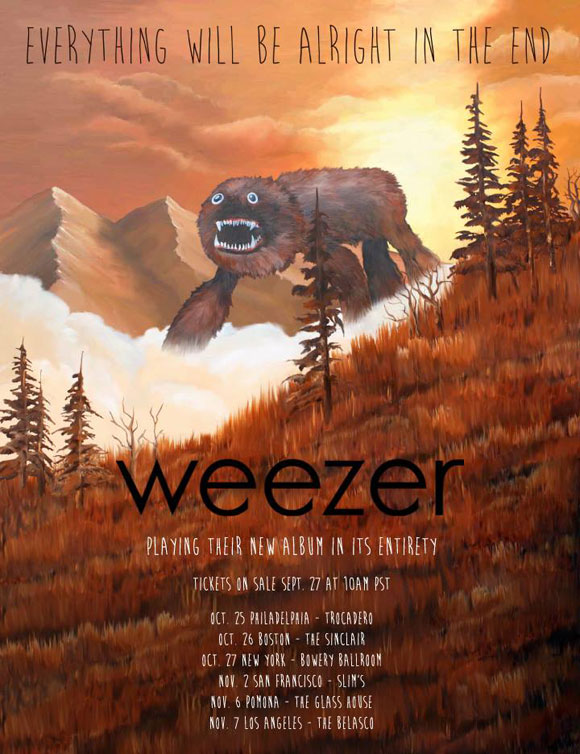 SEPTEMBER 25 UPDATE: Details are few for the show on Nov. 2 beyond the fact that it is listed on the Weezer website with a password-protected link to purchase tickets from the venue. Slim's confirmed the show is happening but, under direction from band management, cannot share more details.
Weezer is touring in support of Everything Will Be Alright in the End, recorded with Blue Album producer Ric Ocasek and reportedly a return to form after missteps with recent albums that angered long-time Weezer fans. The band's last release, 2010's Hurley, was the Weezer's lowest-selling record to date and 2009's foray into pop, Ratitude, also didn't go over well with Weezer faithful.

The intimate show at Slim's (max capacity 400) will be a treat for fans who can find a ticket. Weezer last played locally in San Francisco at the 2,000-capacity America's Cup venue in July 2013 and BottleRock Festival this year in Napa. The band is also performing at San Jose State University on Oct. 2.
We'll share more details on the Slim's show as they arrive.

Weezer's new single "Back to the Shack":