Hot Ticket: Silent Frisco Brings HushFest to Ocean Beach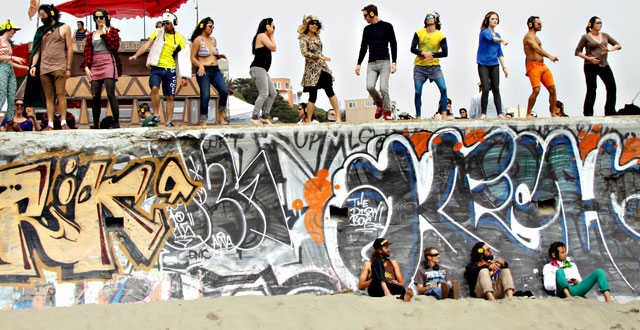 Silent Frisco is bringing its low-decibel party to the beach this weekend with HushFest Ocean Beach, and tickets are moving quickly, according to promoters.
Using technology that links a DJ's turntable to wireless headphones, Silent Frisco offers the unique opportunity to dance and party at places that don't usually allow loud music. The event this Sunday starts at 11am with a full lineup of DJs, including Rob Garza of Thievery Corporation, Psychemagik, Fort Knox Five, Thunderball and more.
The first Silent Frisco was held on Mother's Day in 2011 on Ocean Beach—the moment that founder Robbie Kowal fell in love with that location as a venue. The most recent event in June at the beach sold out quickly with Kraak & Smaak, Ana Sia and Pumpkin headlining.
"Ocean Beach is the most majestic and scenic place in the city," Kowal says. Ocean Beach is also the most popular venues for Silent Frisco, which can be found at special events throughout the Bay Area. Although Ocean Beach is the most difficult and challenging spot to hold any event with federal and city laws and permits, Silent Frisco manages to pull it together thanks to dedicated staff and help from the community that attends its events.
The difference in playing a Silent Disco event is that artists cannot hide behind sound systems, Kowal says. Venues where the sound system steals the show generally are bass and beats heavy. Hushfest allows the DJs to take people on a journey and focuses on creative freedom.
"The difference is like playing a jazz concert versus a rock concert," Kowal says. "A jazz concert stretches the artist's ability and allows for experimentation."
The Complete DJ Lineup:
Rob Garza
Psychemagik
Fort Knox Five
Thunderball,
Non Stop Bhangra
Hard French DJs
El Papachango
Motion Potion
DJ Mancub
Matt Haze
HusFest Ocean Beach is Sept. 28 at 11am. More info.