With the surname Alioto, Chef Alexander was practically fated to enter the restaurant industry. Ask him, and he'll tell you how from a young age it seemed the only natural profession. The chef recently celebrated the next chapter in an already impressive career with the opening of his first solo restaurant, Plin, in the Mission.
Previously, Alioto received acclaim for Russian Hill neighborhood Italian restaurant Seven Hills, where he served as chef and co-founder. As hard as it was to leave on such a high note, he felt the time was right to pursue a new venture.
Plin, located on Valencia between Brosnan and 14th Streets, celebrates Alioto's Italian heritage and, like Seven Hills, showcases the knowledge he gleaned from time spent working in some of Italy's top kitchens, including his famous Raviolo Uovo (a large ravioli filled with spinach, ricotta and an egg).
"My chef [at Ristorante San Domenico] in Imola created that dish 40 years ago and, in my opinion, it is one of the greatest dishes ever created," Alioto says. "I also learned about hand-cutting pasta and how to keep the natural flavors of fish by salt searing it without oil. The key is using quality produce—that was one of the best lessons I was able to take home with me."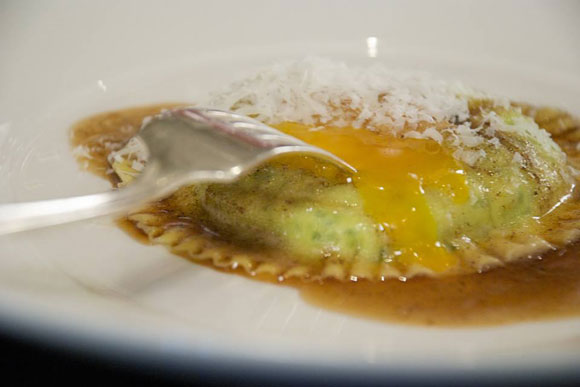 Although Plin is perhaps sleeker and more chic than Seven Hills, with a full bar service managed by Daniel Frederico, fans will find the menu to be similar. The Raviolo Uovo is on the menu, alongside the namesake Agnolotti al 'Plin' with organic chicken, lemon zest, brown butter and crispy chicken skin, fried lobster and vegetables with onion and mushroom consommé and raw tuna and figs with mascarpone whipped cream, sea salt, balsamic vinegar and extra virgin olive oil (one of the chef's current favorites).
"I now have the space to use new techniques and create more new, fun dishes, but my food will always be my food," Alioto says. "Italian food is soul food—comforting—and I will stick to that with some fun twists here and there." (Think chicken liver lollipops and a deconstructed tiramisu topped with a dollop of caviar.)
Although Plin is billed as Alioto's solo project, at heart it remains a family affair. His father, master sommelier Nunzio Alioto Jr. helms the wine program alongside Chuck Furuya, while the chef's mother, Joanne Alioto, oversaw the interior design. Inspired by the seafood-heavy menu, the dining room's cool atmosphere is laden with dark walnut and blue accents, and undulating lighting fixtures that emulate the sea.
The support from his parents helped make the transition to Plin easier.
"Food is deeply tied to culture and life so growing up in and around food is really social, the people you meet and the connections you make—there is no other business like it," Alioto says.
But, as a father, would he want his children to follow in his footsteps as other Aliotos have done since the opening of the eponymous Fisherman's Wharf restaurant in 1925?
"I would love for my children to end up doing what they want," he says. "If that's becoming a chef then I would support it and I would do all in my power to help them do their best at it, but I would warn them that it is a hard profession."
Plin is open for dinner, Tuesday through Sunday, from 5pm – 11pm.