SF Bakery Introduces Macaron Inspired By 'Hedwig and the Angry Inch'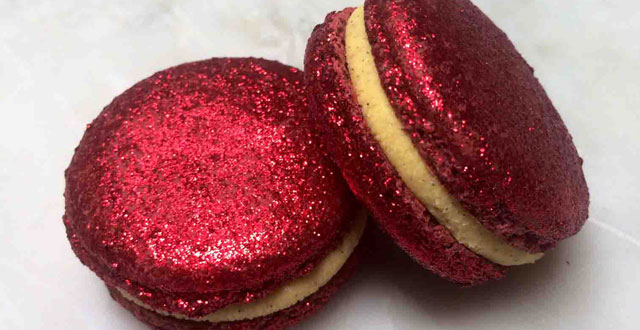 Anyone who watched the Tony awards just a few weeks ago, probably still remembers Neil Patrick Harris' performance. Clad in sparkly hot pants and heels, the multi-faceted actor wowed the audience with a live rendition of "Sugar Daddy", a number from the hit Broadway production of Hedwig and the Angry Inch, in which he currently stars as Hedwig.
Chef Yigit Pura of Tout Sweet Pâtiserrie must have been inspired by the lyrics "sugar daddy, bring it home" when he decided to give the musical's fans something sweet and glittery to bring home. Starting August 11, a limited-edition macaron named "Hedwig Schmidt" will be available at Tout Sweet Pâtiserrie on Union Square.
READ MORE: Five Questions with Yigit Pura of Tout Sweet Pâtiserrie
The flavor, based on an elaborate profile provided by Neil Patrick Harris himself, features a bourbon-orange marmalade ganache with a brandied cherry center, and the look is true to Hedwig's aesthetic covered in edible maroon glitter.
"Hedwig and the Angry Inch has played an integral role in my life since its original Off-Broadway production at the Jane Street Theatre," says Pura, who grew up in Turkey and made his way to some of the most prominent pastry kitchens on the East Coast before moving to San Francisco. "I have been inspired by the ingenuity of John Cameron Mitchell and Stephen Trask's book and music and the positive message of love and discovering who you really are."
His resume may include positions at Le Cirque and New York institution Daniel, Daniel Boulud, but a festive, alcohol-infused macaron celebrating a musical classic must be in a league of its own.
http://youtu.be/VY1y-c_cIjI