Outside Lands Introduces BaconLand, More Chefs and Cocktails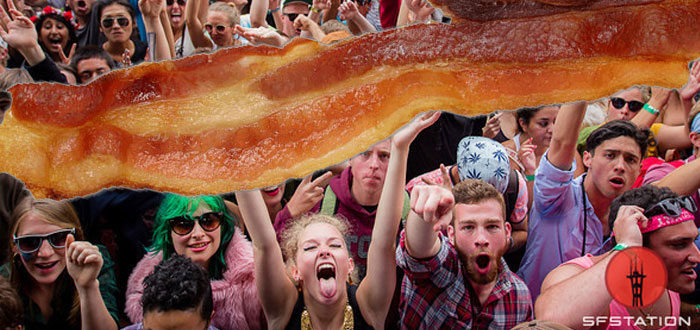 Outside Lands continues to build on its emphasis on food with a new "GastroMagic" area that will showcase celebrity chefs, craft cocktails, a new stage and the biggest culinary rock star of all—bacon.
In the BaconLand area at GastroMagic, hungry attendees can try a bacon flight with offerings from local favorite Fatted Calf and Tennessee swine from Benton Bacon. Cowgirl Creamery will offer Grilled Cheese and Bacon to help soak up the $9 beers at the festival.
GastroMagic, located near Coco Lands at the festival, will also feature appearances from SF restauranteurs Chris Consentino and Brandon Jew with other kitchen heavyweights and music from Big Freedia, Holy Ghost! and Duck Sauce.
Cocktails will be available from 15 Romolo, 1760, Alembic, The Homestead, Local Edition and Hotsy Totsy.
The new food area adds to an already stacked lineup of local restaurants and vendors at the festival this year.
The complete GastroMagic Schedule:
FRIDAY
Flavor Tripping Food Science with Chris Jones
Hampton Creek chef and former Top Chef contestant Chris Jones changes food's molecular anatomy and flavor profile, and talks the future of food technology
Magician Jon Armstrong
Offal Good Music with Chris Cosentino 

Award-winning chef Chris Cosentino teams up with a musician to discuss the creative process of food and music
Amaro Amore!
A discussion about a bittersweet love for amaro and all its nuances
Chocolate Gold Rush with Holy Ghost! and Guittard Chocolate Company 

A party for the senses ensues with Holy Ghost! spinning and Donald Wressell of Guittard Chocolate Company creating a masterpiece on stage

SATURDAY
Chefs Read Bad Reviews with Chris Beerman of Citizens Band, Antelmo Faria of Tacolicious & Chino, Richie Nakano of Hapa Ramen and host Matt Besser

Chefs Feed's beloved video series comes to Outside Lands; comedian Matt Besser weighs in as these talented San Francisco chefs read, cry and laugh at the worst of their reviews
Beignets & Bounce Brunch with Big Freedia and Brenda's French Soul Food

A New Orleans style brunch like no other, Big Freedia shakes and bounces all over the stage and audience members who answer her call to twerk will be awarded with beignets
Knights of the Rich Table

A round table discussion with San Francisco's award-winning Rich Table takes on a medieval theme
BBQ & Drank featuring Lewis Black, Dave McLean, Paul Grieco, Andie Ferman & Southpaw BBQ

This lively tasting panel led by comedian Lewis Black will determine which goes best, beer, wine or bourbon, with Southpaw BBQ's creations
Duck Sauce Soiree featuring Duck Sauce and Brandon Jew 

This soiree will treat the audience to beats by Duck Sauce and bites by Brandon Jew

SUNDAY
Christopher Kostow

Christopher Kostow, three Michelin-starred chef and author of "A New Napa Cuisine", joins the stage with a musician
The Improvised Shakespeare Company in the Kitchen

San Francisco's renowned Shakespeare comedy troupe brings a kitchen theme and plenty of laughs to the Bard's work
Breakdown Breakdance: Fatted Calf vs. Avedano's

Fatted Calf competes against female butchery shop Avedano's to break down a pig while professional dancers break dance on stage
Food Fight: Marlowe vs Park Tavern, Hosted by Craig Robinson

With a game show inspired format, Craig Robinson hosts as sister restaurants Marlowe and Park Tavern compete against one another in kitchen challenges and trivia
Mezcal Mambo Limbo
A discussion of mezcal is amplified by a troupe of mambo dancers and a limbo contest