Q&A: Comedian Caitlin Gill Gives Us the Business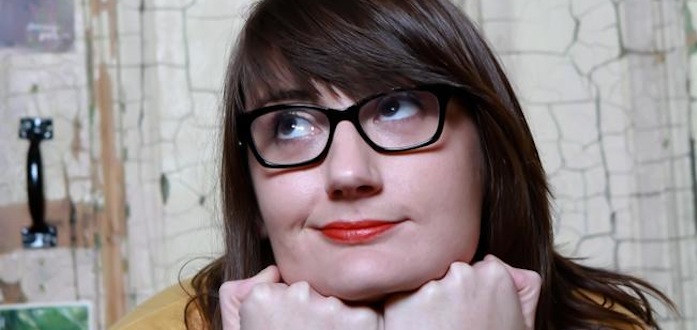 A rising voice in the Bay Area's comedy scene, Caitlin Gill got her start working open mics around San Francisco before becoming a regular at events like SF Sketchfest and a member of local comedy troupe the Business.
In addition to regular gigs locally, her resume also includes a national tour and work Robin Williams and Bobcat Goldthwait of Police Academy fame. We caught up with her to talk about her roots selling wine to "rich yuppies in socks and sandals," her approach to comedy and why Oklahoma actually isn't so bad for liberal comics from the Bay Area. Gill performs next on May 2 for a live recording at Hemlock Tavern.
How did you get started doing comedy?
I always loved comedy, but I didn't think that it could be a real job. Then I had a real job and it was terrible, so I decided that maybe not a real job was better than a real job. So I decided to move to San Francisco to do comedy, even though I had never done it before. Now it's eight years later and I guess comedy's been my job for the last six months.
It just came out of left field?
Well the more complete picture is I had a degree in political science and I had worked with a public interest research group for a riveting and very informative two weeks. I decided I did not have the chops for a career in a nonprofit environment. I moved back in with my parents, which is exactly where every college graduate wants to live.
Then I worked at a dead-end but lucratively drunk job in the Napa Valley, selling wine to rich yuppies in socks and sandals. I decided after breaking down in my car in the parking lot one morning that I couldn't do that anymore, and I was going to move to San Francisco. So that's what I did.
I packed up my Honda Accord with my futon and moved to the big city. It took me a year to start standup when I got here. I got a job as a barista, I made a lot of lattes, summoned up my courage and started my career performing at shitty coffee shops and laundromats.
So somehow serving wine to yuppies was not the fulfilling career you always dreamed of?
You know, oddly enough it does not provide one with that sense of completeness and fulfillment. It is not the top of Maslow's hierarchy.
Is there a particular way that you would characterize yourself as a comedian?
I think the easiest label to use is confessional comedian; somebody who tends to talk about themselves and their own life and tends to use their own experiences to relate to other people. I feel there are two great thinkers of skills and styles: there are Carlins and Pryors, and I fall much more in the Pryor camp.
Do you find yourself trying to make your life more interesting just so you can have something to talk about?
Oh yes, absolutely. Nobody wants to hear about your day at the bank, you know. I have a comfort zone that has disappeared due to my desire to pursue experiences that are big enough to fit the lifestyle that is necessary to wear the title comedian. I've done crazy stuff. I've done things as Caitlin Gill the comedian that Caitlin Gill the human being would probably not be comfortable enough to do.
Is there a line you cross where you've done something so crazy that now no one can actually relate to it?
Oh certainly. Comedy, especially confessional comedy, is full of testing the waters to see if an experience is going to resonate. I've certainly tossed things into the water, and the fish, they do not bite. They do not relate. Like that time you're doing blow in that photographer's apartment while you're waiting for the threesome that you don't want to start. People are like, "No, I don't know that time."
You've toured a lot around the country?
I took a tour last year. That was my first big swing across the country. I was very surprised, because I'm a Californian and I was shocked with how much I love the middle of the country, and I can't wait to go back. I had this real California attitude about it that I could just fly over those states.
I now recognize that that was a prejudice and under every prejudice is a fear; I was afraid of the Midwest. I thought they wouldn't appreciate me and my California ways, like my desire to add avocado for a dollar extra. It turns out they are so friendly and so into comedy and I could say whatever I wanted. I mean I talk about very California/San Francisco stuff and they went right along with me. I worried I was too Bay Area to translate in Oklahoma, but I was wrong. The rest of the country's ready; it was only in my mind that they couldn't handle it.
How did you become a part of the Business?
The Business is a group of four comedians in San Francisco, who started a show five years ago to give those four comedians a stage in which to stretch out a little bit. They do 15 or 20 minutes every week and ask one or two of the friends to do a set with them. That model grew to be pretty popular and rewarding and produce a lot of amazing comedians out of the four. So amazing in fact, that two out of the four had to move on to bigger and better things, and I became one of the new people they asked to join up. That was two years ago, and it's the best thing I've ever been a part of. It's an incredible show and a rewarding creative experience that I don't think I'll ever get to duplicate.
You've worked with a lot of great comedians (Robin Williams and Bobcat Goldthwait to name just two) is it unreasonable to ask you to pick a favorite?
Well, the comic I would most want to work with again is Tig Notaro. We worked together for a weekend in one of the worst clubs in the entire world, which I can say now because it has since burned to the ground—a good way to measure how good a club is. I was so green and so excited and nobody came to those shows. Five years later I can see from her perspective how terrible that weekend would have been, but she still made me laugh so hard and I think she's the funniest thing.
But I've had the best adventures with Bobcat Goldthwait. He's a great mentor, he's a hilarious, hilarious dude; just the warmest, funniest, nicest dude. He's a great guy to know before anything big happens to you. He got so big so early and so much happened in the wake of it that he's been rebuilding for years with talents that nobody knew he had. He has this career in Hollywood that people do not know he has.
You were picked by the East Bay Express as the best comedian of 2013. How does it feel to be called the best, considering that a lot of your comedy could be considered self-deprecating?
Well first, I don't consider myself self-deprecating; I actually try to be self-loving intentionally on stage. Even if I'm talking about stuff that I'm scared of, I really try to make it clear that I have the best life, I love who I am and what I'm doing, and I hope other people get to feel that way too. I get it, but I hope I'm not self-deprecating.
Still, it is really hard to be called the best. It's uncomfortable. I think comedy was easier when I got to approach it with this me against the world mentality, where I had to scrap to prove something. It's a fight to win over a crowd. Now I'm not fighting anymore, people are lifting me up. Trying to take that good that people give you is really hard. It's a totally different mentality, and I'm trying to slip into it. It feels really good, but it's also a new skin to wear.
I hope it comes through in my comedy that I'm doing great. Life's the best and I want everyone else to feel the same too. They just have to take off the chains of capitalism and the patriarchy first.
Do you see a place for comedians in that fight?
Well you see, right now there are people that we call depressed and we make it a weakness and medicate them, when it could in fact be the case that the depressed are the canaries in the coalmine. They're the ones that are showing us how painful it is to be in this world that we've made.
If you walk by another human who's in need and you don't have a dollar to give them and it doesn't tear your heart out, if you don't feel anything maybe you're the one with the problem. So many of those people, these depressed, angry, hurting, aching people are drawn to art because art is the way you can spill out your guts with this stuff.
When your words fail you, you still have this great medium of expression, and I feel like comedy is a great way for the canaries to sing.