Review: British Rock Band The 1975 Break Out at the Fillmore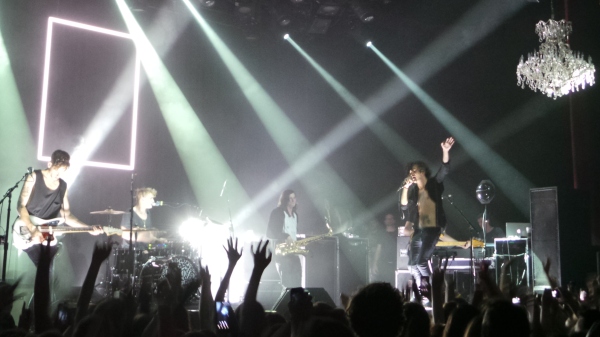 The 1975 kicked off its North American headline tour with two sold out shows at the Fillmore. Led by singer Matty Healy, who drew all the attention with an unbuttoned black shirt revealing a grapefruit-sized chest tattoo, the Manchester quartet sustained a kinetic energy throughout most of its extended set and multi-song encore.
Touting a bottle of red wine, Matty evoked Robert Plant, frequently swirling on stage with his arms spread wide or standing atop one of two massive strobe lights to excite the audience. Supported by drummer George Daniel, guitarist Adam Hann and bassist Ross MacDonald, they harnessed a pop-infused, upbeat sound influenced by the 80s and early 90s, with smooth vocals, and simple, direct track titles such as "Sex" and "The City."
Energized fans sang along to a majority of the lyrics. Screaming and dancing from the mostly female crowd reached peak levels during hits "Girls" and "Chocolate".
The 1975's eponymous debut album was released in September of last year to immediate acclaim. Lofty confidence exudes given recent radio airplay and loyal following. It's unclear when they might make new material, but for now they have plenty of content to show off. The band is also performing at Coachella and Lollapalooza.