Loló, a Mission District favorite offering a unique take on traditional Mexican cuisine, recently opened the doors of its new location in the Mission District on Valencia Street, between 21st and Liberty Street. The new space is much bigger than the original location with new dishes and a Mezcal cocktail program.
The founders, husband and wife duo Jorge Martínez and Lorena Zertuche, are veterans of the restaurant business and have a passion for the culture of Mexican food. The opened two restaurants in Guadalajara, iLatina and Anita Li, before moving to California.
"It was always our goal in life to open up a place in San Francisco," said Jorge. "The traditional Mexican styles are the foundation of how we cook, but here in California there is such a variety of produce. Having all of these organic and grass-fed animal products is fantastic, and it really makes a difference on the taste."
From the moment you walk in the door at the new location, Loló is a canvas of beautiful colors and textures. Lorena Zertuchie put her artistic talents to use decorating the walls with found objects that combine the themes of rural ranch life with the young, free sprit of the Mission.
There are cowboy boots framed in bike tires next to woven purses overflowing with flowers. The bar back is covered with tropical images while the far end of the restaurant is plastered with discarded car doors. The contrasting images create a wonderful, fun aesthetic. Even when the large space is completely empty, it never feels deserted.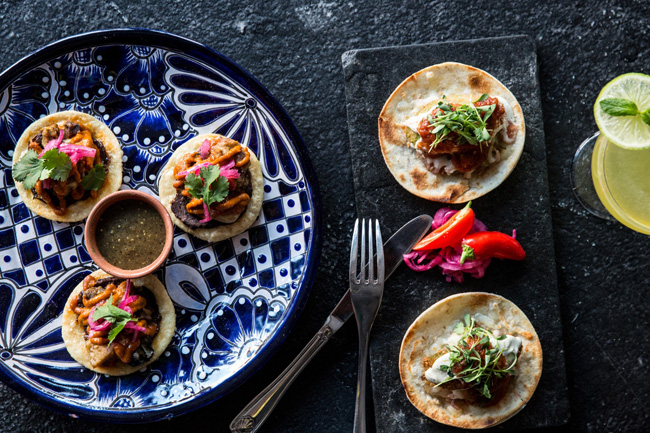 The food finds its inspiration in traditional Jaliscan recipes, but is transformed by the abundance of fresh produce and the local markets in the Mission. The staff at Loló is in constant dialogue with local food providers, taking advantage of fresh ingredients and finding inspiration at every turn.
"We try to utilize the entire animal, we don't just buy the rib eye or the filet mignon," Martínez says. "Sometimes we work with the Avedanos meat market, and one time they told us they had a lot of pig feet that they needed to move, so we made a bay scallop ceviche with pickled pig's feet. It worked really well, people loved it," Martínez says.
One of the most popular dishes is at Loló is the Taco Tropical, made on thinly sliced jicama shell, filled with panko and spice dusted shrimp, topped with a tropical pineapple relish and spicy aioli.
"It's really popular because it's gluten free," Martínez says. "It's a top seller here and in Mexico. We sell more of those tacos than we do beers,"
Loló also offers Octopus Tiradito, Ceviche, Tuna Taco, Oxtail Empanadas, Panko Encrusted Avocado Tacos, Portobello Mushroom Quesadillas and another favorite, the Mezcal BBQ Gorditas.
The cocktail program run by David Gallardo and Leon Vasquez is also popular, with 80 percent of the drinks made with Tequila, Mezcal or Bacanora. The drinks, much like the food, are somewhere between sweetness and something with more of a kick.
"In Mexico the drinks are more on the sweet and fruity side," Martínez says. "They're not so much into the bitter and stronger drinks, so we had to work a lot to adapt our drink program to here. It's a little different but people like it. It has the San Francisco robust style and a lot of different kinds of bitters, as well as our different style."
One of the best sellers, the Mezcal Mula, is a play on the popular drink, made with Mezcal and a pomegranate molasses. Now that blood oranges have come into season Jorge plans to add a Paloma to the menu, a tequila based drink usually made with grapefruit.