Review: Washed Out's Woozy Chillwave Warms the Fillmore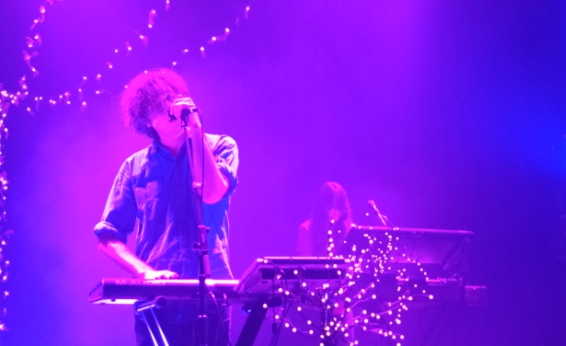 Dreamy synthpop band Washed Out blasted evocative yet relaxed songs to a sold-out crowd Tuesday at the Fillmore.
Touring in support of their third and latest album Paracosm, released in August 2013 as a follow-up to their 2012 record Within and Without, the band had plenty of potent material to navigate the night. Washed Out's front man, 31-year-old Ernest Greene from Georgia, admirably projected his somber, filtered vocals as the band added gentle keyboard pulses and distorted guitars, helping to further the experiential daze. "Feel It All Around," a hit track from the band's 2009 debut album Life of Leisure, felt like the night's peak, with attendees covering the floor like sardines but still motivated by soothing sounds to sway side to side with occasional slow fist pumps.
Brilliant spotlights blasted vibrant color ranges to keep the mood bright. The strong feelings of exuberance hardly wavered despite the mostly drowsy tones and live performance heavily accentuated the band's growth since the Ernest's early days of sharing songs made in his bedroom on Myspace.
Now riding a wave of popularity, Washed Out rounds out the end of their tour with a few more West Coast dates. These final shows lead up to their scheduled summer festival appearances at Coachella, Governor's Ball and Firefly. The larger stages of the latter venues should do wonders to further underscore their big warm sound.