After a successful run as a pop-up restaurant in Berkeley for several years, Nigel Jones and Adrian Henderson have their first brick and mortar restaurant in Oakland's Uptown neighborhood, serving Jamaican cuisine at Kingston 11.
The restaurant opened in November, not far from where Kingston 11 started as a pop up at Guerilla Cafe in 2009. Back then, Nigel and Adrian where cooking their food in Emeryville and shuttling it hot to Berkeley to help fill a void with Jamaican cuisine every Friday night. Nigel was the chef while Adrian played front of house roles for the popup.
Now, Nigel has his own large kitchen and dining room to serve his loyal pop-up customers and new fans of his food. Diners are greeted by a huge expansive dining room area with modern tables and architectural nods to the cuisine's Jamaican roots. A wall at the back of the restaurant is adorned with people of all ages, races and creed that have dreadlocks as their common connection.
The menu is composed of Jamaican classics, such as oxtail stew and salt fish fritters, offered as small plates or larger entrees. The organic jerk chicken is marinated for 48 hours and then smoked and served with rice, peas and plantains. The salt fish fritters are crisp and served with an organic dairy and nut free chimichurri.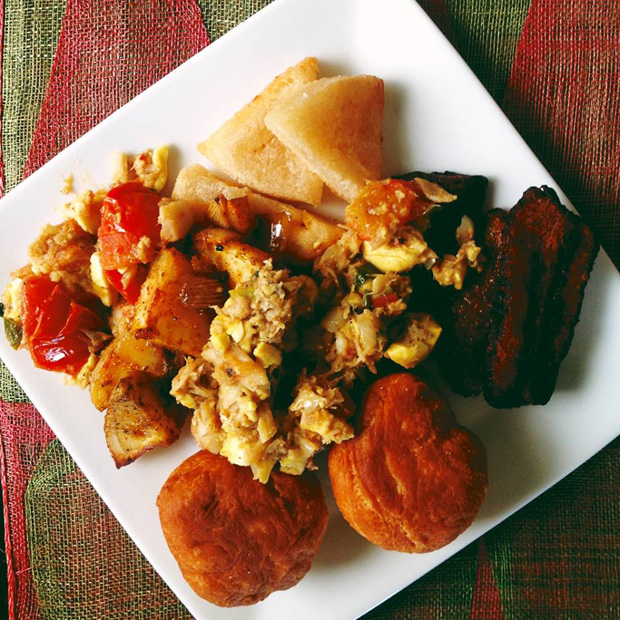 Items are priced to be affordable with most small dishes in the $5 to $8 range and large dishes from $13 to $15.
"It is really important to us that people of our income bracket can come and enjoy our food," Nigel says. "We want people to leave full and really taste the flavors of each dish."
Some dishes go beyond the Caribbean with influences from other countries, such as caramelized spiced carrots. Black pepper tofu brings a little bit of Asian flair to the menu.
Nigel says he also cares about putting a healthy spin to his food by replacing traditional white rice with jasmine brown rice and roasting his sweet potatoes instead of frying them.
Still, he recognizes that many of the fans and local Jamaicans in the area are always going to come expecting to find the very recipes their mom made and they grew up with. Fortunately this is covered in the perfected jerk chicken, oxtail stew and plantains.
Although the restaurant just opened, Nigel and Adrian are already working future plans with a Jamaican brunch menu in the works and initial plans to expand with a back patio deck and beer garden. They're also hoping to find local farmers to grow traditional Jamaican vegetables not easily found in the Bay Area, such as calalloo.
A large bar on one side of the restaurant offers a lineup of signature cocktails, including the refreshing Kingston 11 Smash (four roses bourbon, falernum, sage molasses, fresh tangerine juice) and the dark chocolate delight Red Eye Rye 9 (locally roasted Red Bay cold brewed coffee, bulleit bourbon, falernum, walnut bitters).
Kingston 11 is located at 2270 Telegraph Avenue in Oakland. It is open Tues-Sat from 5-11pm.

[Photos courtesy of Kingston 11]