Take out your iPhone, open up an app, click a few buttons and a hot meal delivered in about 20 minutes. That's the idea behind Sprig, a new food-service app that launched service in San Francisco this week.
Co-founder and CEO Gagan Biyani, who spent time with Lyft and Udemy, said the iOS app says he's trying to provide the best in tech and the dining scene in one package.
The app gives customers menu options, who select the quantity, enter a delivery address and click a button to purchase. Customers are then sent a text with an ETA and the food is delivered to their door.
"Delivery is hard," Biyani says. "There's a reason why most restaurants shy away from it. Most delivery processes destroy food quality, so we spent six months figuring out if it was even possible to deliver high-quality food. Luckily, with the help of some culinary science research by Executive Chef Nate Keller and our chief culinary advisor Kyle Connaughton, we found an answer we're proud of."
After a busy rush on Thursday night, Biyani said he's thrilled with the response so far in San Francisco and he said the company would eventually love to expand with an Android app and beyond San Francisco.
"We definitely love the intersection of tech and food, but the popularity of food technology companies isn't a positive or negative aspect for us," Biyani says. "We saw a real need and decided to tackle it. We face the same problem every day: we get home after a long day of work and want nothing more than to have a great dinner, delivered to our door at a reasonable price."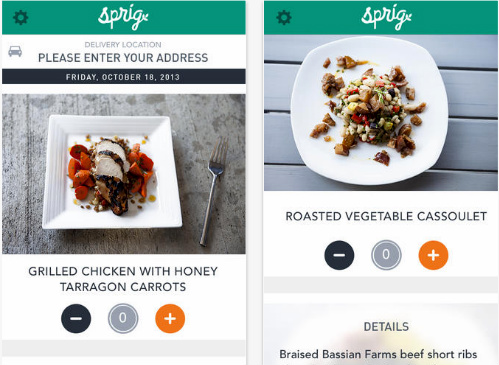 The menu is curated by Keller, who changes it daily to offer customers something new and fresh. Sprig sources ingredients from local farms, helped by connections through Keller's work on the Chef Board at CUESA, which runs the farmer's market at the Ferry Building. There are three daily options, including vegetarian and gluten-free. Biyani said they are running a promotion through the end of the year for customers: $10 per meal and $2 per order.
Delivery service is currently only available for the in San Francisco and the app requires iOS 6.1 or later and is compatible with iPhones, iPads, and the iPod touch.