Sabrosa Brings Authentic Mexican Cuisine to the Marina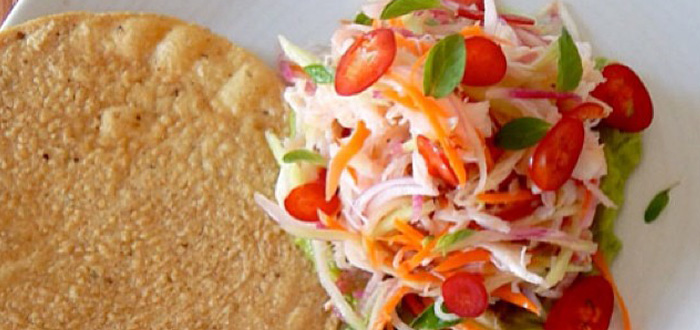 The ownership team behind the Brixton and Redford debuted Sabrosa in San Francisco last week, a new restaurant in the Marina District featuring a menu of organic home-style Mexican food and specialty cocktails.
Located on Fillmore Street at Greenwich Street, the restaurant will be led by Chef Jose Ramos, opening chef at Nopalito and a former chef consultant at Nido. Ramos, who started his cooking career at El Farralito, says he wants to bring an authentic Mexican cuisine to his own restaurant in SF.
Some of the dishes he recommends are tacos de carnitas (a throwback from his El Farralito past), the tlacoyo (personal favorite) and the questacos. Ramos says lunch and brunch will be offered soon with unique menus, as well.
"At Sabrosa, different from my menus at Nopalito and Nido, I really wanted to honor the varied recipes of my family, and my experience growing up on our farm in Guanajuato, Mexico," Ramos says. "It was there that I developed a deep appreciation for the land and the importance of farm-fresh ingredients. My mother and grandmother taught me how to cook using these ingredients in recipes that have been in our family for generations."
A few other highlights from the opening menu include Ceviche de Pescado con Persimmon y Piña (lime cured fish), Salpicon de Jaiba (dungeness crab meat with chayote squash, carrot, radish, guacamole and crispy tortilla) and Ensalada de Acelga y Betabeles (kale, beets, avocado, watermelon radish, walnuts, whallot, Meyer lemon and chile de arbol). Ramos says he pays special attention to salsas, as well.
"Salsas are made for each dish and not just one salsa that you serve with everything," Ramos says.
The cocktail menu will will feature seasonal offerings curated by Matt Stanton, owner of San Diego's El Dorado Cocktail Lounge, with an emphasis on tequila and mezcal and a variety of local beers. Cocktails include the Pepino Diablo (Blanco Tequila, Serrano Chili, Cucumber, Fresh Lime, Cracked Salt) and Night Creature (Rye Whiskey, Mezcal, Averna, Benedictine, Orange Bitters).
Inside the restaurant, a large community table serves as a centerpiece for the room. The countertop of the bar lights up to give a nice inviting glow. The bar is adorned with fresh cut flowers that also bring more color to the room.
The rest of the tables go around the room against the walls offering a nice view of the surrounding Marina district for diners to enjoy.